From one entrepreneur to another: 7 lessons for startups
By Jessica Zech
May 22, 2017
For John Gabbert, becoming an entrepreneur was never an explicit career goal. But he saw a customer problem (poor private market data) and wanted to create a solution (what would eventually become PitchBook).
His motivation was pure and simple, providing PitchBook with a singular focus that carried it through ups, (many) downs and an acquisition by Morningstar.
After 10 years, lots of late nights and questionable diet choices, John recently reflected on the lessons he learned while getting a startup off the ground.
Read up, entrepreneurs—his experience may help you as you build your own company.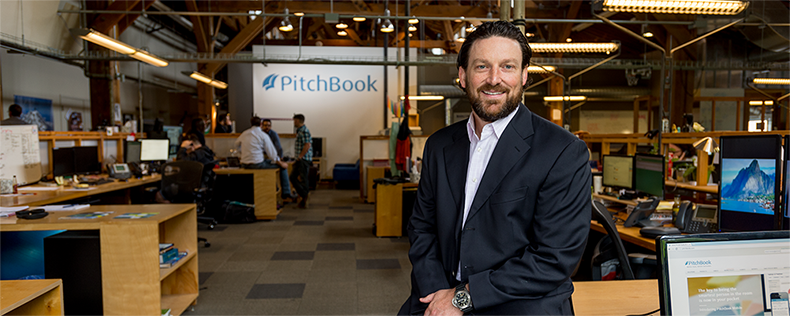 My advice for entrepreneurs
By John Gabbert, Founder and CEO of PitchBook
Originally published on GeekWire
1. Focus on focus
For startups, resources like time, cash and people are scarce, and there's an opportunity cost for everything. I often see startups make decisions based on suboptimal factors. They may do it simply because they think it'll be fun, innovative or "just cause they can." But unless someone is going to derive real value out of your product or service—enough to presumably pay for it—it's not likely something you should spend your scarce resources on.
2. Embrace the grind
Starting up is not glamorous. In the beginning, I would put in an honest, full day of work at my day job then head straight to the UCSF library or a nearby coffee shop to work on PitchBook's business plan. For four years, I worked 80-100 hours a week and was fueled by a diet of pizza and Coca-Cola. For the first 20 months, I lived away from my family. I faced a ton of hurdles, but never had a Plan B that didn't include PitchBook. I had an insanely strong desire to make PitchBook happen.
For entrepreneurs trying to make it, ask yourself, how badly do you really want it? Enough to lose sleep? Time with loved ones? Hobbies? It turns out there are no free lunches, and contrary to popular belief, unless you give someone a reason, no one owes you anything. Starting a business is a continuous grind you chip away at every day, and success hinges on how badly you want to make it happen. (Note: I'm still trying to understand balance better.)
3. The "no's" never end: Be resilient and happy about making it to tomorrow
While I was fundraising, I received more than 200 "no's" from potential investors. Just 18 said, "yes." Those 18 helped us raise $4.2 million in angel funding, which kept the lights on in our windowless office and was all we needed to build PitchBook.
I regularly get asked for my thoughts on startups in the process of fundraising. My answer typically is: you can't be afraid of the "no's" because if you stop there, you will never hear a "yes." Remember that investors only need one good reason to say "no," and most will find that reason. There will always be people who don't believe in your idea, but if you believe in it, remain steadfast and passionate. You'll eventually find the right investors.
4. Get comfortable with being uncomfortable
As a founder, you must wear a lot of different hats—regardless if they're your strength or not—and consistently venturing outside your wheelhouse takes grit. As a CEO, playbooks simply don't exist for every situation and discomfort comes in many forms, whether it's asking for capital in a room full of skeptics, letting someone go, having hard conversations, being more assertive than usual or picking up the phone to make a cold call.
Of the more than 30,000 cold calls I've made in my life, one of the last was the most important. That was to Joe Mansueto, the founder of Morningstar. That call led to Morningstar being the last investor in PitchBook, and eight years later, the acquirer of the business.
5. Ideas are easy to come by: Preparation and execution are the hard part
There's often an ounce of luck involved in every great founding story, but it should never be factored into your business plan. Good planning should guide your actions. I can't tell you how many startup pitches I've seen where the business plan is an afterthought—especially when it comes to understanding customer needs, how you're going to drive customer adoption and the costs that are likely to be incurred to break even and reach profitability.
One thing I'm most proud of is building PitchBook for $100,000 less than what the business plan called for. The original plan outlined $3.8 million in financing, but we did it for $3.7 million (although it took a little longer during the recession). That discipline granted us credibility with our board and investors. So, while you may have a great idea, creating a solid plan and executing insanely well on that plan will increase the odds of reaching your goals.
6. Hire based on potential, not resume credentials
One of the hardest things about starting a company is finding people who engage and embrace your core values. Industry knowledge can be taught, potential can't. Some of my first hires were recent University of Washington graduates with minimal industry knowledge, but a hunger to make an impact. Those early hires included great people who played an instrumental role in growing PitchBook and are still part of our team today.
Because of the power of potential, PitchBook invests heavily in talent development. All new hires go through PitchBook University (PBU), a two-week crash course designed to arm employees with a foundational knowledge of the private capital markets. At last count, just 1% of PitchBook employees came from a finance background.
Once you hit your growth stride, keeping bright, motivated employees involved and on clear growth paths will likely be one of your biggest challenges (as it remains ours). This is a two-way street, where the team members also need to take ownership of their career paths. And frankly, they have more impact on that path than any employer ever will. Again, it depends on what they want. We just provide the runway.
7. Make it fun
Amidst the startup grind, we embraced the value "Make it Fun." We have great people. We laugh every day. We work hard and make it a point to celebrate our accomplishments. By doing so, we've created an unmatched company culture where people come to work surrounded by their friends and genuinely enjoy each other. Really, the best part about PitchBook is the people. From the beginning, I said I'll be damned if I created a company that wasn't fun to show up to every day, and I'm glad to say I still enjoy showing up and getting after it.
To hear more from John, watch him discuss how entrepreneurs can benefit from PitchBook's data. Or learn more about our VC, PE and M&A database, the PitchBook Platform.