Introducing PitchBook Company Signals
January 13, 2015
We are excited to announce the launch of PitchBook Company Signals, our newest feature in the PitchBook Platform. PB Signals provides our clients a transparent, data-driven way to evaluate the traction and growth of private companies using web presence and social reach data.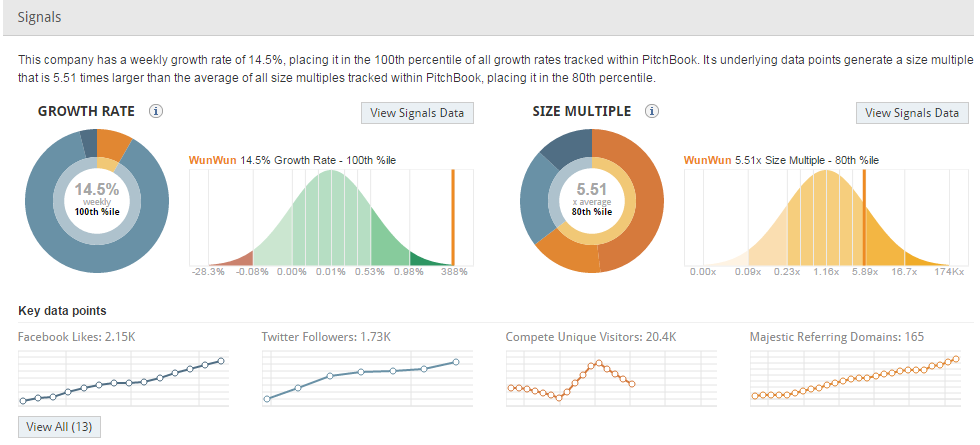 The problem we are trying to help solve for our clients:
In the private markets where public financial disclosure and daily stock prices don't exist, investors, companies and advisors universally need a straightforward, transparent and reliable way to identify, research and track the relative strength, growth and performance of individual private companies, groups of companies and industry sectors.
Over the last few years, venture investors and others began trying to solve this by looking towards non-financial metrics to measure private company growth, such as social media followers and website traffic. In working closely with our clients and understanding their desires to make this data part of their research, deal sourcing and monitoring workflow, we began working on PB Signals in mid-2014. Our research and technology teams spent the last several months collecting company signals data, matching it to our existing data and thoughtfully integrating it in a way that is intuitive and flexible (as we will be adding additional signals in the future).
Here is what came out of this effort:
As we developed PB Signals, went through several iterations and collected feedback, we came to realize that the universal need was for meaningful data, transparent analysis and intuitive tools. Here is how we attacked these three components:
Meaningful Data
Our data sources for this initial version of PB Signals includes Twitter followers, Facebook likes, website traffic (from Compete), website traffic rank and referring links (from Majestic). These are rolled up into a Growth Rate and Size Multiple. Over the next couple of months, we will be adding mobile, employee and activity signals. A key part of the meaningful element comes from being able to put these signals next to PitchBook's existing high-quality and exhaustive global coverage of companies, deal histories, investors and advisors.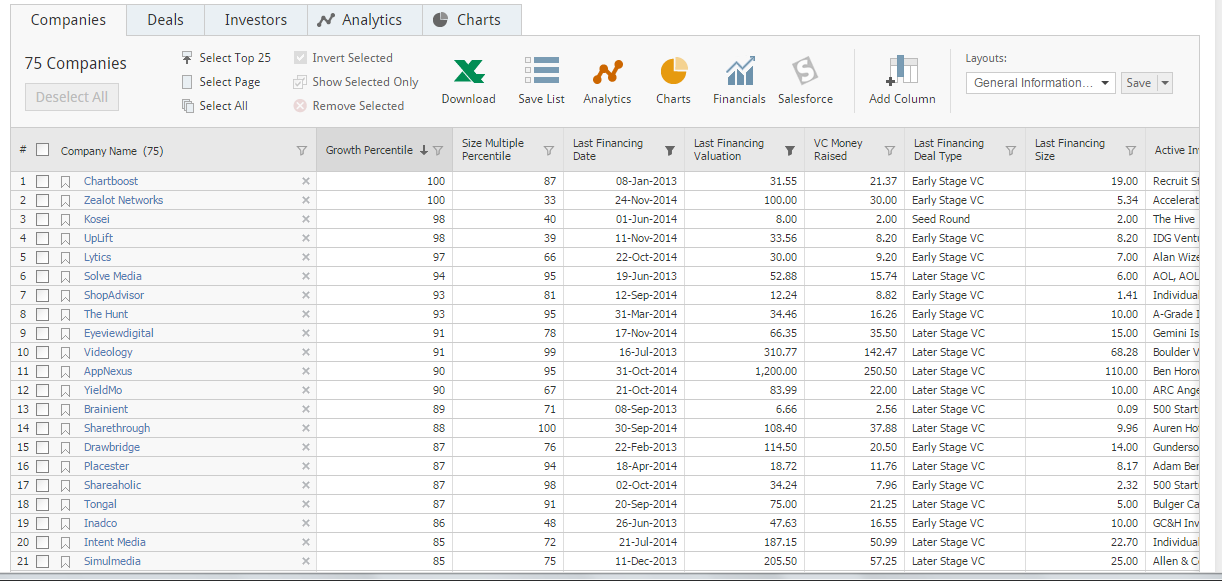 Transparent Analysis
Instead of scoring companies by trying to weigh individual signals based on importance, we realized that what our clients really desired was straightforward, transparent measures of growth and traction. So instead of coming up with secret formulas (aka proprietary algorithm) for scoring, we built two simple measures:
Growth Rate: the average weekly growth rate over the trailing eight weeks of a company's signals
Size Multiple: the sum of a company's signals divided by the median company signal size
These are updated on a weekly basis, and we show the underlying inputs directly on every company's profile. Since we use the same calculation for every company, it's also easy to directly compare individual companies, groups of companies and investor activity.
Intuitive Tools
It was actually a big challenge to make PitchBook Signals intuitive. Luckily, we have an amazing UX team that worked alongside our product team to really understand the data and how our customers will use PB Signals to filter through the noise. Our goal was to make it easy for our clients to very quickly understand how big of a web/social presence a company has, how fast it is growing and the drivers behind these signals.
We also wanted to make the data actually usable. It's great to know how many Twitter followers a company has, but the data is a lot more usable if you also know how many its peers have, or even better, if you could get an alert any time a company in that peer group crosses a certain number of followers.
Here is an example use case of PitchBook Signals:
Early client feedback has been positive, but we look forward to hearing more about what we could do to keep improving PitchBook Signals—so please don't be shy to tell us what you think.
Get ahead of the competition. See how the new PB Company Signals, paired with our vast venture capital database, can help your business. Request a free trial of the PitchBook Platform today.