See the latest PitchBook product enhancements
April 13, 2020
Every new PitchBook feature is designed to help you save time, work smarter and analyze information more efficiently. To do this, we align everything we build to at least one of these core business objectives:

Fundraising


Deal sourcing


Deal execution


Private market intelligence


Due diligence


Networking


Business development

Here are the latest improvements.

Jump to a new feature
Collaborative lists
Deal sourcing
Business development
Now you can work seamlessly with your team from anywhere using PitchBook. Our new
collaborative lists
feature lets you save and share documents, invite feedback, set permission levels and see what updates have been made in real-time—all without leaving the platform.
Market maps center
Private market intelligence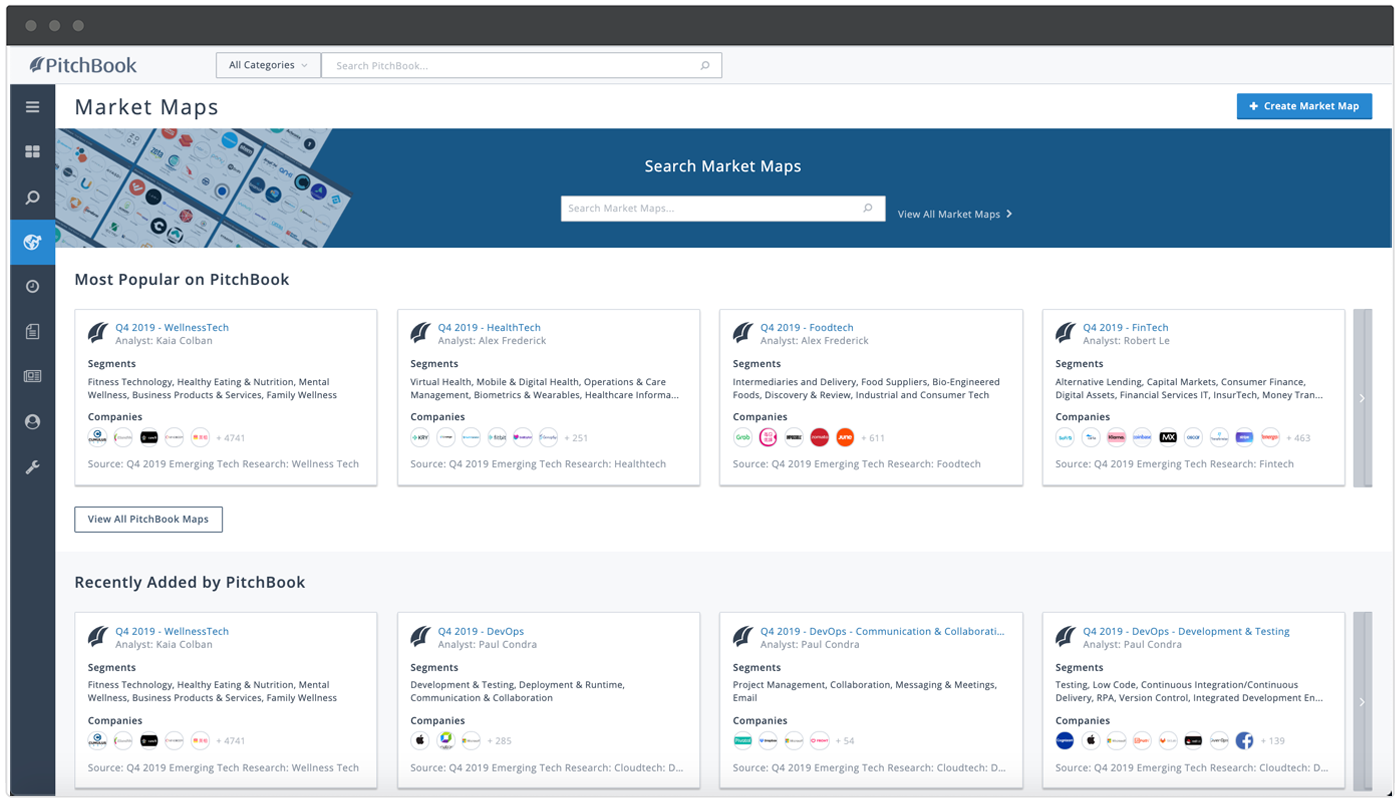 We've also made it easier to find all market-mapping tools you need. Augmenting our existing
market maps feature
, PitchBook's new market maps center provides easy access to our most used mapping tools while surfacing the most relevant insights from our
Emerging Tech Research
.
More European companies and financial data
Deal sourcing
Business development
By expanding our European datasets, we've made hundreds of thousands of private companies across Europe more discoverable. This includes 250,000 new company profiles, improved coverage across Western European countries, and 10 years of financials across most of the newly added companies.
Fund families
Fundraising
Private market intelligence

Our new
fund families feature
makes it simple to understand the historical performance of fund strategies within firms to identify the right opportunities for you. Using the tool's new charts, you can quickly benchmark the performance of any fund over time, relative to its peer group and the other funds in the same family.
Debt and lenders alerts
Private market intelligence
Keep up on competing lender activity, when a company takes on new debt and more with our new
debt and lenders alerts
. Simply set alerts on any of your debt searches to see new debt, new lenders, current news, and management changes related to the lender you've selected.
Expanded keyword search
Private market intelligence
Quickly broaden any of your search results by using our expanded keyword search function to automatically pull in related keywords. We've made it easy to turn on or off with a new checkbox in the "Industries, Verticals & Keywords" search field—and it still gives you the ability to remove suggested keywords that don't fit what you're looking for.


Want to know more? Log in or contact your customer success manager to learn how you can make the most of our latest product enhancements.

Not a PitchBook client yet? Request a free trial.