This year's PitchBook product enhancements and how they help you
December 19, 2019
Building on momentum from the first half of the year, we're wrapping up 2019 with a spate of useful PitchBook product updates and improvements. From the launch of our Emerging Spaces feature to our streamlined valuations workflow capabilities, we've worked diligently all year to ensure you're getting what you need from the platform—and more.

Every enhancement and new feature launched in 2019 was designed to help you work smarter, save time and efficiently analyze information. All improvements made to PitchBook this year align with at least one of the following priorities:


Advanced search
Updates with this icon improve our advanced search function

Company profiles
Updates with this icon improve our company profiles

Discovery & insights
Updates with this icon help surface information and extract insights

Workflow & efficiency
Updates with this icon are designed to optimize workflow
To start, here are three notable features released this year:
Emerging Spaces
With PitchBook's Emerging Spaces feature, our clients can discover niche spaces on the rise within relevant sectors and identify promising investment trends beyond what they might otherwise unearth.

Leveraging our analysts' expertise and methodology developed by our data scientists, Emerging Spaces provides unparalleled insight and fuels action related to developing spaces like carbon capture and removal, ghost kitchens, and clean meat.
D&B partnership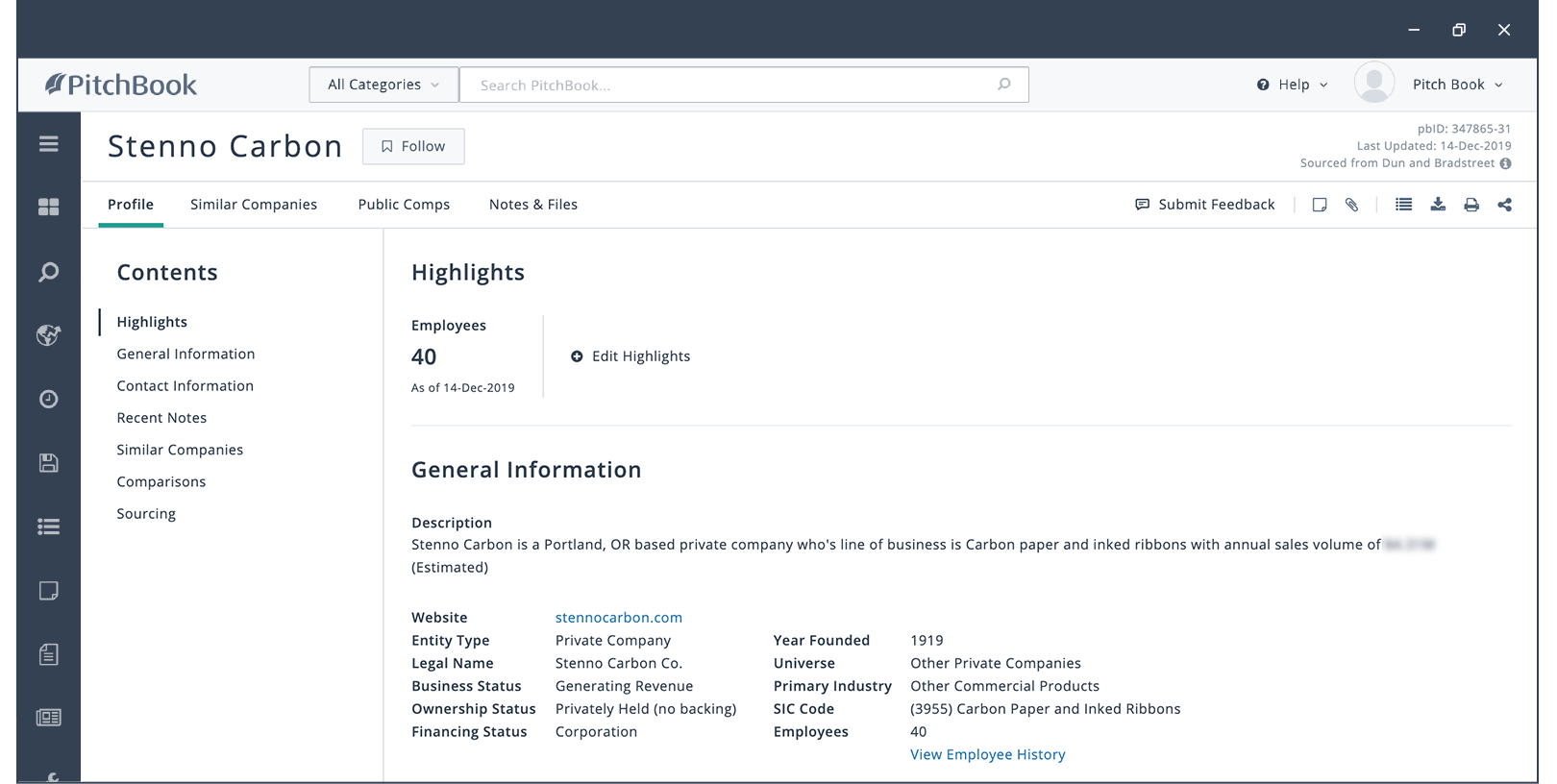 We recently announced a partnership with Dun and Bradstreet to enhance PitchBook's North American company coverage. Specifically, the D&B partnership brought more than 600,000 North American lower middle market private companies into the platform, including 150,000+ private company financials.
Complete with key data points, this update empowers PitchBook clients to discover hard-to-find, investable opportunities and identify service providers and lenders to work with.
Valuations workflow



Launched this year—after working closely with clients and prioritizing their feedback—PitchBook's new valuation workflow capabilities offer better screening and search tools, a comprehensive public comps dataset and in-depth equity research.

This enhancement enables PitchBook clients to spend less time building spreadsheets and more time finding their next big opportunity.
Additional product enhancements
Advanced search
Equity data in public company advanced search


Search for companies with Morningstar equity research in the Public Companies search using criteria including sector, exchange and star rating.
Loan click-through in Debt & Lenders search


Perform more detailed analysis on lender league tables or track what underlying deals competitor lenders were involved with using the click-through functionality on the loans columns in the Lenders tab.
Acquirers search update


Build comprehensive and holistic buyers lists for strategic acquirers based on the acquiring firm's industry, location, financials and more.
Arrange columns improvements


By giving our clients the ability to order their columns, it's easier than ever to customize the layouts of advanced search results.

Company profiles
Stock performance indexes


Benchmark a stock's performance using our Excel Plugin, in addition to the interactive stock chart functionality for quick validation in PitchBook Desktop. Plus, you can easily search for a specific index, view index data points in the formula builder and access a stock price benchmarking template.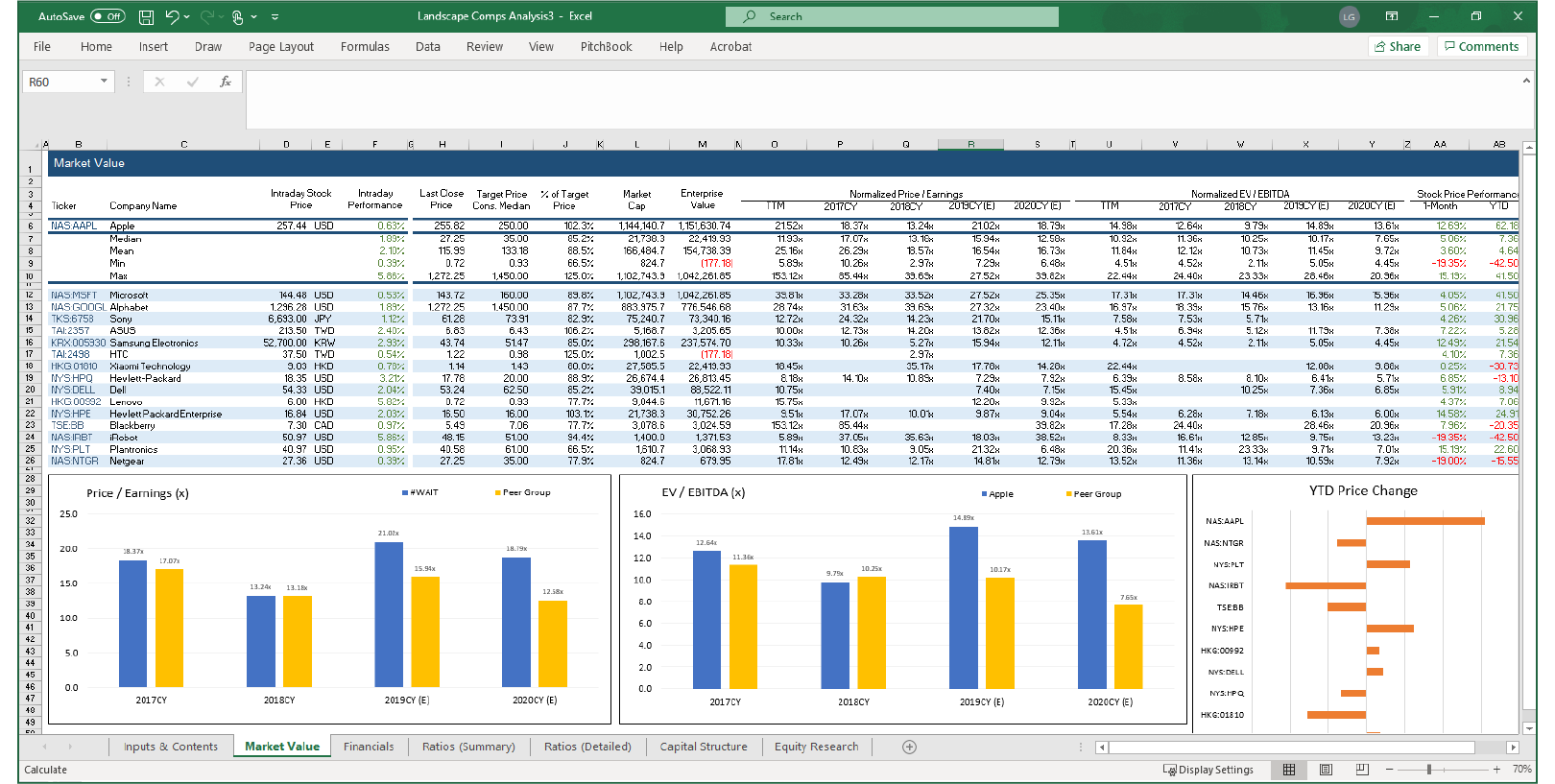 Improved public company descriptions


Access more in-depth company descriptions written by Morningstar analysts for all public companies in PitchBook.
Competitor feedback


We're improving our comprehensive competitor data with features that make it easier for users to suggest competitors not currently listed on a company profile.
Operating segment and business unit financials


We've added data on the breakout of regional and business-unit financials for enhanced analysis.

Discovery & insights
Emerging Technology Research reports


Our Emerging Tech Research reports offer comprehensive assessments of disruptive sectors and are intended to help you better segment and size markets, understand company and investor landscapes, evaluate opportunities and develop conviction around the growth trajectories of emerging industries.

Fund type improvements


Quickly understand how funds fit into the bigger strategic picture and easily make the connection between PitchBook's platform and analysis reports by selecting whole fund universes or individual fund types.
Personalized dashboard: Aging portfolio tile



Serving up companies in your preferred industries that are approaching the end of their holding period and may be ready for an acquisition or infusion of capital.
Competitors in search results


Quickly see a company's competitors with expanded competitor data surfaced in search results and suggestions.
Ratios & Multiples improvements


Easily value a public company over time as of a specific date with the improved Ratios & Multiples tab.
Continued calculation transparency


Quickly audit reported values in source filings and understand methodology behind calculated values.
General search algorithm update


Quickly identify and navigate to the right profile with our updated relevancy-based search logic.
Competitor landscape


Visualize a company's competitive landscape to better understand the space they operate within, discover new companies and create complete lists.
Market Maps


Chart any market landscape with customizable options to create powerful and actionable market map deliverables.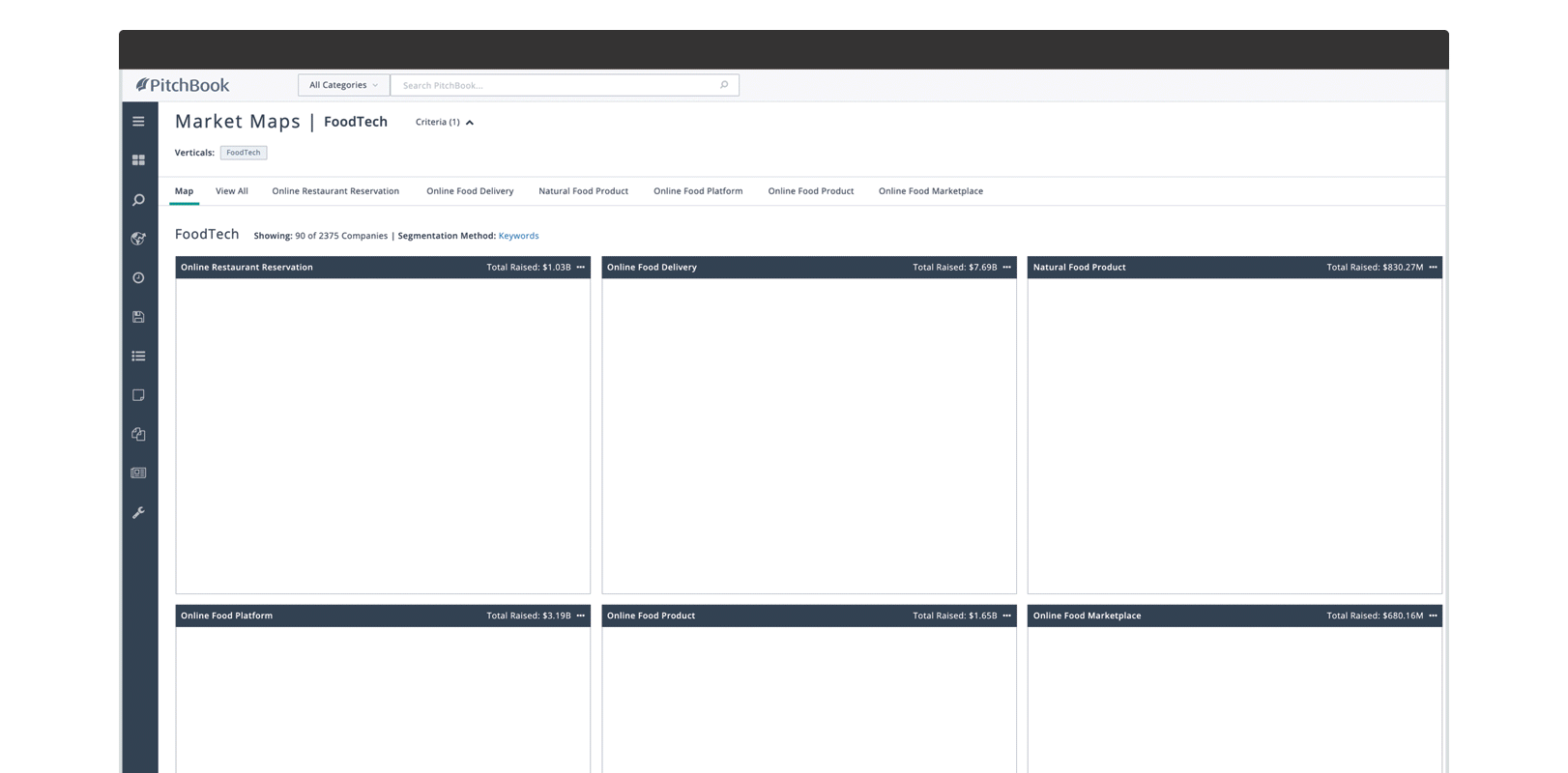 Profile highlights


Tiles featured at the top of company profiles that include details on employee count, post-valuation, total raised, valuation step-up and more help our users prioritize what companies to spend further time researching.
Public data in Chrome extension


Public company data is now available through the PitchBook Chrome extension.
Updates to the Research Center



Featuring a new landing page and enhanced search functionality, our Research Center makes PitchBook and Morningstar reports immediately discoverable, accessible and easier to find.


Workflow & efficiency
Personalized dashboard: Aging portfolio tile



PitchBook's new dashboard automatically provides personalized news and analytics all in one place—to help you stay on top of changes happening in the market.
Mobile Meeting Intel sync improvements


With Meeting Intel on PitchBook Mobile, you can sync your calendars to get powerful insights instantly on who you're meeting with next and save time on preparation.
Email alerts for public financials advanced search


Easily stay on top of changes to the public companies you track with email alerts for the public financials advanced search.
Chrome extension entity scan filter


Now you can quickly filter the Chrome Extension's scan results to find exactly the entities you're interested in most.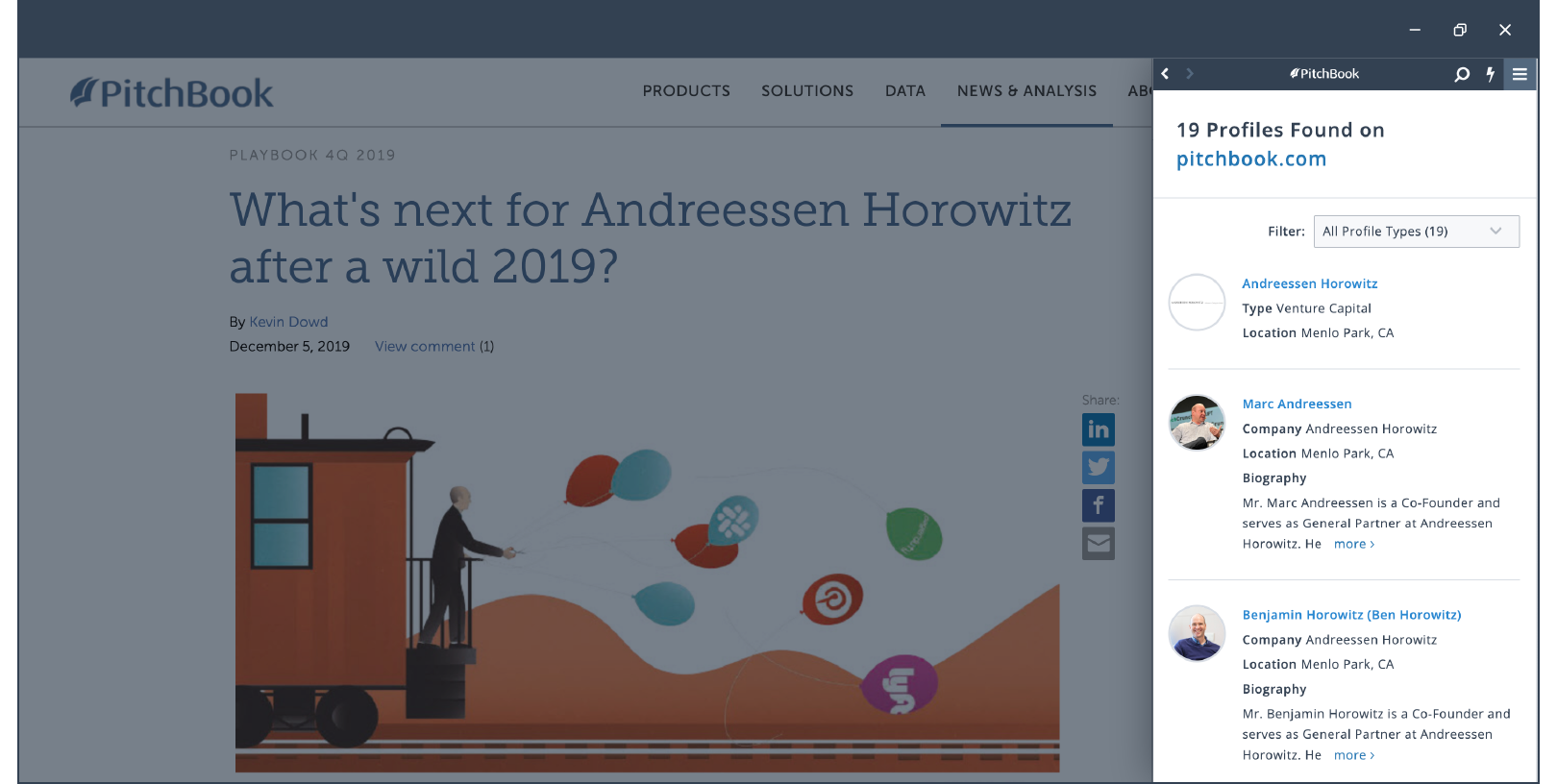 Morningstar equity research in general search


Easily find companies with Morningstar Equity Research coverage anywhere in the platform via the main search bar.
Improved public comps recommendations for public companies


Gain insight on public company profiles with our improved public comps recommendations that leverage correlation of pricing returns, company industry, and other factors.
Single sign-on (SSO) enhancements


Implemented across the PitchBook Platform, Mobile, Excel plugin and Chrome Extension, logging into PitchBook via SSO increases security and productivity.
Company logos in Excel plugin


Customers can now pull company logos into the Excel plugin quicker and easier than ever.
New Excel plugin templates


New landscape comps analysis, precedent transaction analysis and beta calculator templates are now available through the Excel plugin.



Mobile push notifications update


With our updated push notifications, you can stay informed on the most interesting updates related to your saved searches.
Mobile estimates


PitchBook Mobile profiles now include forward-looking consensus estimates, target prices and analyst buy recommendations.
Public Comps tab improvements


Three new public comps summary charts and tables in the Public Comps tab show if a company is under- or overvalued relative to its peers and how a company's stock performed compared to its country's broad-based market index.
Public company save lists


Save tailored lists of public companies that meet your public equity-specific search criteria.
Valuation overview and summary


Quickly evaluate a company's valuations at a high-level before creating your own with the addition of "football field" valuation charts to company profiles.
Updates to the Research Center



Featuring a new landing page and enhanced search functionality, our Research Center makes PitchBook and Morningstar reports immediately discoverable, accessible and easier to find.
Financial calculation transparency


We've increased coverage of financial data points with drill-down capabilities and now store financials from Morningstar in their native currencies.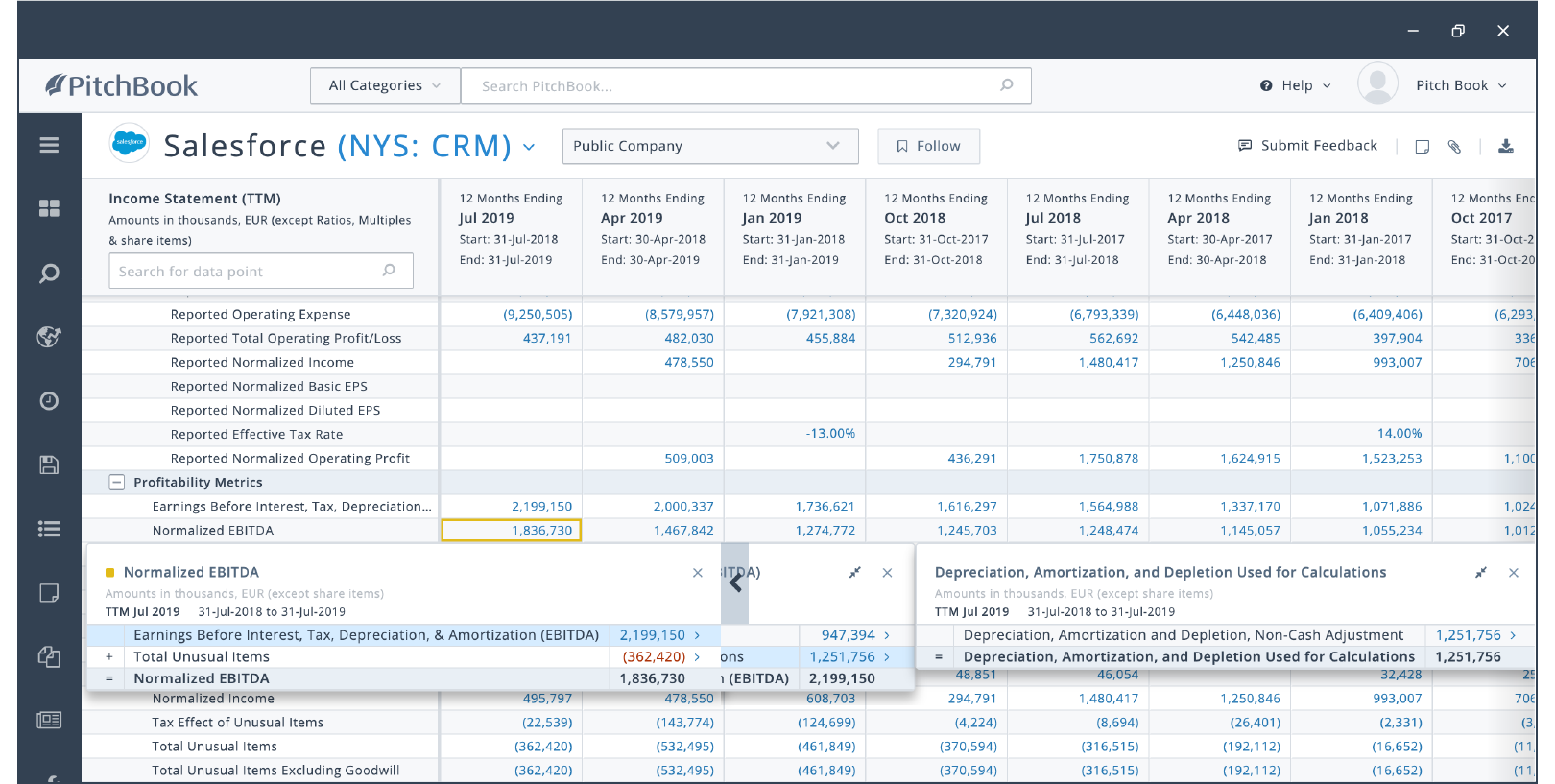 Want to know more? Login or contact your CSM and see how you can leverage the latest product enhancements.

Not a PitchBook client? Request a free trial.