Track your team's progress on deals from start to finish
November 5, 2018
In our continued effort to act on user feedback and bring richer functionality to our platform, you can now search for any of your notes and files from one single location in PitchBook Desktop as well as on PitchBook Mobile.
Track your progress in the same place you use to source and analyze deals by securely storing notes and files—from pitch decks to contracts—on PitchBook profiles. With our in-depth data and your ongoing communications side by side, it's easy to move deals forward without missing important details.
Continue reading to learn more.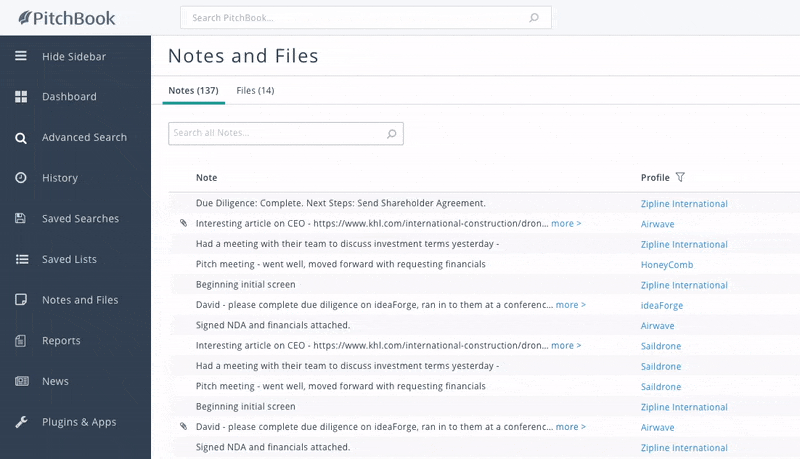 Streamline your workflow
Easily review internal docs or use the notes tool to jot down notes on companies, people, deals and more. By pairing your customer intel with our comprehensive private market data, you'll have everything you need to stay on top of opportunities—in one place.
Check a profile's activity log to see if coworkers have made progress on a transaction. The log displays notes and files your team has added in chronological order, so you can see what's been done and what's left to do.
Stay informed
Quickly brush up on key details before a meeting and keep tabs on deals with access to pertinent documents and conversations alongside powerful private market data.
See the complete history of your relationship with a company or client. View a comprehensive record of emails, meeting notes, contracts and more in any file format, including Word, Excel, PowerPoint and photos.
Collaborate with your team
Share your work and get up to speed on projects. Notes and files are visible and easily searchable across teams so everyone stays on the same page and no tasks are duplicated.
Effortlessly upload and filter files by name, type, date and more to see who updated what when—and seamlessly follow your progress together.
With notes and files feature, your internal communications and our powerful data work hand in hand to transform the PitchBook Platform into an even more robust tool—one that not only enables you to find your next opportunity, but also track and share your progress. It's just one way we're working to make your job easier.
Ready to give it a try? Log in to the PitchBook Platform and click on the "Notes and Files" tab at the top of any profile or on it's new location in the main sidebar.
Log in
If you have any questions, contact your dedicated customer success manager. They're always here and happy to help.
Not a PitchBook user yet? Learn more here.