When BC Partners-backed PetSmart bought online pet food retailer Chewy.com in April for $3.35 billion, it topped Wal-Mart's $3.3 billion deal for Jet.com last year to become the biggest ecommerce transaction in history. The deal was also the largest
PE-sponsored purchase of a VC-backed company since at least 2007
, according to the PitchBook Platform, and it represents a growing trend.
VC-backed companies are selling to PE firms at about double the rate of recent years.
A snippet from
PitchBook's 2017 PE & VC Exits report
, covering North America and Europe:
Acquisitions continue to be the most common exit route (for VC-backed companies), but through May, over 20% of 2017 (such) exits have been buyouts by PE firms, a large proportion compared to past years, which have observed that percentage generally hover between 10% and 12%.
The trend is pictured below from the US perspective in the
2Q 2017 PitchBook-NVCA Venture Monitor
: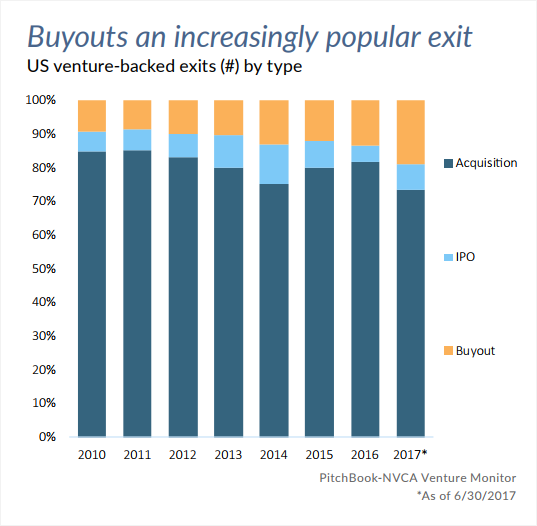 Why the shift toward buyouts as a preferred VC exit route?
The IPO market hasn't exactly been fruitful of late, with the two major consumer companies that have gone public this year floundering. Snap's stock price has dropped dramatically since it debuted in March, and Blue Apron has experienced a similar decline since its June IPO. Other reasons private companies may opt to be acquired by a PE firm rather than go public: They can avoid the costly IPO process that requires financial transparency, and PE firms can provide operating expertise while often allowing a company's management team to remain in place (at least for a while).
PitchBook analysts remain confident that PE's increasing interest in VC-backed companies will continue. With PE fundraising experiencing a boom
not seen since before the 2008 financial crash
, the deal environment is as competitive as ever. Thus, it stands to reason that a VC-backed company with significant growth potential could be more attractive than the typical distressed company in need of a PE buyout. That notion has been especially true in the IT space.
A snippet from
Pitchbook's 2Q 2017 US PE Breakdown
:
The IT sector has become particularly popular in recent quarters, accounting for 19% of (PE) deals through June 2017. Tech companies often provide high growth opportunities in an otherwise underwhelming—in terms of GDP growth—economic landscape.
Since 2007, almost 47% of PE deals for VC-backed companies
have occurred in the IT space
, per the PitchBook Platform. B2B is second with around 19% of deals, and healthcare comes in third with about 15%.
Below are the most active PE investors in VC-backed companies since 2007
: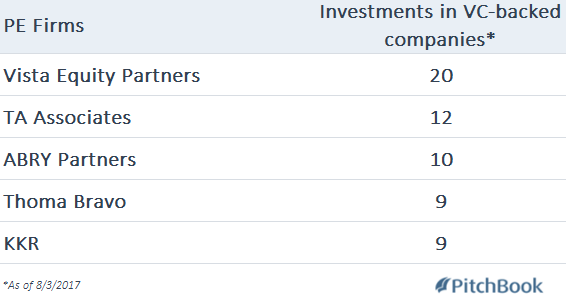 Check out more of our coverage of VC exits.