While food-related startups have been folding left and right, meal-kit delivery service Blue Apron has taken a major step forward within the embattled industry and filed for an IPO. The company plans to list on the NYSE under the symbol APRN.
Blue Apron sells meal kits that include pre-measured and proportioned ingredients designed to help customers prepare complex dishes quickly and easily. Founded in 2012, the New York-based startup was most recently valued at $2 billion in June 2015 with a $135 million funding. The company was said to be exploring an offering last summer, and earlier reports indicated it was hoping to be valued at around $3 billion at the time of its IPO.
We dug into
Blue Apron's S-1 filing
to learn more about the year's next big consumer offering.
Strong revenue growth, but losses mounting
Blue Apron has seen impressive top-line growth over the past few years, with net revenue jumping from $77.8 million in 2014 to $340.8 million in 2015 and, most recently, $795.4 million in 2016.
A different trend emerges, though, when comparing 1Q net income on an annual basis. Last quarter Blue Apron recorded a $52.2 million loss on $244.8 million in revenue, which isn't all that unheard of for a maturing startup, but it is quite a difference from the $3 million profit made on $172.1 million of revenue in 1Q 2016. Perhaps, a quarter of profitability is just an outlier in this case.
It's difficult to say all the elements that led to such a decline from a profitability perspective, but one element is surely marketing spend: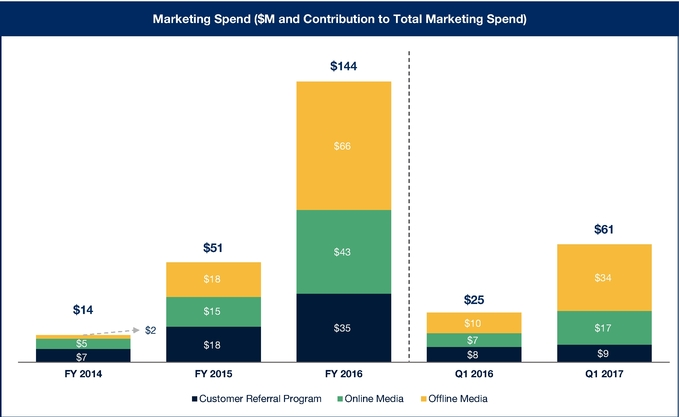 Customers not ordering more over time
As seen below, Blue Apron has seen steady growth in its customer base, surpassing 1 million subscribers last quarter. That will be an important trend to continue as 1Q's figures for average order value ($57.23), orders per customer (4.1), average revenue per customer ($236) were all down YoY—declines of 3.5%, 8.9% and 10.9%, respectively.
If customers aren't ordering more, the key for Blue Apron will be continuing to attract new ones, so it's no surprise then to see the aforementioned rise in marketing costs. The results are clear to see in volume, at least, as the company had 4.3 million orders in the first quarter this year, up from 3.7 million orders in 4Q 2016 and 2.9 million in 1Q 2016

​
Blue Apron reported in the filing that its "cost per customer" for the 2014-2016 timeframe was $94. It's a noteworthy metric, but one would expect that to be much higher for more recent cohorts. And it's a great example of why it's hard to measure the strength of the business from "select" financial information.
As Tren Griffin pointed out
, there's quite a lot going on at Blue Apron from a unit economics perspective, and many of the key metrics for analyzing the health of the business (e.g. churn, customer acquisition cost by cohort) often won't be included in SEC filings.
4/ In a subscription model CAC, churn etc must be calculated by cohort. That's an advanced topic. Also: COGs is often really CAC (freemium)

— Tren Griffin (@trengriffin) June 2, 2017
VC's big winners in the Big Apple

So which VC backers will be celebrating the exit? Interestingly, the New York-based startup will be bearing fruit mostly for a trio of investors with New York ties, as the biggest stakeholders include Bessemer Venture Partners (23.8% pre-IPO stake), First Round Capital (10.5%) and Stripes Group (6.5%).
Fidelity Investments, which led the company's most recent private financing, also holds a 6.2% stake.
What will be interesting to track is if the public markets will value Blue Apron similar to how VCs did. Can the company support its most recent "high-growth tech startup" valuation? Will it be deemed just a delivery service for food despite its best efforts to brand differently?
Those questions will soon be answered by public investors, and many in the industry will be keeping close notice.
Others to follow?
As mentioned earlier, it hasn't been an easy run for many food-related startups, with companies like
Maple
and
Sprig
recently shutting down.
Munchery has had its struggles
, as well.
But it hasn't been all bad, and others are expected to follow soon in Blue Apron's path.
Sun Basket
and
Delivery Hero
are most likely next in line, with both rumored to be possibly filing later this month. HelloFresh, which postponed an offering in 2015, is another one to keep an eye on.
Blue Apron, for its part, has tried to differentiate itself from other meal-kit and food-delivery services, touting itself as a socially conscious business that works to support a sustainable food system by sourcing produce from family-run farms growing specialty products just for Blue Apron customers.
The model has worked so far, and we'll soon see what kind of standard Blue Apron sets for the industry in terms of going public.
Get more information on Blue Apron in its free profile.

Read more of our recent IPO coverage here.