Betting on bitcoin: visualizing trends in bitcoin and VC
February 11, 2015
As 2015 gets underway, bitcoin is still grabbing plenty of attention, with some warning of its frailty and others dubbing this its make-or-break year. With all sorts of predictions swirling around the cryptocurrency, we thought some context could prove useful, so we produced an interactive data visualization of bitcoin and venture capital trends, breaking them down in tandem quarter by quarter. Click here or on the image below to explore and compare VC investment and bitcoin metrics side by side, as well as dozens of startups and their VC stats.
Several factors are driving shifts in the VC and bitcoin landscape currently: the rising tide of VC deal sizes, as well as several fast-growing bitcoin startups, has lifted the amount of VC invested over the past several quarters, even though deal count has steadily declined. Falling bitcoin prices, although widely used as a gauge for concern, aren't necessarily the best metric for evaluating bitcoin's potential.
Bitcoin is an innovative appropriation of an ancient idea, and, like any other young technology, it is facing the challenges of courting users, developing common standards of usage and more—for all we know, similar problems arose when Mesopotamians first used clay tokens as a form of payment. Issues peculiar to bitcoin are mainly security-related; its central concept is not that challenging, but its security ramifications are complex. Yet as the data viz shows, quite a few prominent VCs as well as users worldwide seem to be increasingly backing the digital currency, the former with more and more money and the latter with surging usage. (It's important to note the amount of VC invested in bitcoin startups in 2015 thus far is already the second-highest quarterly total since 2012's start.) The Coindesk 2015 State of Bitcoinpoints toward cautious optimism as more companies accept bitcoin and mining network difficulties decline, although it does emphasize caution.
That caution is the most important thing to observe about bitcoin right now. Back when its price eclipsed $1,000, it was easy to succumb to the hype around the cryptocurrency; and now that the price has dropped amid some major security scandals (e.g. Mt. Gox), it's also easy to be a little bearish. But with VCs clearly demonstrating confidence in the startups best navigating the space, and its usage growing, bitcoin shouldn't be counted out just yet.
With that in mind, here's a select list of the bitcoin startups identified by PitchBook Company Signals as some of the hottest in the space: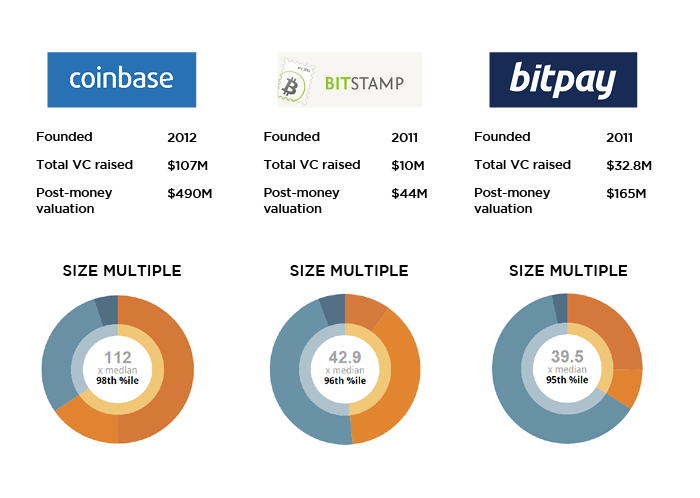 Interested in more VC data on bitcoin companies? Contact us here for a free trial of the PitchBook Platform.
Join the more than 1.5 million industry professionals who get our daily newsletter!