Corporate venture capital (CVC) groups have significantly ramped up their investing over the last five years, but many VCs and entrepreneurs still worry they are just tourists on an innovation-enlightenment-seeking trip. The general feeling is that 2001 will repeat itself and corporate bosses will pull the plug the moment numbers stop being up and to the right. The ice is slowly thawing as venture capital firms warm to CVCs on a company-by-company basis, but when viewing CVCs as a whole, a very large dose of skepticism remains. At this point, I don't think VCs are wrong.
The data indicates that corporates in the US are rarely leading rounds—only 8% of venture rounds so far in 2016, and just 6% if you exclude the top 10 CVCs. Since January 1, 2006, CVCs have invested in 6,123 US companies through 8,956 venture rounds; they have been a lead investor in 1,996. Yet, leading rounds is a very important aspect of being a venture investor and key in showing commitment to the ecosystem and portfolio companies.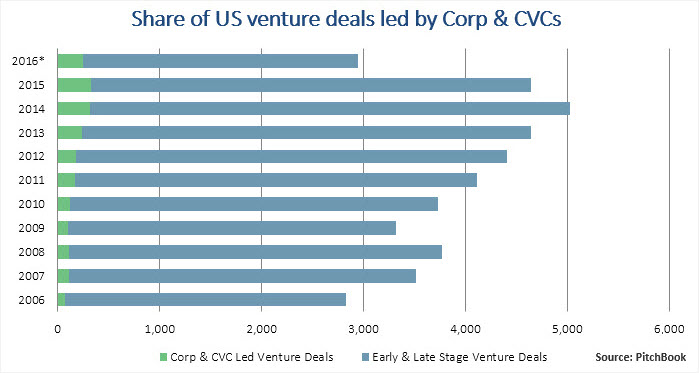 If corporates want to be seen as true, long-term partners in the venture capital world, they must step up more frequently into the lead role in all stages of a company's growth. Leading a round requires a lot of work, sophistication, responsibility and visibility, all of which will accrue toward a CVC's reputation.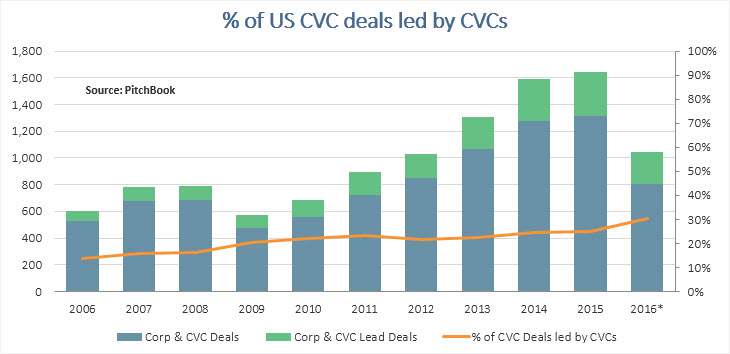 For PitchBook clients, here's a link to the the dataset in the Platform: https://my.pitchbook.com/?pcc=18502-93
It's worth noting that a number of CVCs are very active round leaders; not surprisingly, these firms are highly regarded within the venture world and generally seen as the more "elite" CVCs.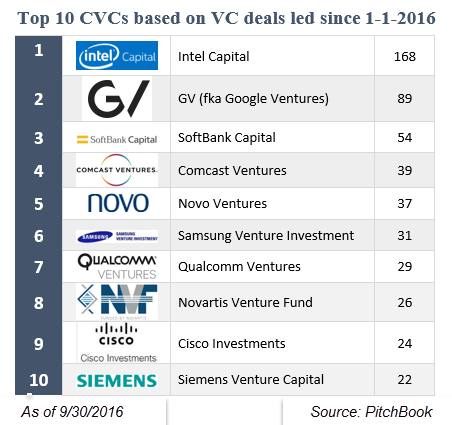 This data is not surprising, given the large number of new and rekindled CVC programs. It's only natural that corporate investors would start their venture and innovation programs by filling out syndicates as a way to learn the venture business and how to function as a unit within their own company. However, it's clear that if CVCs want to demonstrate that they are here to stay as a key part of the new venture ecosystem, they must begin leading rounds more actively.