Apple's introduction of the iPhone in 2007 sent waves not just through the technology industry, but the world.
In a time when Razrs and Sidekicks were considered advanced, the iPhone offered an innovative interface that seamlessly integrated internet-connected functionality with usability. The wide adoption of the iPhone, and the many copies from other brands, kicked off a new wave of mobile computing, enabling and giving birth to many figurehead companies of our time, like Snap and Instagram.
It's been almost a full decade since the original iPhone unveiling, and now new companies are attempting to apply this same "smart" technology and usability to a seemingly endless amount of products, such as home security systems, clothing, kitchenware and even boxes for growing marijuana.
Enter the Internet of Things.
US venture investment in IoT
While the industry—catchy acronym and all—has been buzzy for a while, it's still picking up steam when you look at historical venture capital investment in the space. Deal count and capital invested were relatively steady from 2007 to 2013; two years later, however, both totals had nearly doubled on a yearly basis. 2014 marks when VCs really began to pour money into IoT startups, completing 288 deals in the US worth a combined $839 million. Capital invested has since continued its upward trend, with this year already seeing a record amount disbursed. As for deal count, it appears the 2016 total will come in a bit under last year's highs, but that follows a general trend across VC.

When looking at the distribution of types of rounds completed in the US each year, seed rounds made up just 29% of all IoT deals in 2011, as opposed to last year when they accounted for 46%. Comparing those figures to those of a more established industry such as SaaS, which saw seed deals account for 38% of rounds in 2015, it's apparent VCs are still bullish on the growth potential for IoT. That said, Series A rounds have been consistently garnering a larger portion of deals since 2013, potentially showing an industry approaching adolescence.
Top investors in IoT
Clearly, VC interest in the space is high, but what key firms are backing the industry?
A large swathe of the investors pumping capital into IoT startups fall under the corporate umbrella, with four CVCs ranking among the most active. While this is a bit different than what's usually seen in other sectors, the nature of IoT and how it could be implemented explains high corporate investment levels. Much of what IoT startups are building takes existing hardware (refrigerators, alarm systems, clothing, etc.) and adds internet connectivity and enhanced usability options. By partnering—i.e. accepting investment from CVCs—startups are able to tap into the corporate's resources to, for example, build their product or scale distribution.
It's not a one-sided relationship, though. Corporations stand to benefit greatly from the relationship beyond the obvious potential financial returns from investing. Often times older enterprises will—in the stead of building out technology in house—use venture arms to scout out early-stage companies working on complimentary tech for potential partnerships. In other words, sometimes it's easier to just buy growth than manufacture it yourself. That mindset seems to be playing a role here, with Intel Capital, Cisco Investments, Qualcomm Ventures and GE Ventures all ranking highly in our list below: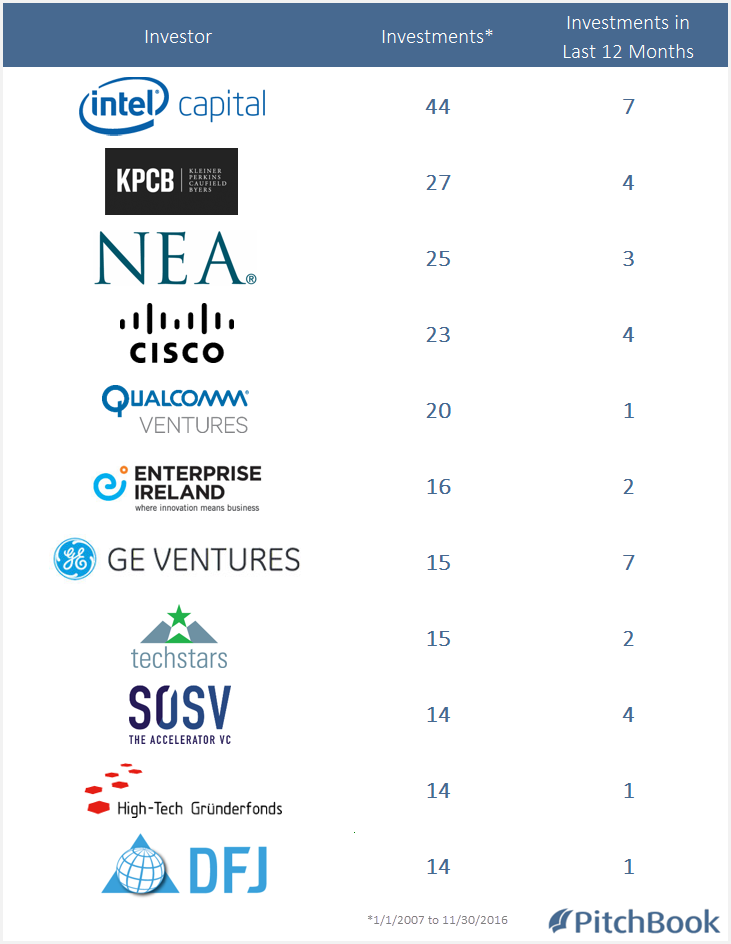 Notable IoT companies
Consumer
Ring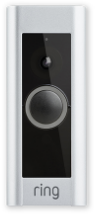 Ring's flagship product is a battery-operated, WiFi-connected, HD video doorbell that enables homeowners to see and speak with visitors when they're not home via live streaming to a mobile app. With a goal of reducing crime, the company's video doorbell has a variety of features to deter potential intruders, including motion sensors that trigger video recording and mobile alerts. Ring has raised about $100 million in funding—including a $61.2 million Series C at a $200 million valuation—from firms including Kleiner Perkins Caufield & Byers, Shea Ventures, True Ventures, American Family Ventures and Sir Richard Branson.
Rokid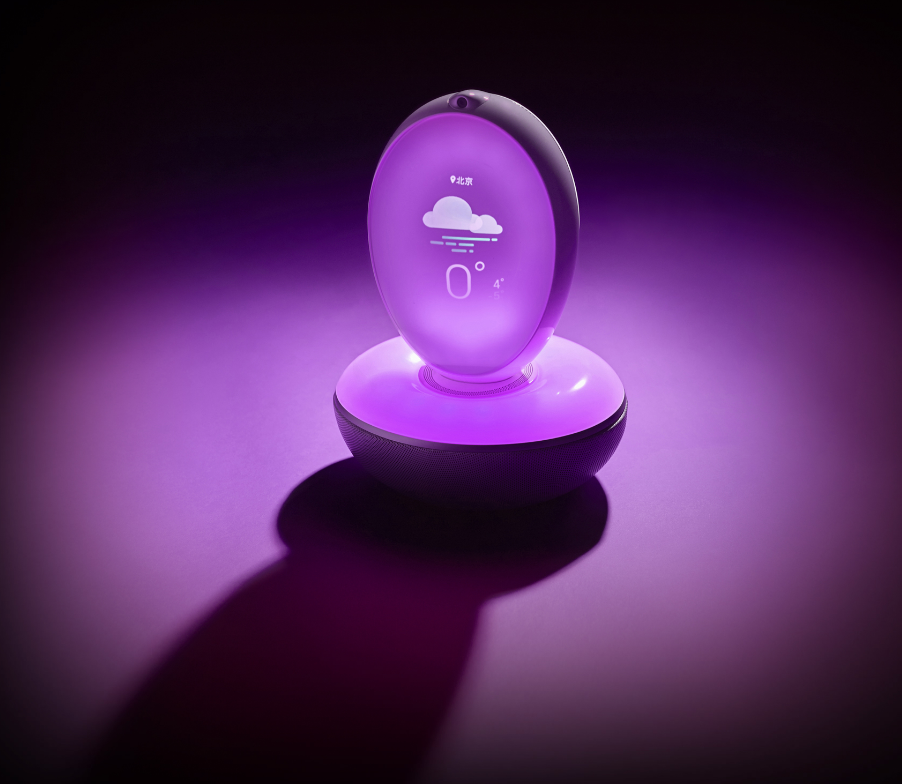 Rokid offers a smarthome device designed to perform tasks via voice and visual interactions. The company is backed by VCs including IDG Capital Partners, Advantech Capital Partners and Walden International; it most recently raised a $50 million round in October at a rumored valuation of $450 million. Rokid is far from the only one looking to capitalize on the growing industry, however. Both Amazon and Google have released similar products, with Amazon even launching a venture fund to back startups developing with its voice-controlled platform, Alexa.
Enterprise
Veniam

Veniam has developed hardware, software and cloud technologies to equip moving vehicles—such as taxis, buses and garbage trucks—with mobile hotspots, enabling them to communicate with each other while simultaneously collecting and logging various types of data. The company first launched its initial vehicular network in Porto, Portugal, in 2014, and has since expanded to New York and Singapore. Veniam has secured about $27 million in total funding from firms such as True Ventures, Verizon Ventures and Union Square Ventures. It most recently raised a $22 million Series B round at a roughly $85 million valuation in February.
Electric Imp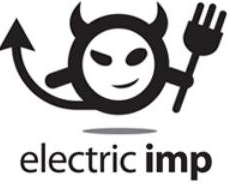 Electric Imp has developed an IoT platform designed to be an end-to-end solution for manufacturers and businesses to bring their products and services securely online. As in many industries, there are flashier consumer-facing startups, and then there are companies providing the building blocks for those startups. Twilio (NYSE: TWLO) plays a comparable role in the rise of mobile applications, enabling companies such as Uber and WhatsApp to easily integrate telecommunication capabilities into their services. Electric Imp has raised about $44 million of funding since its 2011 founding, including a $21 million Series C in April at a $171 million valuation. Investors include Redpoint Ventures, Lowercase Capital and Rampart Capital.Twilio (NYSE: TWLO) plays a comparable role in the rise of mobile applications, enabling companies such as Uber and WhatsApp to easily integrate telecommunication capabilities into their services. Electric Imp has raised about $44 million of funding since its 2011 founding, including a $21 million Series C in April at a $171 million valuation. Investors include Redpoint Ventures, Lowercase Capital and Rampart Capital.
Greenwave Systems

Greenwave Systems' AXON Platform is meant to enable IoT and machine-to-machine network architects and service providers to manage security, interoperability, flexibility and scalability, all from one place. Founded in 2008, the company has secured roughly $92 million in funding from investors including The Westly Group and TCW/Craton. Most recently, Greenwave Systems landed a $60 million funding in January, which generated a $219 million valuation.
Largest valuation step-ups
As interest in an industry spikes, valuations sometimes follow as more investors fight for each deal. Here are some of the largest valuation jumps seen this year from IoT companies, a few of which you will recognize from the previous section: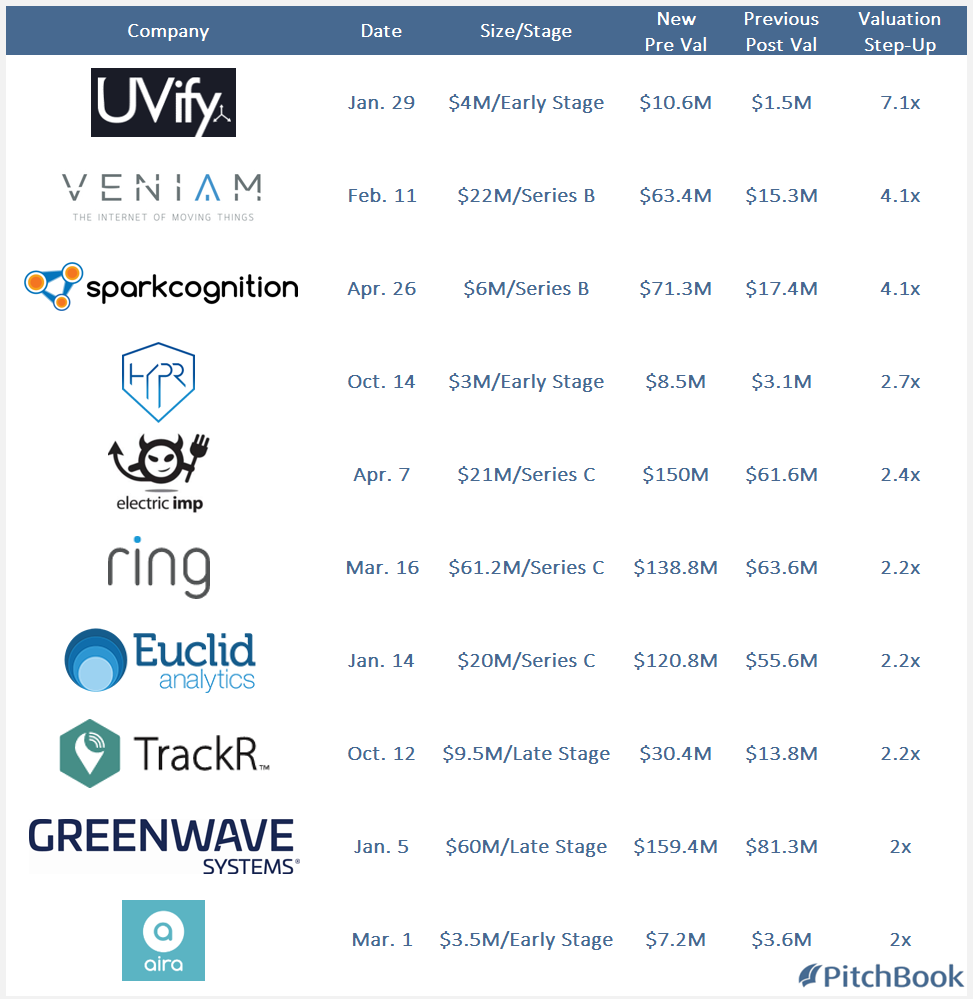 Exit activity and notable companies acquired
Just as venture investment in the space has increased over the past few years, so have the number of annual exits for VC-backed IoT companies. While 2011 saw just 10 exits, that number has constantly increased each year, with 27 having been completed this year so far. Don't be surprised to see this figure continue its upward trajectory in years to come.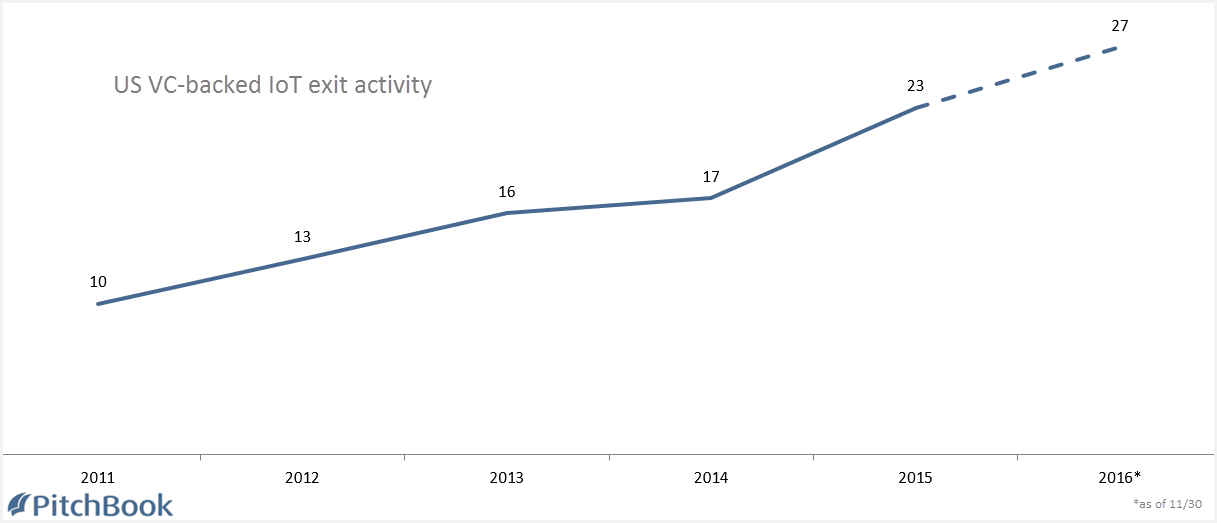 Nest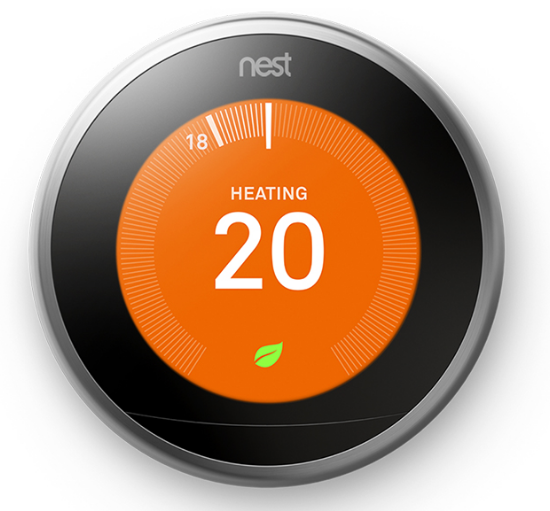 Perhaps one of the most well-known IoT companies, for both good and bad reasons, Nest is the developer of a variety of connected-home products, including a thermostat and smoke alarm, as well as indoor and outdoor cameras. Founded in 2010 by ex-Apple engineers Matt Rogers and Tony Fadell—who is sometimes referred to as one of the "Fathers of the iPod"—Nest raised about $145 million in venture funding from firms including Google Ventures, Venrock and Kleiner Perkins Caufield & Byers. It was valued at near $1 billion before being acquired by Google (NASDAQ: GOOGL) in 2014 for $3.2 billion in cash. While Nest's products are visually appealing and show its founders' Apple roots, the company has struggled to live up to expectations. Reports broke earlier this year that revenue projections were below Wall Street expectations and that there were a host of management issues, starting with Fadell, the company's CEO.
Dropcam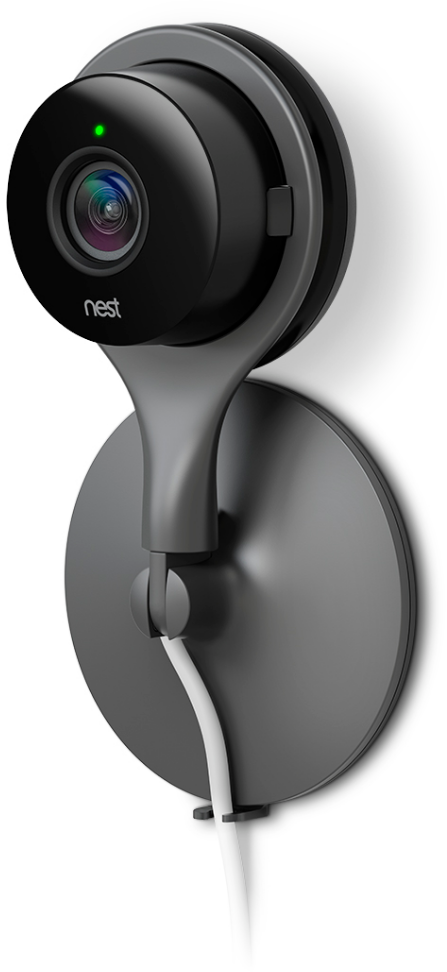 Founded in 2009, Dropcam developed internet-connected home security devices, such as cameras that record video accessible by users via web and mobile apps. The company raised roughly $48 million in venture funding from firms including Accel, Menlo Ventures and IVP before being acquired by the aforementioned Nest in mid-2014 for $555 million. Nest has since released the Nest Cam—which comes in both indoor and outdoor versions—as successors to Dropcam's initial products. These cameras and the videos they capture pop into news headlines from time-to-time for catching burglars in the act.
Jasper

Jasper, which was acquired by Cisco (NASDAQ: CSCO) in March for $1.4 billion, offers a cloud-based IoT platform designed to enable companies of all sizes to quickly and cost-effectively launch, manage and monetize IoT services at scale. Its technology is used in a variety of industries by some of the largest enterprises in the world, such as Amazon, Ford, Starbucks and Heineken. The company had raised about $192 million in funding, which includes a $50 million round in 2014 at a valuation of $1.3 billion. Backers included Pinnacle Ventures, Temasek, Benchmark Capital and Sequoia.
Withings

Withings has a simple goal: to empower people to improve their lives through achieving better long-term health. With that as a focal point, the company offers a range of products designed to cover what it calls "the five pillars of health"—weight, heart, activity, sleep and environment. Some examples of products include smart scales, a blood pressure monitor and wearable exercise-tracking watches. Based in Paris, Withings raised roughly $33 million from Ventech, Bpifrance, Idinvest and 360 Capital Partners, among others, before being acquired by Nokia (NYSE: NOK) in May for €170 million.
This post was fueled by data from the PitchBook Platform.

Interested in digging into more VC trends? Contact us today to set up a free demo.