KKR ventures into Silicon Valley for $2B AppLovin deal
July 17, 2018
In its latest backing by the Bay,
KKR
has agreed to invest $400 million in
AppLovin
, a marketing company that helps app developers reach more users. The deal will value the company at a reported $2 billion, up from an estimated valuation of $1.4 billion that AppLovin attained last year.
The move comes about eight months after Palo Alto-based AppLovin was forced to abandon plans to sell a majority stake in itself to Chinese firm
Orient Hontai Capital
based on objections from the US government, part of a larger crackdown on Chinese investment in American tech companies.
KKR's cash for the deal will come from a $13.9 billion mega-fund the firm closed last year. The move marks the continuation of three trends for the buyout powerhouse that are almost surely related: An increase in growth investments, a budding love affair with the Bay Area and a closer focus on the software sector.
KKR completed
an average of 17 growth deals
over the past four full years, according to the PitchBook Platform, up from an average of seven in the four years prior to that. While the firm has yet to equal a decade high of 22 in 2014, its frequency of minority deals has stayed elevated. Growth transactions have made up more than 11% of KKR's overall investments so far in 2018, the second-highest rate of the past 10 years.
Perhaps more stark is the way KKR has increased its presence over the past 10 years in and around the Bay Area—a region where the firm maintains two separate offices. Between 2008 and 2013, on average, KKR made
about two investments per year
in companies based in the Bay Area, per PitchBook data. In the years since, that activity has sprouted: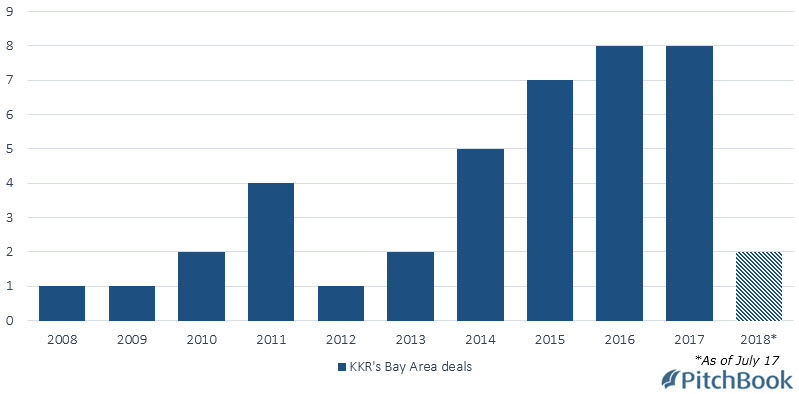 It's probably no coincidence that KKR's rate of investment in the software industry has also trended up in recent years. In 2012, the firm completed just
two deals in the sector
, per the PitchBook Platform, representing 4% of its overall activity. By 2016, that figure had shot up to 17 deals, a nearly 17% share of KKR's annual portfolio.
Minority investments in Bay Area software companies: Is this private equity or venture capital that we're talking about?
Together, all that data tells a clear story: One of a once-traditional buyout firm that's become more comfortable behaving in less-traditional ways, whether that means converting to a corporation or striking the kinds of deals that used to be the domain of VCs.
Related read: KKR becomes second PE firm to restructure after tax reform