Politics
Bain Capital's new White House hopeful is leading its impact investing charge
October 17, 2018
When Mitt Romney ran for president on the Republican ticket in 2012, opponents criticized his career at
Bain Capital
, where he helped pile debt on businesses that eventually went bust under the firm's watch.
Six years later, a current Bain Capital exec has emerged as a potential candidate to run for president in 2020—but this time it's a Democrat, and his track record of investments is quite different.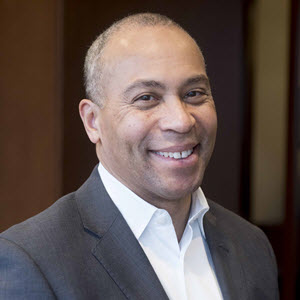 Enter former Massachusetts Gov. Deval Patrick (pictured), a managing director at
Bain Capital Double Impact
, the firm's social investment arm. Patrick has yet to formally announce whether he'll run in 2020, but there has been plenty of speculation, fueled in part by the 62-year-old saying in March that a run for president was on his radar. Then, a close advisor told Politico in June that Patrick was "really thinking about running" but was not yet sure. He reportedly plans to make a decision by the end of the year.
In the meantime, Patrick has ramped up his political activity heading into the midterm elections. In August, his close advisors reportedly launched Reason to Believe, a political action committee dedicated to getting Democrats elected in 2018. And he's spent the past few months traveling the country in support of that mission. He campaigned with Mike Espy, a Mississippi Democrat running for the US Senate, and did the same for former NFL player Colin Allred, a Democrat from Texas running for a spot in the US House of Representatives.
Earlier this month, Patrick also appeared at a rally to support Josh Welle, a New Jersey Democrat running for Congress. Afterward, Patrick weighed in with some thoughts on his experience in a Medium post, which also included criticizing Brett Kavanaugh's behavior during his Supreme Court confirmation hearings. Patrick also has been using his own Twitter account to urge people to vote.
Today marks four weeks until Election Day, and if I've learned one thing from my travels over the past few weeks it's in spite of our politics, our communities are still strong. We deserve a stronger and fairer democracy — but we won't get one unless we vote on November 6.

— Deval Patrick (@DevalPatrick) October 9, 2018
A former executive VP and general counsel at
Coca-Cola
and
Texaco
and a member of the Clinton administration, Patrick served as Massachusetts governor from 2007 to 2015, leaving a mixed legacy. For instance, he helped the state reform its transportation and education sectors, but he struggled to win over the state legislature and suffered from a great deal of turnover and perceived mismanagement of his own staff,
per The Boston Globe
. Nonetheless, Patrick served two full terms, then joined Bain Capital in 2015 to lead the Double Impact Fund. The $390 million vehicle targets businesses that focus on sustainability, health and wellness, and community building, among other verticals.
Since its launch three years ago, the Double Impact Fund has been fairly selective, with eight investments total. But Patrick & Co. have ramped up their efforts lately with four deals in 2018, the most recent coming last week with the acquisition of elder-care businesses LivHOME and Arosa in a merger. In May, the Boston-based buyout shop also closed the acquisition of Penn Foster, a for-profit online education provider based in Scranton, PA, from
Vistria Partners
. Patrick served as the lead partner on both transactions, as well as on the firm's $103 million VC investment in
SpringWorks Therapeutics
in September 2017. SpringWorks focuses on rare diseases and oncology, with an emphasis on treating underserved patients. The Double Impact Fund also invested a reported $31 million in
by Chloe
, a Vegan fast-casual restaurant chain, and Sustainable Restaurant Group, an operator of self-sustainable sushi and seafood restaurants, among other deals.
Here's a breakdown of where the fund's eight deals have gone:
A debt-laden buyout of a struggling retailer, those deals are not. Patrick's investments have leaned more toward PE growth and VC, and on a much smaller scale. And unlike traditional leveraged buyouts, they are aimed, at least in theory, at bringing about social or environmental good, in addition to providing a financial return for LPs, rather than simply the latter. In an interview with CNN's Jake Tapper in August, Patrick defended his time at Bain Capital, saying "I've never taken a job where I've left my conscience at the door, and I haven't started now."
While it's not yet clear how high Patrick's political aspirations are, that distinction could conceivably help his case in a Democratic party that's typically been more critical of the country's financial establishment than the other side of the aisle.
Related read: 1Q 2018 PitchBook Analyst Note: Sources of Impact Capital