Nasdaq Private Market sees 8% increase in transaction volume during 2015
By Garrett Black
March 29, 2016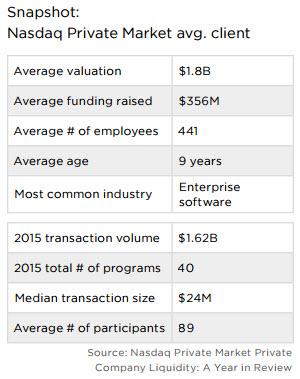 Our 2015 Annual VC Liquidity Report, developed in partnership with Nasdaq, highlights an increase of 33% in the number of secondary liquidity programs on the Nasdaq Private Market, as well as an 8% increase in overall transaction volume from what was observed in 2014. There are multiple drivers behind this continued increase in usage of not only the Nasdaq Private Market platform but other, similar programs for liquidity.
Nasdaq has identified the increased importance of companies controlling shareholder liquidity, public markets' volatility and the late-stage venture boom as some of the primary factors, much as prior PitchBook venture-focused reports have also detailed. Coupling those drivers with the recent surge in investor apprehension and ensuing decline in activity has accelerated shareholders' search for ways to achieve liquidity of the relatively illiquid venture asset class.
Particularly given the wars for talent over the past few years—which seem hardly set to wane—a focus on shareholder liquidity by companies looking to retain employees looks set to maintain or increase. The data backs this up: Current employees constituted a clear majority of sellers last year, with their common stock making up the major portion of what was sold. They and past employees will likely continue to sell off their holdings, perhaps as they may be in a more negotiable mood given the onset of caution.
This is an excerpt from our latest VC Liquidity Report. Download the full report for free here.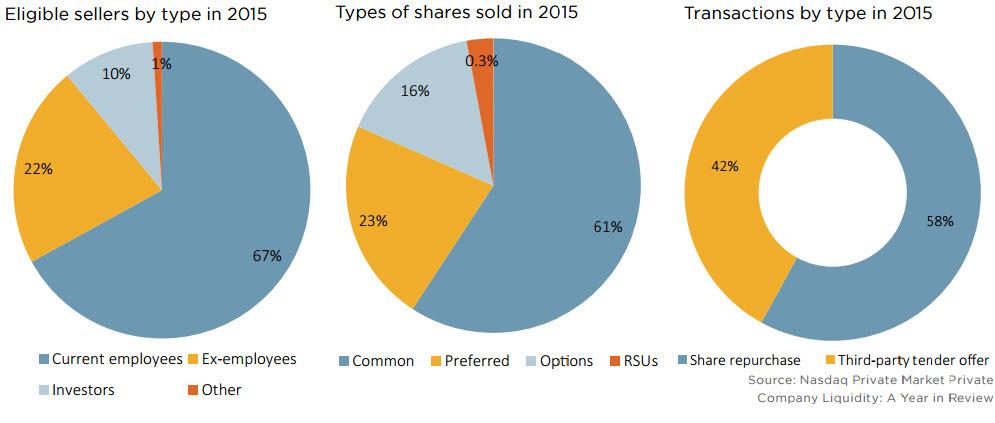 What's interesting to note is that a considerable portion of preferred shares were sold. That, combined with the significant percentage of third-party tender offers completed last year, indicates that investors are also tapping private markets for purposes of liquidity, either from third parties or the company.
It makes sense that, among these sellers, early-stage VCs in particular have been capitalizing on healthy valuations and high demand for companies exhibiting impressive growth, and consequently selling off their holdings to avoid future dilution or costly pay-to-play terms in bigger, late-stage deals. But how will the potential reset in valuations and activity affect investment firms' usage of these secondary markets for liquidity?
As we have pointed out previously and heard anecdotally for some time, not all unicorns and other late-stage, VC-backed companies are created equal. Some have more robust businesses than others and demand for their preferred shares is likely to decline less, relative to a general recalibration that has injured or will continue to hurt others. A cadre of investors is likely to shop for deals as the market cools down.
Every market downturn creates its own opportunities, especially this retrenchment, as there is not yet any widespread perception of a dramatic increase in risk. Consequently, current market conditions seem set to encourage further usage of secondary markets as an avenue to liquidity for both employees and investors/owners alike, potentially creating more attractively priced opportunities for those willing to buy.