Our Additions to Tomasz Tunguz's Seed Fundraising Post
August 8, 2014
We are big fans of Tomasz Tunguz's blog (www.tomtunguz.com) and highly suggest you add it to your required reading list. He just published this post—The Three Most Important Trends in the Seed Fund Raising Market—that looks at data showing an increase in funds under $200 million raised by institutional VCs. Based on the data, he finds an increase in capital being invested by LPs into these funds, growth in fund sizes and an increase in % of VC fundraising; he then draws a line between those trends and the active seed market for the last couple of years. We noticed a few things that made us want to contribute to the conversation.
The data: Shai Goldman has put together a solid list, but research is our secret sauce at PitchBook. We, in fact, have a dedicated research team made up of over a dozen analysts and a number of auto-gathering tools dedicated to gathering and validating private market fund data. So we wanted to see how the trends Tomasz came up with held against our more exhaustive data.
The timeline of Shai's data (since Jan. 1, 2011): In the analysis we did for our recent VC fundraising report, we noticed this small VC fund trend stretching further back. So we wanted to contribute that look, as well. Click here to download our 2H 2014 VC & PE fundraising & Capital Overhang Report
Opportunity for additional analysis: With our combination of deal and fund data, we thought it would be interesting to see if we could find additional data to back up or disprove some of the conclusions.
Here is an overview of our numbers on institutional VC funds under $200 million globally since Jan. 1, 2005. We found it interesting that most of the funds raised under $200M are actually under $100M, but due to the bigger fund size, more capital actually comes from the funds $100M to $200M. Institutional VCs are defined as independent general partners who primarily make investments from funds raised from outside institutional and high net-worth limited partners.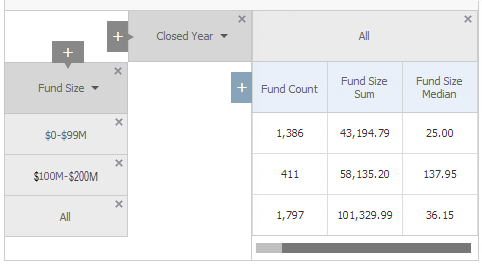 Here is a look at the total capital raised by these funds globally since Jan. 1, 2005:
Here is a look at just U.S. funds since Jan. 1, 2005:
The longer timeline actually shows a slow and steady decline in capital globally raised by sub $200 million funds. In the U.S., however, we see a very a mixed picture that ends with a very strong 2013 and what is shaping to be a strong 2014. It is also worth noting that a sub $200 million fund in 2007 was likely investing differently than one today, so we don't feel this data disagrees with Tomasz's belief that there are more institutional-backed investors actively making seed investments today.
In fact, the number of venture capital firms (excluding corporate VCs, angels, accelerators, etc.) that are making seed investments has been increasing. Below is a chart showing how many VC firms made a seed investment during each year since 2005.
PitchBook users – here are the search links: Fundraising Search Seed Investor Search
If you haven't seen the PitchBook Platform recently (where all of this data and several of the screenshots came from) or are interested in learning how other firms and companies are using PitchBook to invest, advise or sell better, request a demo here.
If you are a writer in need of venture capital or private equity data, we are always happy to help: contact Stephanie Cook at press@pitchbook.com or +1 (206) 438-9273.
Join the more than 1.5 million industry professionals who get our daily newsletter!