PitchBook Alpha List: ranking top VC investors
December 2, 2014
The venture capital strategy of investing in private emerging growth companies is high risk/high reward; it also makes transparently understanding a firm's or individual's investing performance very difficult. This information is important because, among other things, it allows limited partners to evaluate funds and allows entrepreneurs to discover which VCs will ultimately help bring success. At PitchBook, we believe that we can solve information problems like these with better data and powerful technology, and that's just what we've set out to do.
The Making of the PitchBook Alpha List: Venture Investors
The Forbes Midas List has long stood as the gold standard of venture partner rankings, but in today's more transparent and sophisticated world, the venture industry deserves something better. So, building on our exhaustive venture data, we have put together what will hopefully serve as a starting point for an open discussion on investor performance measurement, value creation and deal attribution. Our aim is to help the venture industry understand which individuals are currently making the best investment picks, helping companies to be successful and driving the returns for limited partners.
Having gone through several iterations, we are finally ready to share a version with the industry. Ultimately, we want the PitchBook Alpha List to be a trusted resource for everyone, so please leave a comment below or send us a note atresearch@pitchbook.com with feedback on our methodologies and ideas on how to improve them.
Below is a sample of #11 through #25 of our list, along with associated alpha scores: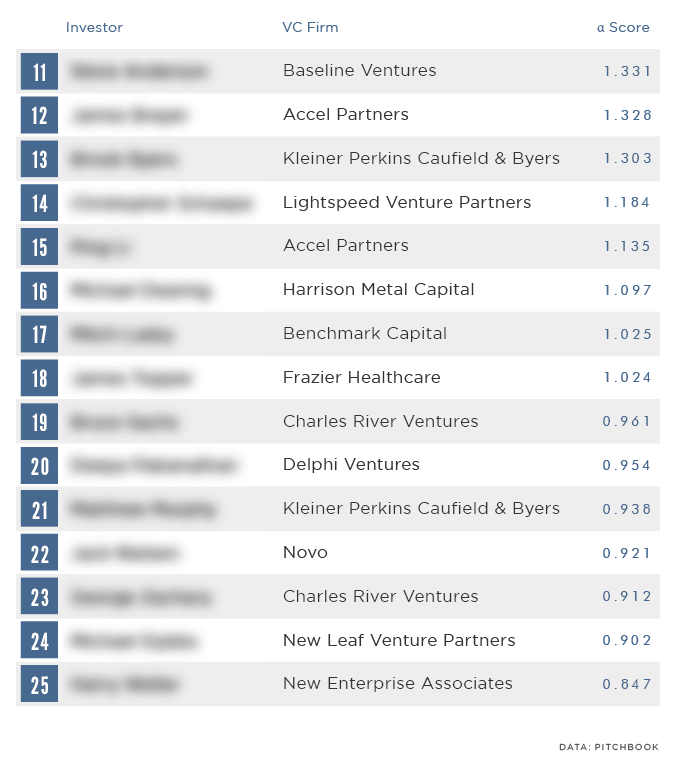 The alpha rank is built by averaging each individual's z-score across the following three criteria: 1. The number of exits realized over $100 million for their companies; 2. The average daily valuation increase between rounds (round C val – round B val ÷ days between round C & B); 3. The compound average daily growth rate from initial round investment to exit, or most recent valuation if un-exited.
To be included, individuals need to have realized at least one exit over $100 million from companies in which they led their firm's investment, be the lead for their firm on at least five rounds for which we have back-to-back round valuations and be lead for their firm for at least three companies for which we have an entry and exit/current value.
Breaking Down Each Criterion
Top venture investors ranked by number of exits above $100 million (the $100 million threshold is based on the fact that exits above $100 million typically represent a positive investment income and, historically, are actually a fairly rare occurrence):
Top venture investors ranked by the average daily valuation increase between rounds: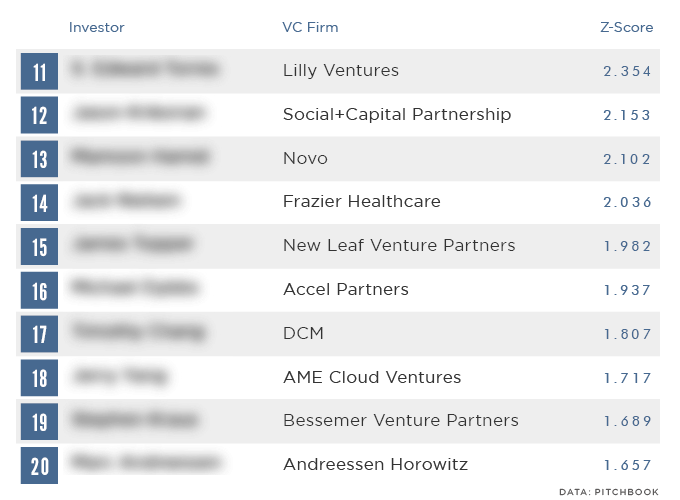 Top venture investors ranked by the average total increase in valuation (done mathematically as a CDGR) from their first investment in a company to the exit, or most recent valuation if not exited: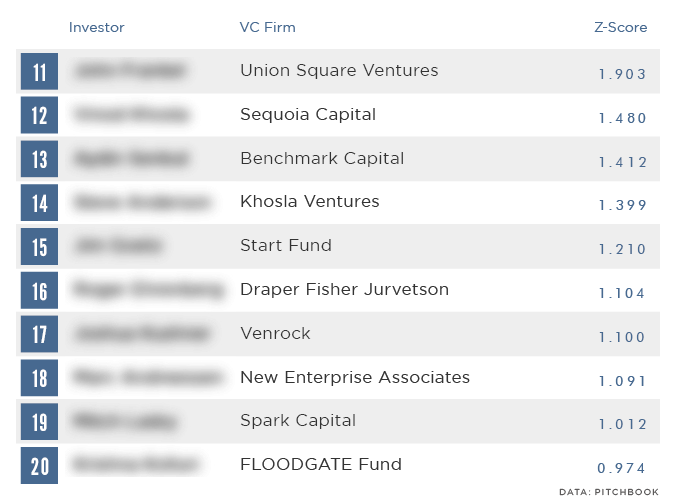 We are not yet releasing the full rankings. We want to make sure that we give everyone the chance to provide feedback on the methodology and to request the deals and valuations we have for them before we publish our Alpha List for venture investors.
Send feedback to research@pitchbook.com or leave a comment below.
Request your profile by sending an email to survey@pitchbook.com.