Recharging green investments: A look at PE activity in clean energy
By Joanna Nolasco
December 28, 2015
It's no surprise that financing was a crucial component of the recently signed Paris Agreement, a unified pact among nations the world over to address the threat of climate change. The agreement states that the global response to warming temperatures includes steering finance flows toward climate-resilient development and lowering greenhouse gas emissions. To that end, it also urges developed countries to contribute $100 billion per year to support developing countries in this cause by 2020.
Maybe this worldwide call-to-action will lure private equity back into clean energy, a space that has seen decreased PE activity so far this year. PE firms have completed 83 deals in global clean energy companies thus far in 2015, according to the PitchBook Platform, a 27% drop from the decade high of 113 deals completed last year. The decline seems to parallel the sharp decrease in oil prices since 2014, perhaps influenced by the long-held perception that cheaper oil undermines demand for clean energy.
PE investment volume appears to have had fits and starts in this space over the past decade. For instance, 2009 and 2012 saw dips in activity—79 and 74 deals, respectively—but were followed by surges in the two years after.
Despite the lull in deal count, the clean energy space has seen a few large PE transactions this year. In February, F2i acquired E.ON Climate and Renewables Italia Solar, formerly a solar farm division within E.ON, in a deal rumored to be worth roughly €2 billion. A few months later, Centerbridge Partners acquired wind turbine manufacturer Senvion for around €1 billion. Both businesses were divested from larger energy companies.
Of the 433 PE investors active in clean energy companies worldwide since 2005, 121 firms have over $2 billion in assets under management. Here are the most active investors in global clean energy companies in the timeframe, with the top three notably headquartered in Europe: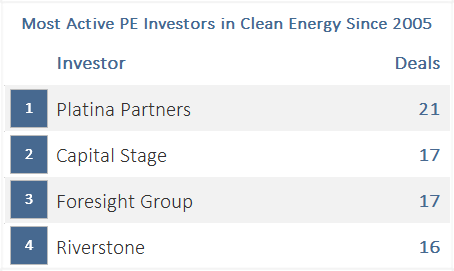 PitchBook Platform users can access our data on PE clean energy investment here. Not a client but interested in this information? Get started on your free trial of our platform today by clicking here.