Rocket curbs losses, eyes startup profitability as it looks to steady the ship
November 30, 2017

German VC Rocket Internet has narrowed its losses as it looks to have three of its portfolio businesses reach profitability by next year.
The firm recorded a €44 million loss for the first nine months of 2017, a significant improvement over its shortfall of €642 million for the same period last year, according to financial statements released Thursday. Other key figures showed positive progress as well:
Rocket Internet Group metrics through 3Q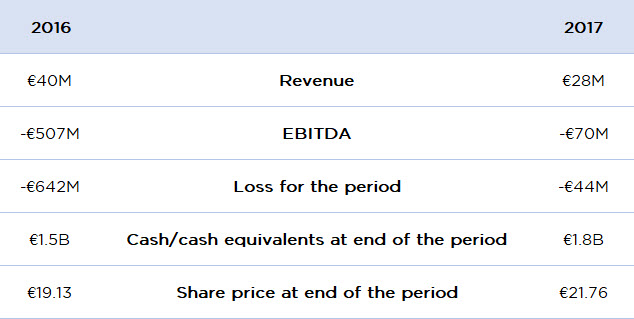 However, group CFO Peter Kimpel has told reporters that Rocket could miss its planned target of three profitable startups "by a couple of quarters." Its stock fell 4% in response, with some analysts and investors reportedly suggesting Rocket either go private or return cash to shareholders.​
The companies that fuel Rocket
The firm highlights several of its companies in its quarterly report, including food delivery startup HelloFresh, ecommerce businesses Global Fashion Group and Jumia, and property-focused Westwing and Home24.
The aggregate net revenue of that group rose 28% to €1.85 billion over the first three quarters of 2017. This was largely due to HelloFresh's revenue growth, however, which was 48%. The other select companies all posted revenue growth below the aggregate average.
These startups also chalked up an aggregate EBITDA margin of -12% in the first nine months of this year, compared with -19% for the same period in 2016, and individual companies in the group showed consistent improvement as well:
Adjusted EBITDA margins for select portfolio companies through 3Q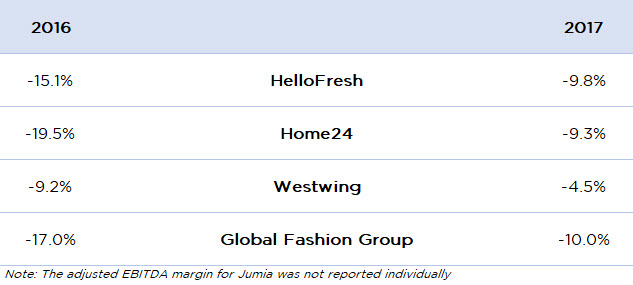 A mixed year
Rocket has had a turbulent year so far, with successful exits and fundraises mixed with strife. About a month after the firm closed a record $1 billion fund in January, one its main investors, Kinnevik, sold half of its shares in the business, before exiting completely in June. Elsewhere, investment bank analysts from Barclays warned in April that the firm was in need of IPOs in 2017. And Rocket's share price continued to slide, reaching its lowest point since its 2014 IPO this spring.
However, the market was somewhat soothed in June with
the listing of Delivery Hero
, netting Rocket €121 million. HelloFresh went public in early November, with its stock price recovering from a sharp early decline to close the month about 5% below its IPO price; Rocket still retains a 53.3% stake in the business.
Which of Rocket Internet's companies could turn a profit next year? Check its investor profile out on the PitchBook Platform to access data on the VC's portfolio of startups.