PlayBook Q1 2020
Six unicorn IPOs (and one non-IPO) that defined the 2010s in VC
March 25, 2020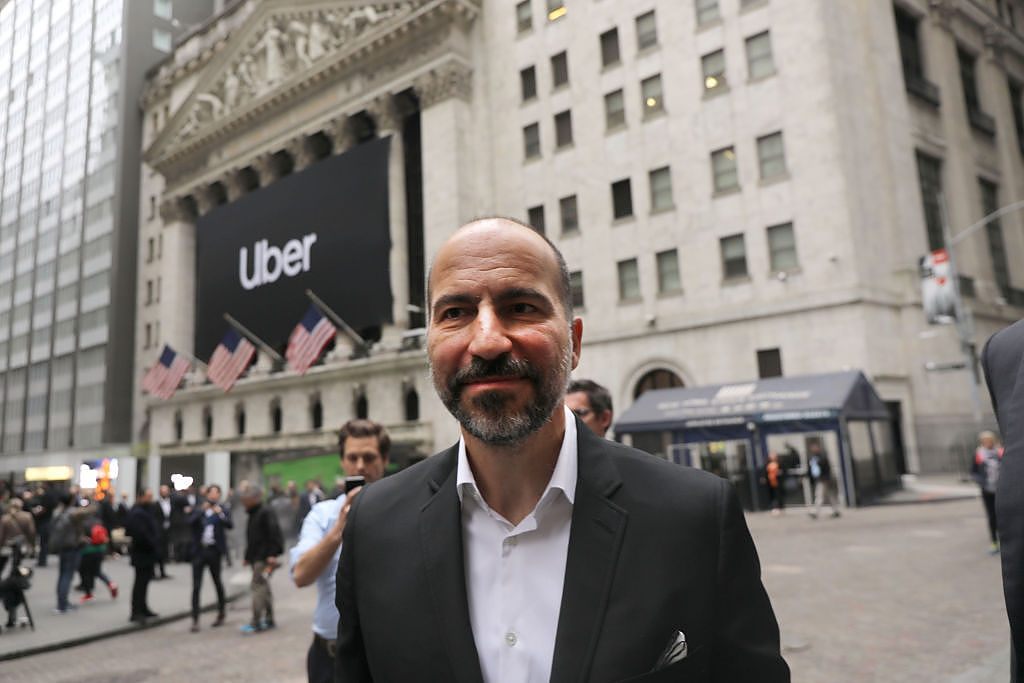 An IPO is only a snapshot in time, one moment out of thousands in a company's journey. But it's a moment worth remembering.
It's the moment when a startup presents its best face to the world. The moment Wall Street investors are introduced to a shiny new toy. And, in some cases, a moment that can have a far-reaching impact across the whole of venture capital for years to come.
The 2010s were a decade dotted with debuts that help illustrate the recent story of Silicon Valley. Here are seven of the biggest VC-backed offerings of the 2010s and the lessons they helped us learn.
Tesla
The takeaway: Autonomous vehicles and electricity are the future of transportation.
Ten years ago,
Tesla
rang in the decade with the first IPO for an American automaker in more than 50 years, closing a lucrative first day of trading with a market cap of about $2.2 billion.
Tesla's listing marked the beginning of the IPO market's recovery from a post-recession nadir. But more importantly, the company's subsequent success helped spark a decade in which autonomous driving and electric transportation became two of the hottest technologies in venture capital, with companies like
Cruise
,
Lilium
,
Zoox
and
Lime
combining to raise billions.
It seems that at least part of the reason for the recent frenzy around Tesla's stock—it was up more than 100% in the first 50 days of 2020, giving the company a market cap north of $165 billion as of Feb. 19—was the company's place as an early mover in green transportation. As the realities of climate change sink in over the coming years, eco-friendly startups will only grow more common.
Facebook
The takeaway: A startup doesn't need to go public to keep raising billions.
Facebook
's IPO in May 2012 was full of controversy and criticism. And despite an $81 billion initial market cap, at first it looked like a flop: In one story less than two weeks after the listing, The Wall Street Journal referred to it as both a "fiasco" and a "big bomb."
Facebook's stock continued to trade down for the first year or so. But by late 2013, the company's market cap had begun an inexorable march up and to the right toward its current position north of $600 billion.
The IPO helped launch Facebook on a path toward global domination. It was also a sign of changing timelines in Silicon Valley.
At the time of its offering, Facebook had already been valued above $1 billion for nearly five years and had raised multiple nine-figure rounds. The company pushed the previously established limits of VC, relying on private funding rather than public to finance its growth.
Facebook was profitable, making it different from some startups that would follow a similar path later in the decade. But it helped prove the viability of a new funding model that would soon proliferate.
Square
The takeaway: Tech-driven disruption in finance is a huge VC opportunity.
Square
's IPO in November 2015 was a downright disappointment. The payments company established an initial market cap of about $2.9 billion, less than half its final VC-backed valuation, as skeptics questioned both its immediate finances and its long-term prospects.
In retrospect, it seems those skeptics missed the forest for the trees. Square had its issues, but they were ultimately fixable; the bigger point was the company's potential to shake up a financial sector proving itself ripe for tech-powered disruption.
The fintech industry exploded in popularity during the 2010s, with VC deal count in North America and Europe increasing more than sixfold over the course of the decade and deal value increasing more than twentyfold, according to PitchBook data. The sector continues to birth unicorns at a rapid rate, including names like
Stripe
,
Toast
,
Coinbase
and
Brex
.
In the four-plus years since its listing, Square has lived up to its rosiest projections. In February, the company's market cap stood at more than $35 billion.
Snap
The takeaway: The private-to-public transition isn't always smooth.
After going public in March 2017 with an initial valuation of over $19 billion,
Snap
's stock sunk dangerously low in the first two years after its IPO before recovering in 2019. For CEO Evan Spiegel, the process offered a lesson in the dangers of leaving the VC cocoon.
As a VC-backed company, Snap only had to win over a relatively small group of investors it had known for years and who were well acquainted with its vision. After its IPO, Snap and Spiegel were dealing with a much larger investor base that was much less familiar with how the company operated.
"I think for us going public has really been a trust-building exercise with a totally new set of investors," Spiegel said last September at a
Goldman Sachs
investor conference. "And I think that, frankly, is something that takes time."
Snap's heavy losses and extremely founder-friendly governance policies were other initial hindrances to its stock price. But every startup has its own particular peccadilloes. The importance of the post-IPO shift in investor base is a lesson companies might do well to keep in mind.
Blue Apron
The takeaway: Not every next big thing is really the next big thing.
Suddenly, meal-kit startups were everywhere. And suddenly, they were gone. No one better exemplified the industry's rapid rise and fall than
Blue Apron
.
The company had raised more than $190 million in VC before a June 2017 IPO that resulted in a valuation of about $1.9 billion. But problems with supply chains, customer retention and profitability quickly mounted. Blue Apron's market cap was below $50 million as of Feb. 19, meaning it has lost more than 97% of its value in less than three years. The company's shares spiked in March amid the coronavirus crisis, taking that figure up past $130 million.
Still, as far as jumps from private to public go, it's a horror story. And it's not the only example from the 2010s of a faddish unicorn running straight off a cliff.
Groupon
's coupons were red hot during the early part of the decade, leading to a final VC-backed valuation of $4.75 billion and an initial market cap of more than $12.75 billion with the company's 2011 IPO. But tastes changed, growth slowed, and the stock slumped. After a disastrous Q4, Groupon's market cap fell below $1 billion. It's another instance of how quickly some bubbles can pop.
Spotify
The takeaway: The IPO innovation may just be getting started.
The most notable thing about
Spotify
's IPO is that it wasn't an IPO at all. Instead, in April 2018, the Swedish audio-streaming giant decided to conduct a direct listing, a novel move in which a company skips the traditional underwriting process and simply lists on the stock market without selling any shares or raising capital.
Already, it's an idea that's begun to inspire imitators. Workplace messaging giant Slack went public with a direct listing last year.
Asana
, a maker of workplace management software valued at $1.5 billion, has announced plans for a direct listing. And reports have linked
Airbnb
to a potential direct listing, too.
The broader market is taking notice. The NYSE submitted a proposal late last year to allow startups to raise capital in direct listings, and after the SEC rejected the effort, the NYSE quickly entered a revised version. VCs are currently funding the Long-Term Stock Exchange, an upstart that hopes to bring more startup-friendly thinking to the public market.
If the popularity of direct listings and other alternatives continues to build, Spotify's debut may assume an even bigger place in startup history.
Uber
The takeaway: Growth isn't everything.
Uber
finally went public in May 2019 after years of mega-rounds, scandals and breakneck growth, raising $8.1 billion and resulting in an initial market cap of some $70 billion. In some ways, it was the culmination of a startup era Facebook helped begin.
Drawn by the incredible returns that the biggest startup winners can generate, LPs flooded the VC market with cash, allowing startups to stay private for longer. Investors had become convinced profits didn't matter at such an early stage, because rapid growth was the best way to someday achieve those Facebook-like returns. And companies like Uber capitalized in a major way.
Now, though, that era of unchecked growth seems to be over, or at least changing. Uber echoes Facebook in another way: Its stock price floundered in the months after its IPO. That fact joined
WeWork
's downfall in contributing to a growing chorus of concerns that the ideals of blitzscaling and founder friendliness had gone too far.
It didn't bring about a wholesale change for startups and investors. But it was a reminder that, in some respects, Wall Street plays a very different game than Silicon Valley.
This story was featured in our Q1 2020 PitchBook Private Market PlayBook.