The 12 highest valued edtech companies
May 20, 2016
Edtech is among the hottest industries for venture investment lately, with over $2.7 billion funneled into 472 startups in the vertical just last year. These impressive numbers are a culmination of years of building interest. 2010 saw just $372.3 million invested through 128 deals, while deals completed and capital invested rose each of the next four years. The trend picked up noticeably in 2014, when capital invested hit $1.93 billion, representing a 75.5% YoY increase. Notable 2014 deals include Pluralsight ($135M Series B), TutorGroup ($100M Series B), Udacity ($35M Series C) and Udemy ($32M Series C).
The somewhat recent uptick in edtech investment has not only brought an astonishing amount of capital, but has also resulted in eye-popping valuations for certain companies in the space. The once fledgling industry has matured to foster four unicorns, as well as some large exits. Lynda.com was acquired by LinkedIn just last year for a cool $1.5 billion. To give you an idea of the largest players in edtech, we've highlighted the 12 private companies with the largest valuations below.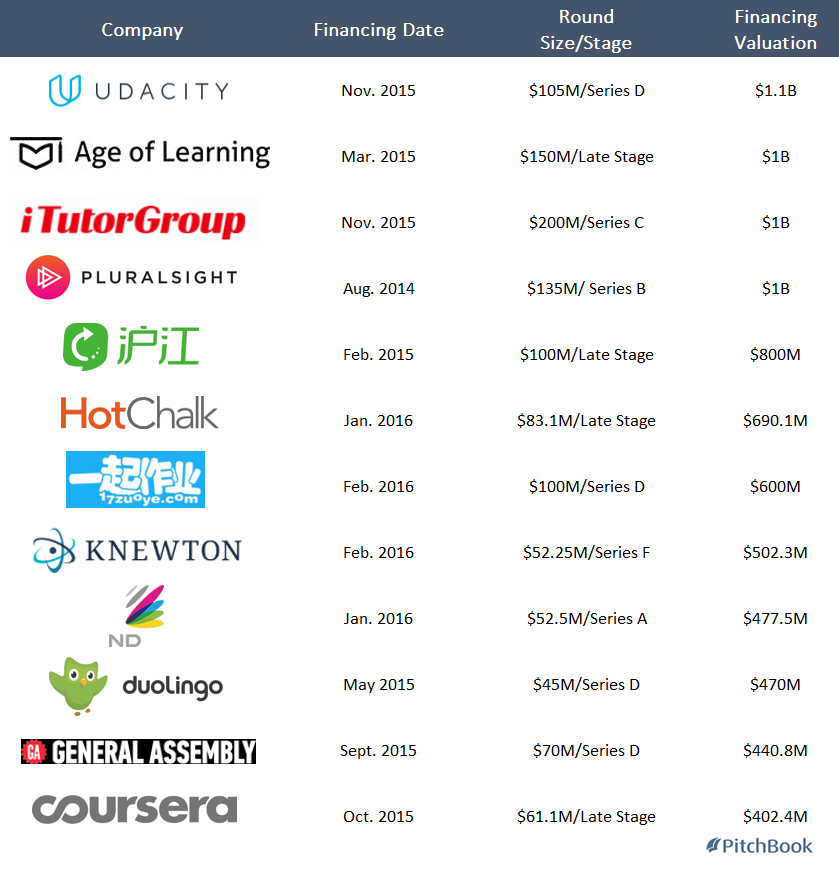 The PitchBook Platform tracks over 25,000 VC valuations. Contact us to learn how you can access this data.