The numbers behind Europe's VC ecosystem [datagraphic]
November 11, 2016
Lacking a locus like Silicon Valley, Europe's venture ecosystem benefits from a multinodal network comprising the metro areas in and around national or regional capitals. This network could keep European VC healthy and vibrant even as the uncertainty ushered in by Brexit becomes the new normal.
Our examination of returns on venture investment in Europe at the end of August revealed that Barcelona ranks ahead of more heavily capitalized hubs like London. The capital of Catalonia remains a bright spot, even under elevated scrutiny, but London still stands out from other European metros on nearly, though, not quite all counts. Both Berlin and Stockholm, for example, have enjoyed larger median fund sizes over the past decade than either Barcelona or London. And since 2010, median investment sizes and exit values have also started to tilt toward the Continent.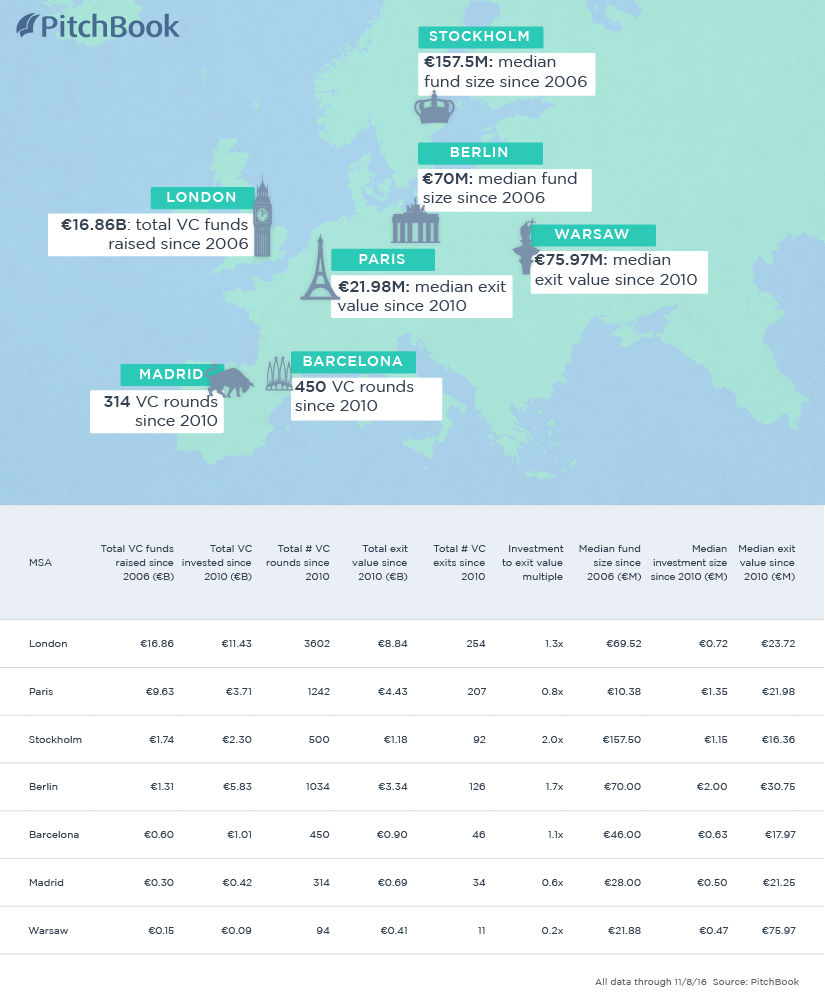 But thanks in no small part to US investors, the UK has thus far weathered the storm of uncertainty unleashed by Brexit. Whether that pattern will hold once negotiations get officially underway next year remains a point of serious contention, especially as government support for startups remains uneven from one nation to the next. What is certain, however, is that investors have and should continue to expect the Continent and its vibrant VC ecosystem to present not only alternatives to UK investment but also opportunities to deliver on those alternatives.
Indeed, the EU continues to work across nations to foster startup formation and ensure capital access as these startups mature. A sterling example of this effort is the European Investment Fund, a fund-of-funds that specifically targets SMEs to improve their access to financing in tandem with products offered by the European Investment Bank.
Although the exit activity of VC-backed companies in Europe slowed down during 3Q, hefty transactions have kept 2016 exit value on track for its second-best year of the past decade. Likewise, a strong first half showing has put Europe on pace for the most fundraising commitments since the 2008 financial crisis. And all that despite Brexit.
Check out our coverage of VC, PE and M&A in Europe here.