The venture industry has been an interesting place to operate over the past year or so. Throughout 2015, we saw the proliferation of $1 billion+ round valuations, with more than 100 companies "earning" the title of unicorn. Thankfully that craziness has died down, but in its place a new theme seems to have emerged: mega-funds.
We've written a bit about this previously, noting that these vehicles propelled 1Q '16 fundraising to record highs. Firms such as Accel, Founders Fund and Lightspeed Venture Partners all secured north of $1 billion in capital commitments during the three-month period.
But...
While some firms are securing huge funds, others are wary of doing so, citing worries about being able to deliver attractive returns for LPs. Fred Wilson wrote a succinct post on the topic recently, where he argues this exact point: To return the expected 3x, a $1 billion+ vehicle would need multiple extraordinary exits, which are extremely difficult and highly unlikely. Wilson said his firm, USV, would rather err on the side of speed and agility versus bulk. Wilson seems to be practicing what what he preaches, too, as his firm was recently reported to be in the midst of raising a new fund with a modest target of $175 million.
With this conversation in mind, we decided to use our fund returns data to look at some of the top-performing sub-$250 million venture funds. If you need a refresher on any of these fund terms, check out our PE/VC glossary. Note that due to GP and LP reporting lags, some of these numbers are from 2H 2015 and not the past quarte r.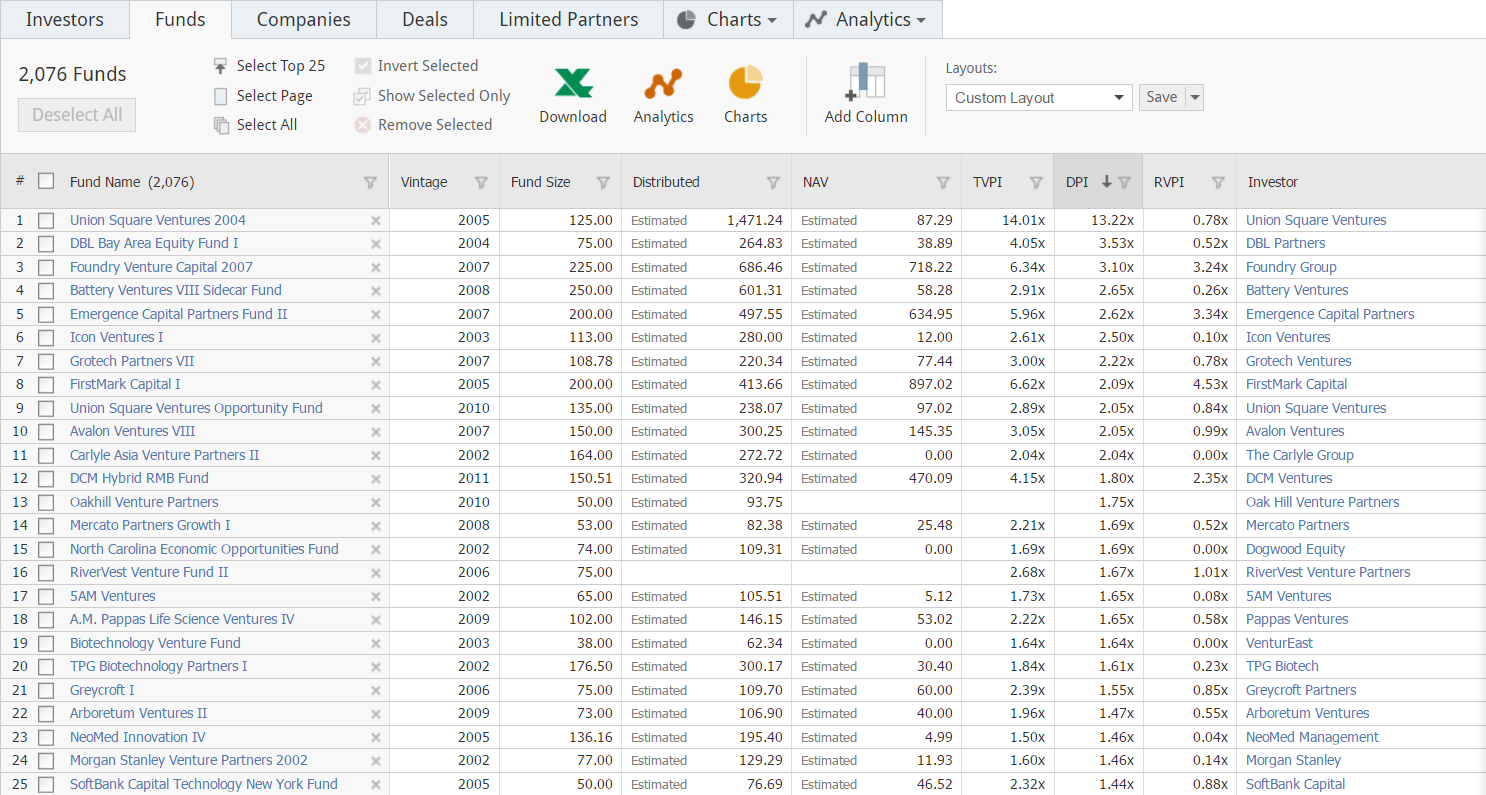 There are some clear standouts in this cohort. Below we take a deeper look at a couple of them, showcasing their metrics over time and calling out some lucrative investments.
Union Square Ventures 2004
Somewhat serendipitously, USV's 2004 vehicle sits at the top of our list, posting an astonishing 13.22x DPI. Fueled by early investments in companies such as Twitter and Etsy—both of which eventually went public—this fund is one of the best-performing in recent history. University of Texas Investment Management Company, for example, has received $294.25 million back on its $22.25 million contribution.
Foundry Venture Capital 2007
Foundry Group's 2007 fund holds a respectable 3.1x DPI, with paper gains of 3.24x still waiting for liquidity. Quality investments from this vehicle include early deals for Zynga, which IPO'd in 2011, and Gist, which was acquired by RIM that same year.
PitchBook Platform subscribers can dig into the data behind these sub-$250 million funds. Interested but not a subscriber? Contact us today and we'd be happy to give you a tour of our platform.