The valuation history that led to One Kings Lane's fire sale
October 12, 2016
Although news of Bed Bath & Beyond acquiring One Kings Lane broke a few months ago, we were left to guess how much the retailer shelled out for the once high-flying startup. Well now, thanks to an SEC filing, we know the purchase price: a mere $11.8 million.
An overview of One Kings Lane's deal & valuation history: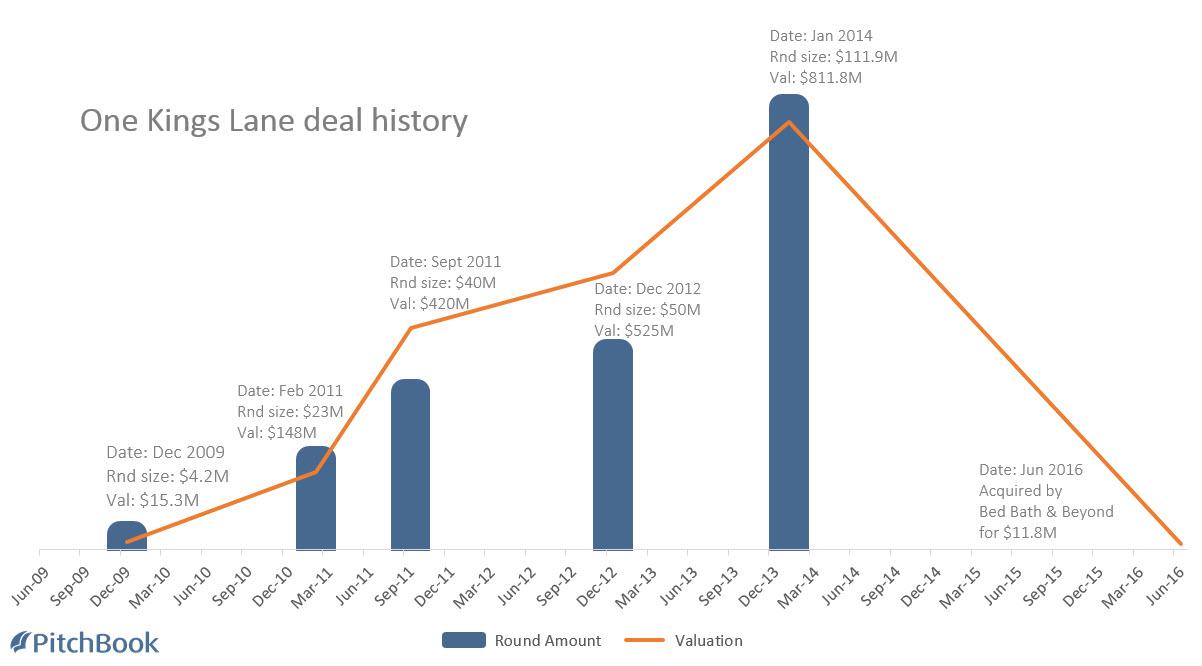 Founded by Ali Pincus (wife of Mark Pincus) and Susan Feldman in March 2009, One Kings Lane was once touted as a startup success story. The company—which operated as an online retailer of home decor products—had raised roughly $230 million in funding from top firms including Kleiner Perkins Caufield & Byers, Greylock Partners and First Round Capital. It was even valued as highly as $812 million with a $112 million fundraise in early 2014. Well, apparently the company fell on hard times and had to find a soft landing: cue the Bed Bath & Beyond acquisition.
This story may sound a bit familiar as it's rather similar to what online retailer Fab went through. Launched in 2010 as a social network for gay men, Fab eventually pivoted into selling quirky designer products via its online storefront. The company went on to raise about $338 million in funding, even achieving a valuation of $1.04 billion with a $165 million round in 2013, before being acquired for a paltry $25 million last March. Bloomberg recently published a great article covering lessons learned for the failed Fab.