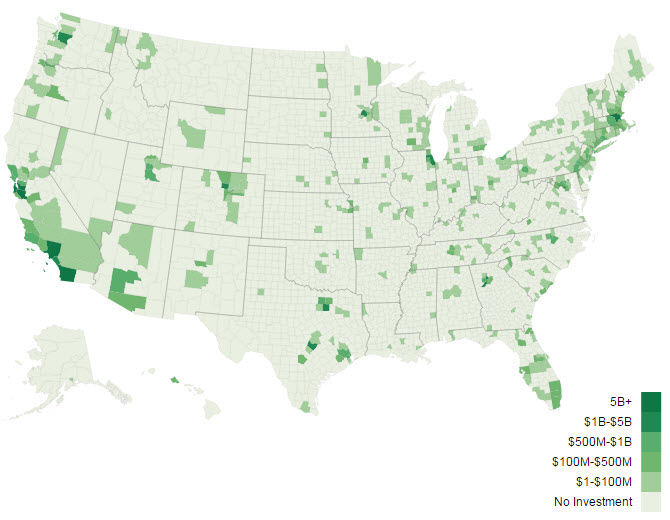 The map above illustrates the total dollar amount of venture investment by county (all capital raised by a company goes to its headquarters' county) since Jan 1. 2010. Check out all the counties in the Bay Area, then fly down to SoCal and be impressed by the numbers there. But, don't miss out on the New England corridor and the somewhat surprisingly active regions in the South.
Done? Did you see the Chicago/Wisconsin/Minneapolis clusters—No? We can wait…
Fun fact #1: There are 3,140 counties or county equivalents in the U.S.
Fun fact #2: 435 (13.9%) are home to a locally headquartered company that has received venture funding in the last four and half years (since Jan. 1, 2010).
Fun fact #3: 0.9% of U.S. counties (28 to be specific) received a whopping 80% of the $166 billion in U.S. venture investments made since Jan. 1, 2010. (tweet this)
For anyone familiar with venture in the United States, this map is probably not a huge surprise in that the greater Bay Area is clearly the epicenter of venture investing. In fact, four of the area's counties were in the top six (Santa Clara, San Francisco, San Mateo and Alameda counties are #1, #2, #4 and #6, respectively). Beyond that, you can see other venture hot spots clustered around major metropolitan areas like Boston (Middlesex County is #3), New York (New York County is #5) and Los Angeles/San Diego (San Diego, Los Angeles and Orange Counties are #7, #8 and #10, respectively). See the list of top ten counties and states below to confirm your suspicions about the centers of venture in the U.S.
While not surprising, we find the concentration of venture funding extremely interesting. The debate that broke out in our editorial department was one for the record books. A number of very smart people have spent a lot of time studying how these centers of venture and innovation have come about and the impacts that they have on a local, regional, national and global scale. A favorite quote on this general topic is from Jane Jacobs; it goes like this: "Old ideas can sometimes use new buildings. New ideas must use old buildings…" Check out some of the Santa Fe Institute's work on patents,Richard Florida's work (especially this gem) at the Martin Prosperity Institute or Michael Porter's work on clusters if you want to really nerd out on this.
All of this data comes directly from the PitchBook Platform, which includes details on 22,000+ U.S. venture deals since Jan. 1, 2010 as well as tens of thousands of other global private market deals. If you are interested in seeing the underlying companies, just drop us a line. We will continue to explore the geographies of venture capital throughout the summer, so send us any ideas you have for other maps and stayed tuned.