Which VC Firm Had the Most Portfolio Companies Acquired Since 2004?
March 12, 2014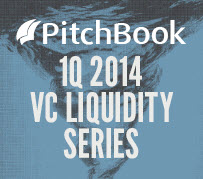 As part of our series on VC liquidity, we thought it would be interesting to take a deeper dive into the firms that have supported the most exits over the last decade. If asked which investor provided VC funding for the most U.S.-based companies that were acquired over the last decade, many people would understandably turn to stalwart firms like Kleiner Perkins or prolific investors like 500 Startups. Somewhat surprisingly, neither of them even cracked the top 10. Instead, it is Intel Capital that holds the top spot—and by a wide margin at that. Intel Capital funded 152 companies that were acquired between 2004 and 2013, which is 35 more than the next closest firm, New Enterprise Associates.
Another surprise in the data is that there is relatively little overlap when comparing the most active exiters by mergers & acquisitions or IPOs, with New Enterprise Associates proving to be the most prolific exiter appearing on both lists. One common theme that ties together many of the investors on the IPO list is their high level of focus in the healthcare space. Each of the top six investors on the IPO list had at least 35% of their IPOs come in the healthcare industry. This should not be too surprising, as IPOs are particularly popular for companies in the healthcare space.
Those who have followed the VC industry closely over the last few years will notice that some of the most revered investors at the moment, such as Andreessen Horowitz, are noticeably absent from the list. Furthermore, there are some firms on the list whose track record has been less than stellar in recent years. It will be interesting to see how this list changes in the coming years at the VC industry continues to evolve and new investors assume the mantle.
Interested in PitchBook's venture capital content? Read more here.