Easily follow the companies you care about on PitchBook Mobile
September 24, 2018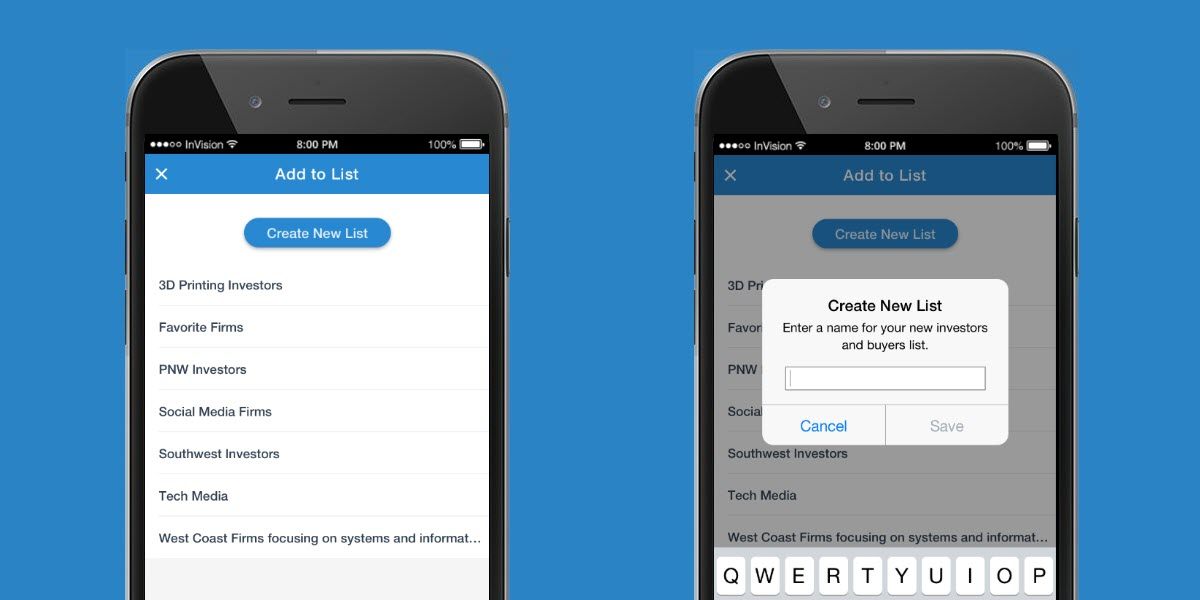 PitchBook Mobile helps you stay connected with push notifications delivering the news you care about and easy access to in-depth deal, people and investor data. Our product team strives to create a seamless mobile to platform experience that's tailored to on-the-go use cases, so you can access features like Saved Searches and Lists on our mobile app to quickly view the companies you're tracking.
Access to Saved Lists was a good start, but we knew our users also wanted to update their lists from their phones. So, we've taken our workflow capabilities one step further and added the ability to create new lists and add entities to existing lists on mobile.
Here's what you'll be able to do with the new mobile add to list functionality:
Add to existing lists: Add companies, people and investors to existing lists you already created in PitchBook Desktop or on PitchBook Mobile,
Create new lists on the fly: Create new lists from wherever you are—and don't forget about that intriguing company you just heard about!
Keep track of the companies you care about: Quickly reference lists you've made while you're on the go (our users find this super helpful when traveling to new cities).
Not to be confused with Saved Searches, Saved Lists allow you to track a set of specific companies. This set of companies will not change like those within a Saved Search may if new companies meet your search criteria for fields like industry, funding and location, allowing you to consistently keep tabs on the companies, investors and people that matter to you most.
We're especially excited to deliver this feature as it's been a frequent request from our mobile power users that want to quickly add entities to a list after looking them up during their commute, meeting, conference, etc. so they remember to look into them later. We're always listening to and appreciative of user feedback like this—please feel free to reach out anytime!
---
Ready to get started? Download PitchBook Mobile on iOS and Android.

Not a PitchBook client yet? Request a free trial today.