Easily follow the companies you care about on PitchBook Mobile
August 30, 2021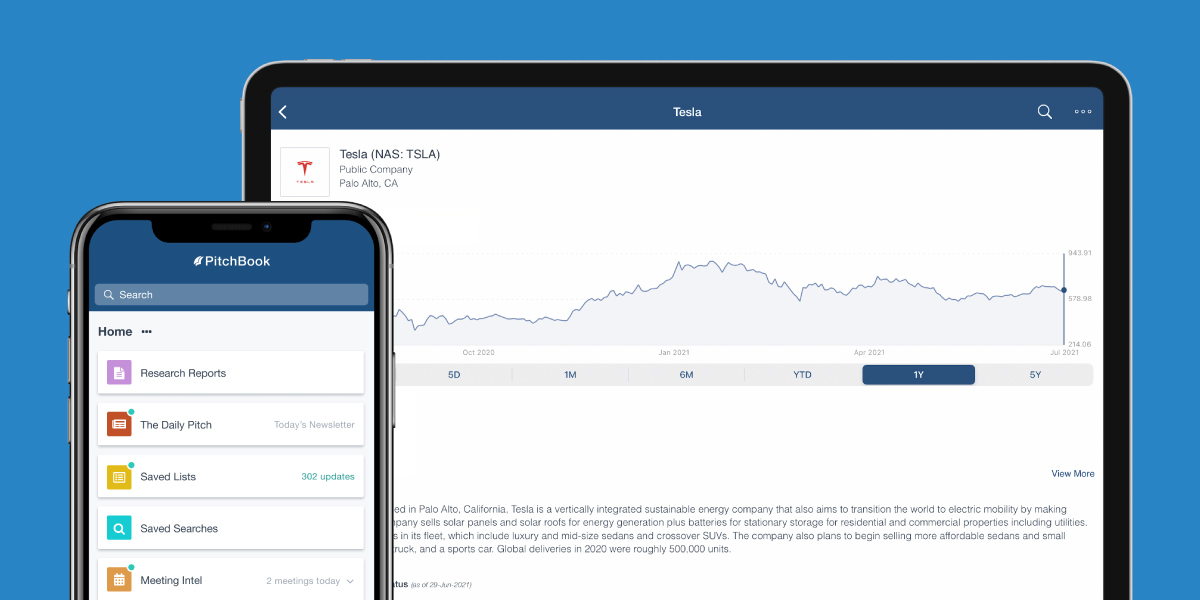 What is PitchBook Mobile?
Launched in 2016, the PitchBook Mobile app empowers business leaders across the global capital landscape with the market intelligence they need—whether they're sitting behind a desk or not.
Now available on iPad, PitchBook Mobile puts the entire VC, PE and M&A world at PitchBook users' fingertips, providing instant access to insights on the public and private markets, vital industry news and collaboration tools. When time is limited and bandwidth is nonexistent, leverage PitchBook's intuitive mobile app—available via the Apple App Store and Google Play—to stay updated on what's important and in lockstep with your team.
3 ways to put PitchBook Mobile to work for you
To access unrivaled insight at a moment's notice
Know that you're never without the vital capital market information you need, including financials, valuations and more. Get quick stats at the top of every profile, plus easily grab contact information or set up calendar-synching.
"PitchBook Mobile gives me the salient information really quick—it's a great way to get me started."
—Rich Rodgers, Siemens
To stay more informed than ever on a shifting industry
Get details on critical news and activities across the global financial markets with PitchBook Mobile's news and deals feed—customized to your specific industry. Click on a deal for insights or dive deeper into data on financials, services or people.
"Do I want to spend another five minutes learning about [a certain topic]? PitchBook Mobile helps me answer that question."
—Jason Sydow, Next47
To collaborate effectively without roadblocks
Stay in close coordination with your team by seamlessly sharing and receiving insights. Easily find and flag interesting new companies, entity information and competitive insights to your internal or external colleagues.
How can I follow the companies I care about using PitchBook Mobile?
In two words—saved lists. It's all about the saved lists.
Saved lists in PitchBook allow you to track a set of specific companies that matter to you, your firm and its bottom line. This set of companies will not change, even as their underlying data and information evolves over time.
Tip: It's important not to confuse saved lists with saved searches. Again, the companies within a saved list will not change. The companies within a saved search may change as new companies meet your search criteria for fields like industry, funding and location. Both saved lists and searches are accessible using PitchBook Mobile, but the distinction is important depending on your goals.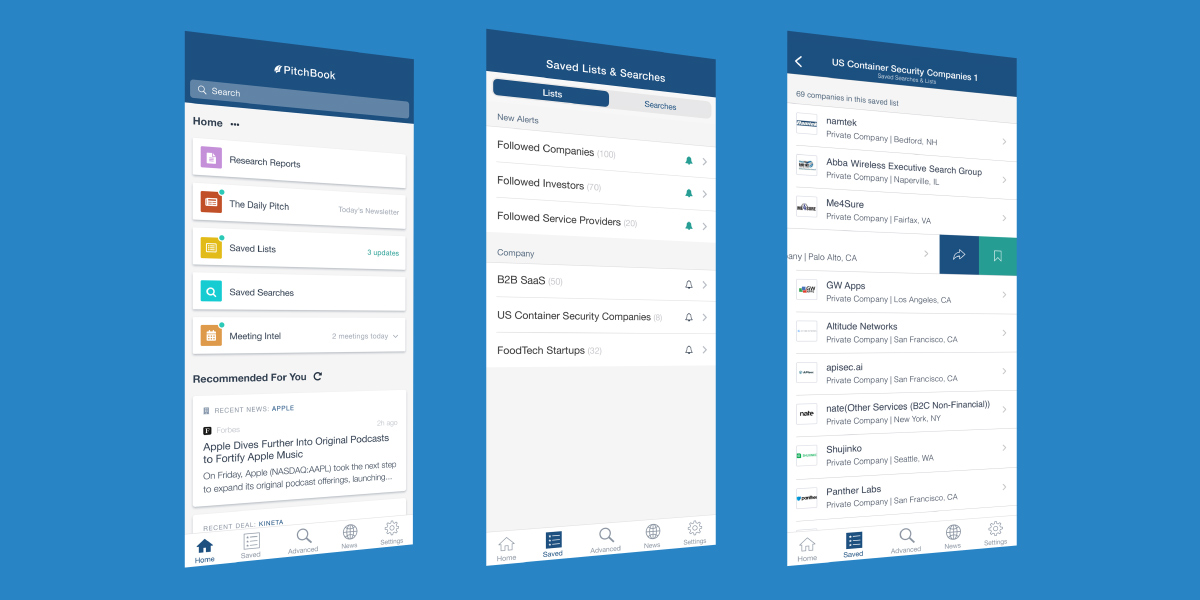 How to use PitchBook's saved lists to track specific companies
When PitchBook Mobile launched, our team had prioritized making platform features—like saved lists and saved searches—available to app users. The idea was to give PitchBook customers using the app a way to quickly view the companies they were tracking.
It was a good start, but being able to view saved lists and searches wasn't enough. We knew our app users also wanted the ability to also update their saved lists and searches from their mobile devices. In 2018, we took our workflow capabilities a step further and added functionality to let users view, edit and create new lists using PitchBook Mobile.
Here's how you can follow the companies you care about via PitchBook Mobile's "add to list" functionality:
Add to existing saved lists
Add companies, people and investors to existing saved lists, whether they were originally created in PitchBook Desktop or PitchBook Mobile.
Create new saved lists on the fly
Create new saved lists from wherever you are and share them with your team.
Track the companies you care most about
Reference saved lists you've made—from the elevator before a meeting, from a plane or new city, or wherever you happen to be.
More about PitchBook Mobile
PitchBook Mobile helps automate meeting prep
Learn more about how PitchBook Mobile calendar integration works
PitchBook Mobile shared profiles make it easy to share entity profiles
Explore all of PitchBook's 2020 product enhancements
Capitalize on the private markets—wherever you are
Dig into this blog post about PitchBook Mobile alerts for saved searches and lists
---
Ready to get started? Download PitchBook Mobile on iOS and Android.

Not a PitchBook client yet? Request a free trial today.