How Manhattan Venture Partners uses PitchBook to find and execute deals
May 17, 2018
View comments

(2)
Brad Fishman
Managing Partner,
Manhattan Venture Partners
Jared Carmel
Managing Partner,
Manhattan Venture Partners

In 2017, VC-backed companies took, on average, 6.5 years from their first financing to exit—over 1.5 years longer than ten years ago.

As the maturation period for private companies has lengthened, the secondary market has grown to provide an alternative source of liquidity for individuals and investors. That's where Manhattan Venture Partners, a boutique New York-based merchant bank, comes in.

"We provide liquidity to early investors, entrepreneurs, executives and former or current employees via secondary direct purchases," explains Brad Fishman, managing partner.

From finding sellers to raising capital to executing transactions, MVP turns to PitchBook for accurate, comprehensive private market intelligence.

3 ways Manhattan Venture Partners uses PitchBook:
To identify shareholders seeking liquidity—i.e., promising sellers
To raise capital faster by approaching the right co-investors
To efficiently execute deals with more accurate models and forecasts



​PitchBook's data in action: Winning a deal with Spotify
Thanks to PitchBook, MVP identified key angel and early-stage investors in Spotify and reached out to discuss liquidity options.
The result was one of MVP's biggest investments to date.
"A lot of the shareholders we contacted said, 'Hey, how did you know I was in that deal?'"
"We'd say, 'Oh, we have our sources,'" says Brad with a laugh.
That source? PitchBook.
Targeting the right companies
When it comes to sell-side execution, Brad and his colleague Jared Carmel—also a managing partner—start by identifying companies with employees and shareholders likely seeking liquidity. To narrow down the field, they use PitchBook's advanced search to generate highly curated results and ensure they're only approaching promising targets.

Just how specific do they need to get? Very. For MVP, an ideal asset is a mid- to late-stage B2B, B2C or enterprise SaaS technology company with a global presence as well as healthy revenue run rates and EBITDA multiples.

"We also look at companies that are at least four years old or past a Series D round that might give us 2-4X multiple on our invested capital within two to five years," Brad adds.

Clearly, uncovering possible targets means drilling down—deep. With PitchBook, Brad and Jared can do just that, running a detailed search to find companies that meet their exact criteria.
"PitchBook helps us arrive at a value that makes the seller feel comfortable, confident and excited about the trade."
—Brad Fishman
Identifying promising sellers
Once they've identified potential companies, Brad and Jared also need to identify shareholders looking to exit. Before PitchBook, they wasted valuable time approaching investors and individuals who were uninterested in selling. Now, they use granular fund and cap table information to find and prioritize prospects.

"With PitchBook, I can see who owns which securities, what round they participated in, what the issue price was, etc.," says Jared. "And that's important. Because it's not just about identifying a holder but a relevant holder—someone who we think (based on time of investment, price-per-share, fund lifecycle, liquidation terms, etc.) might be seeking liquidity," he explains.

Efficiently executing transactions
Access to better data also helps Brad and Jared accurately price deals, enabling them to build models (and forecast exit potential) based on original issue price, returns and other key metrics. This not only maximizes value but also reduces friction between buyer and seller, ultimately moving deals across the finish line faster.

"PitchBook helps us arrive at a value that makes the seller feel comfortable, confident and excited about the trade. And at the same time, it provides us with access to a business at a fair market discount given the security on offer," explains Brad.

In other words, it's a win-win.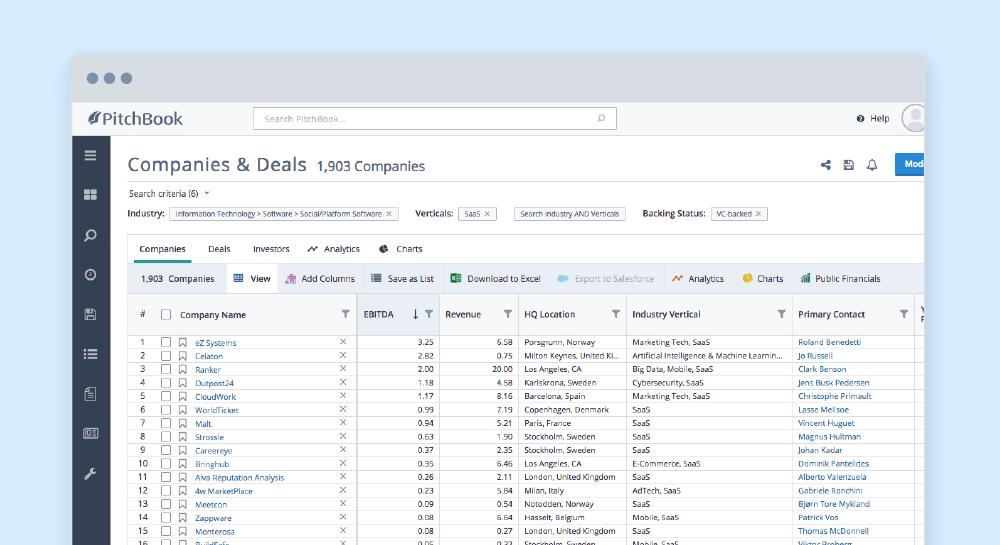 Reaching out—and making it count
Another huge time saver? Having access to direct emails and phone numbers. In the past, Brad had to source deals from his personal network or do his own research and prospecting—a tedious process that involved searching online for an investor's deal history, pouring over websites to find contact info and reaching out cold. Now, he knows exactly who to talk to, how to get in touch and how to frame the conversation.

"PitchBook helps us understand what a potential seller's portfolio looks like, how they've exited, how much capital they've returned, what their data looks like and how we can help," explains Brad. "It provides a good rationale for reaching out while ensuring that we are providing value from the onset and not wasting time."

Raising capital faster
In addition to helping streamline outreach efforts, PitchBook also helps MVP raise capital for buy-side deals. By identifying possible co-investors based on previous investments, exits and returns, Brad and Jared know who to reach out to—a particularly challenging task given the opacity of the secondary market, a complex space populated by non-traditional investors often hesitant to share their deal history.

To identify and connect with hard-to-find, unconventional sponsors (like family offices or closely held private funds), MVP uses PitchBook.

"We've found that PitchBook has data on hard-to-define or not well-known groups," says Brad. "For example, there's a family office in Latin America that did a deal with a high-profile venture-backed e-commerce company. It wasn't very widely reported, but PitchBook tracked it. We often work with those kind of groups, and PitchBook helps us build relationships with them."
"We put a lot of confidence in the data PitchBook offers, and we've found that it is—by far—the most accurate."
—Brad Fishman
Major deals with major clients
Whether MVP is looking for companies seeking liquidity, shareholders looking to exit or co-investors searching for their next opportunity, it turns to PitchBook to identify, prioritize and connect with the right contacts and—ultimately—win major deals with shareholders in top companies, like Twitter, Facebook and Alibaba.

"It's a phenomenal platform and an integral part of our business," says Brad. "We put a lot of confidence in the data PitchBook offers, and we've found that it is—by far—the most accurate."

Want better data for deal sourcing and execution? Request a free trial.