Instantly see what's happening in any space with Industry Overview
September 24, 2018

As markets shift and companies change faster than ever, you need to keep up and adapt your strategy accordingly. But understanding what a particular space looks like, how it's evolved and where it's headed requires constant, time-consuming analysis. After all, no one can afford to base big decisions on outdated information.

We're here to help. Our new Industry Overview tab harnesses PitchBook's powerful search functionality and industry-leading private and public capital market data to deliver insights and analytics in a clear visual format. Below, we'll walk you through how to use—and benefit from—this new feature. Take a look!
1. Leverage powerful search functionality to find exactly what you're looking for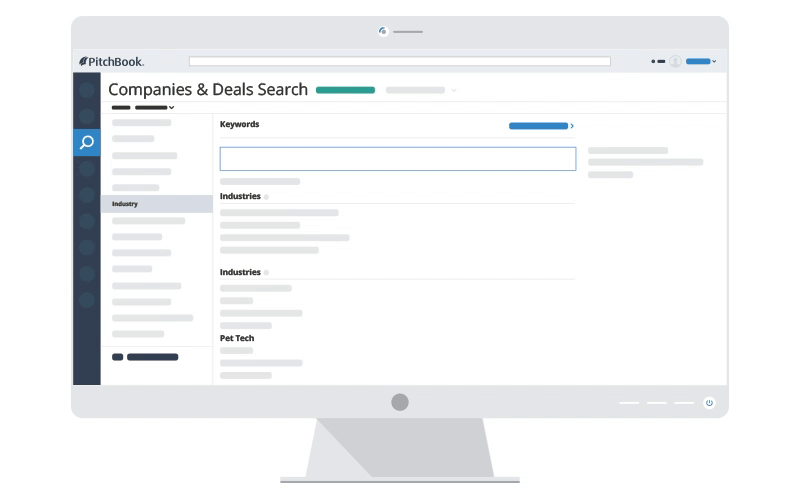 With data on the entire venture capital, private equity and M&A landscape—as well as essential public company coverage—no other provider more completely or accurately tracks the flow of capital across the public and private markets.

With advanced search, our unparalleled data combines with machine learning, keyword tagging and Boolean search logic to surface exactly what you're looking for in seconds, whether that's a list of companies that match your investment criteria or deals comparable to the one you're negotiating. Plus, get a clear visual map of any industry you follow with our new Industry Overview tab—more details below!
2. Get a high-level, complete look at any industry, vertical or sub-vertical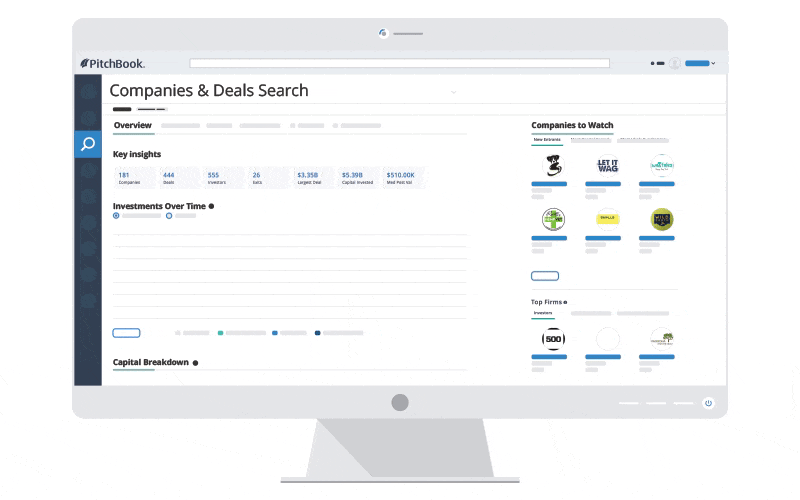 With the new Industry Overview tab, advanced search no longer just helps you zoom in—it helps you zoom out. Although you'll still be able to use advanced search to generate a highly targeted list of companies, deals and associated investors, the Industry Overview tab puts that list in broader market context, presenting key data points from your search results in a clear, concise visual overview of the landscape.

Who are the top investors? How has exit activity changed over the past decade? How has the median valuation in an industry evolved? Whether you're building financial models, mapping the market or sourcing investments, you can be confident your analysis is based on a thorough, holistic understanding of the market. And with coverage of even the most niche sectors (from cannabis to cryptocurrency) you can track trends, anticipate shifts and even see where your competition is moving with capital breakdown by industry and vertical.
3. Dive into specific companies, investors and deals to find your next opportunity


Find something of interest on the Industry Overview tab, like a company that's most likely fundraising or a new entrant in your space? Simply click through to access those profiles and conduct more granular research on targets or competitors.

Or just want to get additional high-level insights? Directly access reports and news articles related to your search results to round out your understanding of a particular space. With interactive widgets that display data that's most relevant to you and your industry, the Industry Overview tab delivers automatic, actionable insights—so you can work smarter and find your next opportunity faster.
Map the landscape in one click

An always-updated, always-accurate map of the landscape lets you effortlessly stay on top of changes in any space without constantly building, editing and refreshing charts, graphs and lists. It's the high-level, panoramic view you need to see where your competitors are headed, inform your strategy and spot the next big thing before it's a thing.

Ready to get started? Just log in and run an advanced search.

Not a PitchBook client yet? Sign up for a free trial today.