For the past decade, one year stood clear above the rest as a high-water mark for private equity fundraising. US investors closed 308 PE vehicles in 2007 with a staggering $267 billion in total commitments, figures that have long stood as a testament to the heady days of optimism before the financial crisis began to unfold in earnest the next year.
Through six months of 2017, though, according to our
2Q 2017 US PE Breakdown
, US private equity firms are on pace to challenge (or even exceed) the prodigious fundraising figures recorded 10 years ago: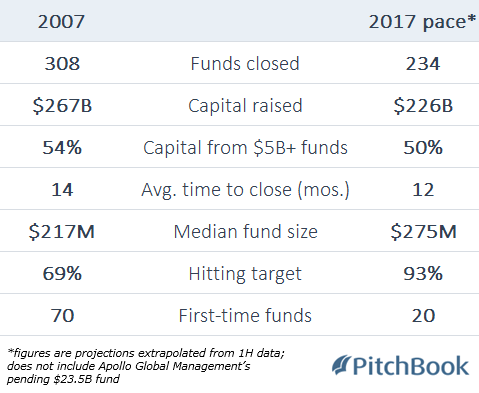 This year likely won't approach 2007 (or any of the past four years, for that matter) in terms of quantity. But when it comes to dollars and cents, 2017 may eventually prove unequaled in private equity's annals.
Not including
Apollo Global Management
's new $23.5 billion behemoth, which seems set to close later this year, investors closed US private equity funds with more than $113 billion in commitments during 1H, according to PitchBook data. Double that figure, and you have nearly $227 billion in funds raised; tack on Apollo's pending fund, and you're past $250 billion, nearing the previously unreachable figure of $267 billion logged in 2007.
And with fewer funds raising more money, of course, comes an increase in the average size of closed PE funds. That figure sits at nearly $977 million so far this year in the US, the highest figure on record. In 2007, private equity funds closed on an average of $953 million; that figure dipped sharply with the recession, dropping to as low as $494 million in 2010.
The same trend applies to median fund size, where this year's $275 million figure is the highest of any year in more than a decade. And it's the same in the percentage of raised capital that's going into mega-funds. Just about 50% of all capital raised so far during 2017 has been for funds exceeding $5 billion in size, the most substantial figure since the 54% rate recorded in 2007.
Here's a sampling of the massive buyout vehicles already closed throughout the world during the first half of the year: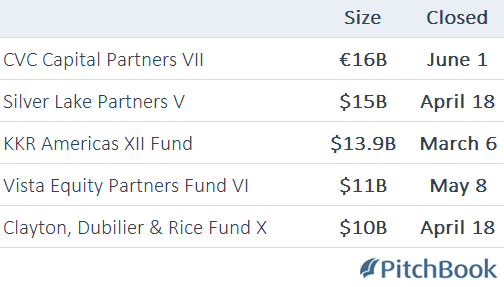 Two different measures indicate that this may be the easiest time ever to raise a private equity fund. So far in 2017, 93% of US vehicles funds have hit their initial fundraising target, the highest such figure since at least 2006. (In an indication of one way fundraising has changed in the past decade, just 69% of funds hit their targets in 2007).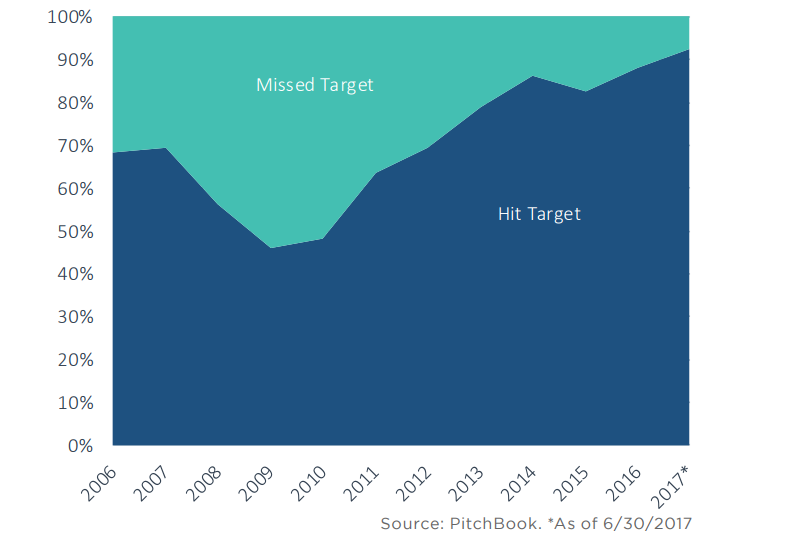 The second stat: On average, it's taking investors a mere 12.3 months to close US private equity funds during 2017, the lowest such figure since 2006 by nearly two whole months.
Firms are finding it easier than ever to raise the amount of capital they desire, and they're doing it faster than ever. And that's despite the private equity industry already sitting on a record pile of dry powder.
One side effect: Not many new investors—surely in part because existing firms are finding it so easy to raise follow-up funds. Only 10 first-time PE funds in the US closed during 1H, putting this year on pace to tie for the second-fewest such vehicles of any year since 2006, and first-time funds are on track to collect less than $5 billion in total commitments during 2017. Compare that to 10 years ago, when 70 first-time funds closed with a whopping $27.8 billion in commitments, both figures that have since been unmatched.
Perhaps the explosion of US private equity fundraising during the first half of 2017 will prove a six-month trend. But if not, this year could become an outlier unseen since a very different time in history, a once-in-a-decade perfect storm of fundraising opportunity.
For more charts, data, and analysis of PE fundraising and the industry as a whole, check out our 2Q 2017 US PE Breakdown.