This week is proving a busy one in the edtech world. Early-stage firm Brighteye Ventures has closed its education-focused debut fund on €50 million, and Kano, a code-teaching startup based in London, has clocked up a $28 million Series B round led by Thames Trust and Breyer Capital. Meanwhile, employee learning and development platform Sunlight has raised a £500,000 seed round from Speedinvest, Seedcamp and Annection.
This recent burst of activity got us thinking about overall investment development in the edtech sector. We took to the PitchBook Platform for a few crib notes, and three key trends jumped out:
The biggest edtech VC deals aren't in the US
We're long-accustomed to Silicon Valley investors and companies dominating the global VC landscape. However, in edtech, a new challenger may soon rule the roost.
Three of the top five edtech investments
since the beginning of 2012 have landed in Greater China, per PitchBook data.
In late 2015, Shanghai-based online education company TutorGroup raised $200 million from investors such as Goldman Sachs and GIC. Not to be outdone, online English language immersion startup VIPKID, based in Beijing, matched that amount in a Series D round led by Sequoia in August. And the trend continues—four out of the top five edtech investments so far this year were also in Chinese companies.
European VC deals in edtech are UK-focused, but for how long?
With the existence of big-brand startups such as Kano, it may not be surprising that the UK dominates Europe's edtech deal space with nearly 40% of the continent's transactions and 34 deals so far this year. Its closest competitor is Russia, with only 11 deals in 2017.
Completed VC deals in European edtech by country in 2017
However, this geographic trend could eventually evolve, given Paris-based Brighteye's fundraise, along with rounds such as the $20 million financing raised by quiz app Kahoot! and the $10 million investment in science lab simulator Labster, which occurred in Norway and Denmark, respectively.
Global VC investment in edtech set to outpace last year
Though still a long way from 2015's highs, edtech investments in 2017 are close to beating 2016's numbers in terms of value, with over $1.9 billion already invested. This trend is reversed on the deal count side, however, with the number of backings on track to reach the lowest they've been since 2012. Indeed, venturing as a whole this year has seen
a trend in rising deal sizes
alongside falling deal count numbers.
Completed global edtech VC deals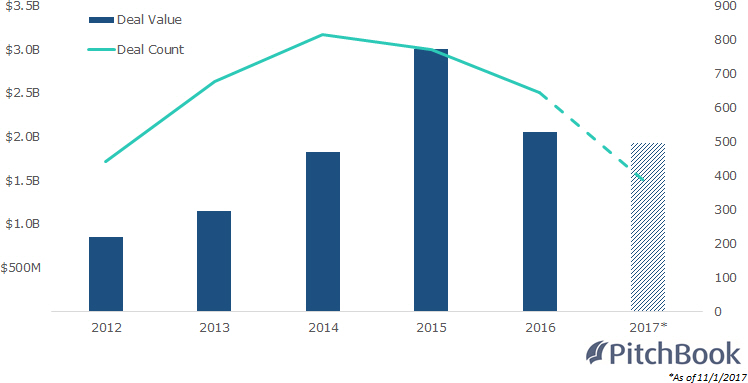 So why exactly are investors beginning to jump on the edtech bandwagon? As part of
an earlier datagraphic
exploring VC investment in US edtech, we spoke with Jennifer Carolan, co-founder and general partner of education-focused Reach Capital, about her take on the sector as a whole. Per Carolan, edtech investments are maturing and companies are overcoming distribution challenges to gain market share more quickly than ever. "They are proving that education is a large market with the type of scale venture investors expect," she added.
The industry also encompasses varying types of technology, including machine learning/AI and VR/AR. The result? Increasingly sophisticated companies that look more attractive to investors.
PitchBook Platform subscribers can check out the full data on edtech investments.