Middle Market Report
8 charts illustrating the US PE middle market in 2018
March 15, 2019
The US middle market hit several milestones in 2018, including a decade high in deal count and its first time surpassing $400 billion in total annual deal value. Exit activity didn't keep pace, however, and fundraising has remained relatively flat over the past five years.
In the
2018 US PE Middle Market Report
, our analysts took a deep dive into these trends and more, exploring the data behind the numbers. The full report is available to download for free, but for a quick look at the highlights, we pulled together this set of key charts.
Record MM deal value and transaction volume
In addition to being the first year in which annual middle-market deal value surpassed $400 billion, 2018 also marked the first time that deal value in the middle market reached $100 billion in a quarter—which happened four times last year, leading to an overall increase in deal value of 14.8% YoY. Deal count in 2018 also reached a decade high, rising 15.1% YoY.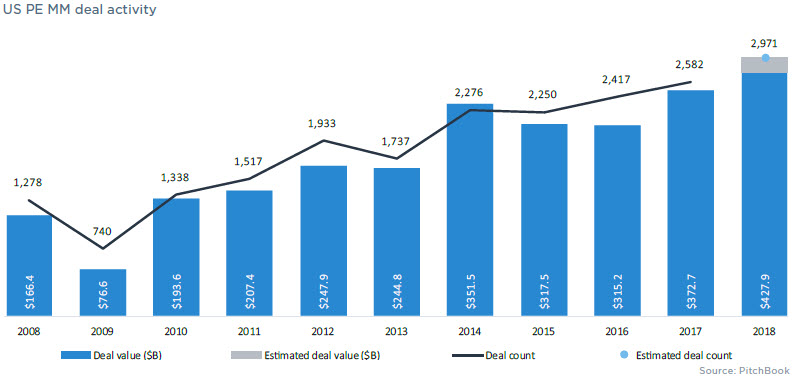 MM makes up a lower percentage of overall deal value as deal sizes swell
Despite its record-breaking year, the middle market's share of overall PE activity fell last year, with 53.3% marking the second-lowest proportion of overall value since the financial crisis. The reason? As deal sizes trend upward, a growing number of buyouts are surpassing the middle-market cutoff of $1 billion. Last year included 73 such deals.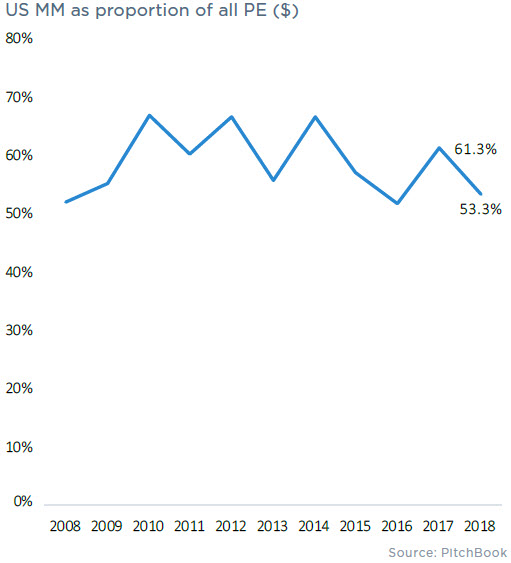 Exit activity falls shy of recent years
US PE middle-market firms exited 876 investments last year, the lowest since 2013 and a 14.9% decline YoY. Exit value likewise hit a six-year low, falling 10.5% YoY to $187.6 billion. In general, exit activity has been trending downward since 2014, with much of the drop likely due to the hectic pace of add-on activity the middle market has experienced on the deals side.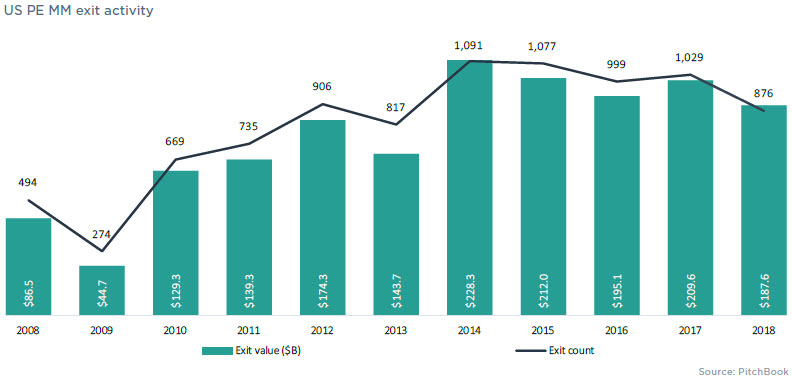 Time to exit plateaus around five years
After increasing steadily from 2008 through 2014, exit times have leveled off and generally held steady around the five-year mark, with the median holding period overall sitting at 5.0. Within exit types, corporate acquisitions outstripped SBOs slightly, and IPOs fell below both, at 4.2 years to exit. The explanation for that difference is simple. The public offering date is counted as an exit, but GPs often hold onto a sizable stake of the company and sell it off over the next one to two years.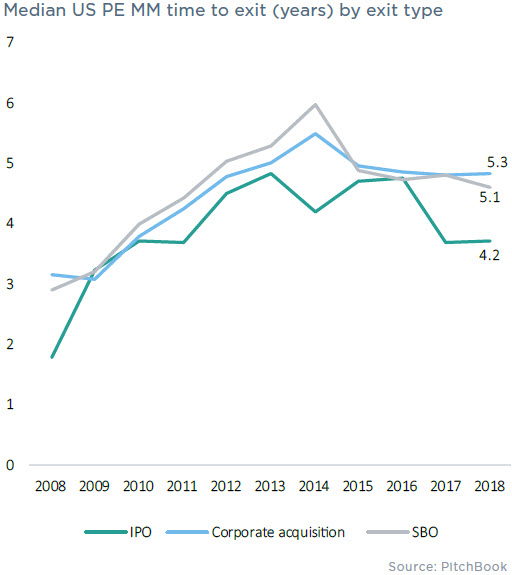 Corporate acquisitions account for bulk of exit value
Last year, SBOs accounted for more than half of the exit count—54%—but less than a third of the total value, at 31.4%. By contrast, corporate acquisitions were responsible for roughly 42.9% of deal count and almost 65% of the value, emphasizing the continued importance of strategic acquirers at the upper end of the market. That marks corporate acquisitions' highest proportion of value since 2011, when that type accounted for 67.1% of PE middle-market exits.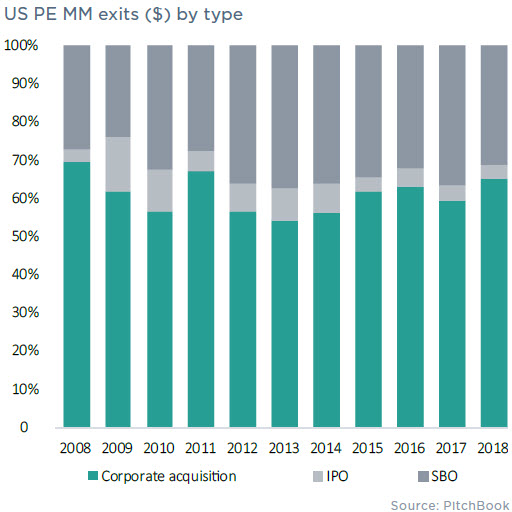 Fundraising capital remains flat on fewer funds
The capital raised last year in the US middle market was down slightly (5.5% YoY), but overall it remained relatively steady compared with the totals of the past few years. The fund count, however, fell more sharply, dropping nearly 21.6% YoY to 130. This is in keeping with the trend broadly seem across PE, with funds across all sizes generally being fewer but larger.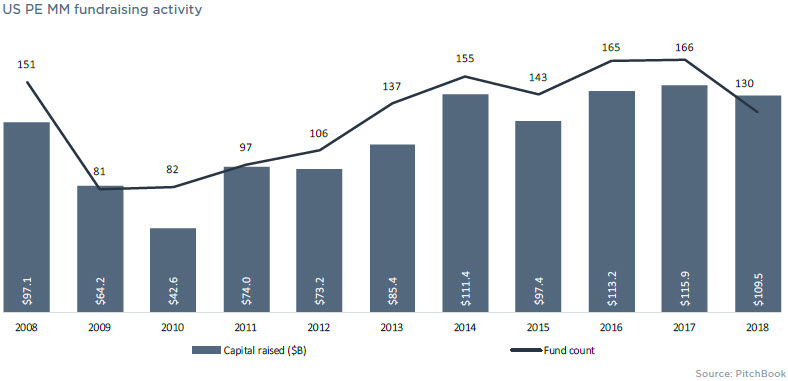 $1B-$5B accounts for nearly 70% of capital raised
Funds in the $1 billion to $5 billion range had a strong year with respect to both fund count and capital raised. This category accounted for 36 of the 130 total middle-market funds raised last year, its highest proportion in over a decade, and for 68% of the total value, which marks the largest share since 2009.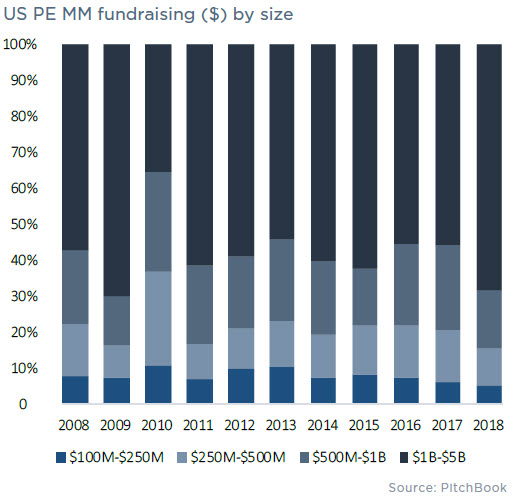 Median buyout fund size hits highest value on record
As a result of the trend toward fewer and larger funds, both the median and average middle-market US buyout fund sizes have risen YoY. The median fund size saw a particularly sharp increase, rising 37.5% YoY to $550 million, a significant jump on its own, but even more so when compared with the 8.3% YoY increase in median fund sizes for all PE middle-market funds.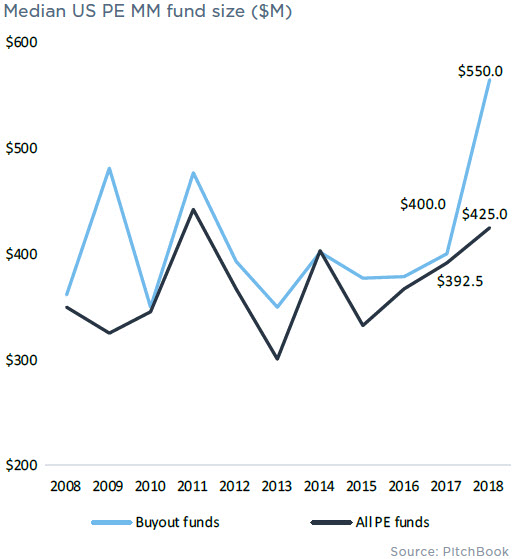 Join the more than 1.5 million industry professionals who get our daily newsletter!