A brief recap of PE and VC in 2014
December 30, 2014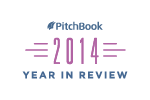 The end of the year is always a good time for reflection, and continuing with our 2014 in Review coverage, we have compiled our observations from this year's trends in private equity and venture capital. Posted below are recaps of the year, along with personal takeaways from members of our Editorial team.
For more 2014 in Review content, click here.
PE
2014 has illustrated how flexibly PE investment strategies have adapted to changing market conditions such as rising valuations and a tighter rein on debt levels. With plenty of dry powder to burn and aging portfolio companies to sell off, PE firms have engaged even further in creative buy-and-build strategies. Add-ons have accounted for roughly 60% of buyouts this year, according to the PitchBook Platform, marking a decade-high percentage and the fourth straight year-over-year increase. Minority and growth investments have proliferated as well, and with valuations still lofty, have offered an alternative way for PE firms to provide value at lesser costs. And, with those same elevated valuations depressing dealmaking toward the end of 2014, many investors turned more of their focus to liquidity, with the U.S. alone reaching over $240 billion in capital exited, a record for the decade. Looking forward, it will be interesting to observe how PE firms make use of what might be a closing window for such easily accessed debt, if interest rates finally rise. The middle market could stand to benefit most due to increased regulatory scrutiny on leverage levels, but if 2014 has been any example, investors will be sure to find ways to evolve and adapt—whatever the deal-making environment.
Garrett Black
"The extent to which PE firms have been eager to exit is best exemplified by the fact the three biggest PE deals of 2014 (not considering the possible completion of the Safeway LBO) were also exits: Gates' $5.4 billion purchase by Blackstone, Acosta's $5 billion sale to Carlyle, and MultiPlan's $4.4 billion acquisition. Those deals and the overall record level of SBO activity speak to not only PE's focus on exiting but also the dearth of quality targets."
Nizar Tarhuni
"I think the oil & gas space will continue to be a fascinating area to track moving into 2015 as the global market searches for the proper price equilibrium. While we've seen a roughly 10% YOY drop in the deal flow of completed energy-related PE transactions, 2014 vintage oil & gas funds have still raised over $13 billion, with four funds closing with more than $1 billion in commitments. As oil & gas companies (especially in the middle market) continue to work on their capital budgets, it will be interesting to see the role PE funds end up having in the space next year."
Joshua Mayers
"Interest rates are bound to increase at some point. But when? Following a steady quarterly drop in PE deal flow in 2014, I feel the dealmaking environment may stay difficult for some time into 2015 as high valuations and increased competition offset an abundance of capital. Expect a more concerted focus than ever on the lower middle market, while we continue to see fewer and fewer mega-deals."
VC
2014 has been a banner year for venture capital, drawing constant comparisons to the dot-com era when VC investment was also reaching incredible levels. But this year has climbed to new heights. There has been nearly $88 billion of venture capital invested globally in 2014, according to the PitchBook Platform, more than any other single year ever. The median post-money valuation of the companies gaining VC funding has hit $27 million, the highest yearly figure in at least a decade. Exit activity has also surged in 2014, with the number of exits via IPO, M&A or PE buyout (~1,520) setting a new record, while capital exited has increased by 73% from last year and has reached an all-time single-year high at $194 billion. Perhaps most impressive, however, is how much we've seen valuations balloon. The term "unicorn" may need to change to "pony" with how common billion-dollar valuations have become. While reaching a $1 billion valuation is still quite an accomplishment, we've seen multiple companies blow that number away in 2014. A handful of startups have reached $10 billion+ valuations this year, including Airbnb ($10.8B), Flipkart ($10.55B) and Dropbox ($10.4B); Uber and China's Xiaomi are now among the most valuable VC-backed companies ever, garnering valuations of $40.4 billion and $46 billion, respectively. Time will tell whether a new bubble indeed exists and when it will burst, but for now it's pretty safe to say that the venture capital ecosystem is thriving more than it ever has before.
George Gaprindashvili
"It has been interesting to see the level of involvement in venture capital deals by alternative asset managers this year. Tiger Global Management, Coatue Management, Fidelity Investments, Maverick Capital and Valiant Capital Management, to name a few of the most active, have together completed 73 venture deals in 2014, investing a combined $9.9 billion in companies including Uber, Flipkart and Snapchat. The same group of alternative asset managers invested about $2 billion over 40 VC deals in 2013."
Kyle Stanford
"It's been a big year for China and India. Companies headquartered in the two countries have combined to raise $12.2 billion from VC investors in 2014—$1 billion more than all Europe-based companies, through about 5x fewer deals. Mobile and Web growth within the markets has led to a lot of capital invested in the countries' B2C and IT sectors, which have accounted for $10.9 billion of the $12.2 billion total. The companies driving this trend have been Xiaomi (China), Flipkart (India), Didi Dache (China) and Snapdeal (India), which together have pulled in about $4.7 billion in 2014."
Explore the PitchBook Platform to uncover additional PE and VC trends: contact us here.
Join the more than 1.5 million industry professionals who get our daily newsletter!