Agtech: A CVC case study
December 8, 2017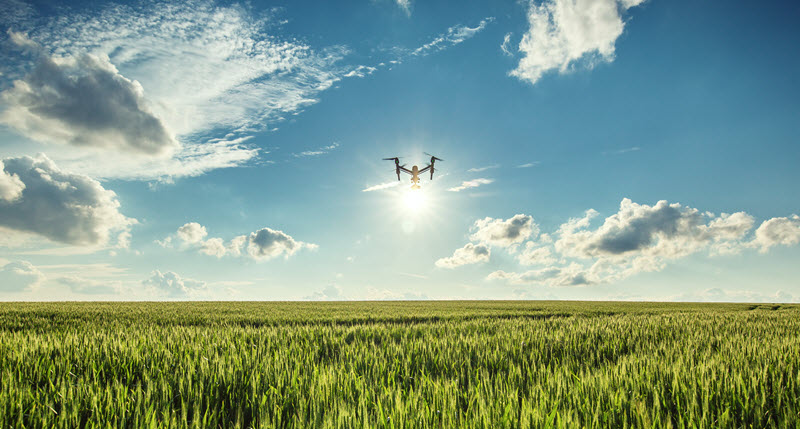 Corporate VC gets a bad rap sometimes. Fred Wilson of Union Square Ventures is the most well-known critic: Last year, he told startups that taking corporate money means "doing business with the devil." He brushed off the notion that CVC investments could help startups and strategics get to know each other. "If you're the startup, do you want them in the room?" Fair question and, in most cases, a fair criticism of CVC.
We noticed a big exception, however, as a result of our work with Finistere Ventures, the prominent agtech investor based in San Diego. PitchBook and Finistere collaborated on the
2017 Agtech Investment Review
, a highly curated dataset for the global agtech space. We've since joined Finistere for its annual Deal Day in Los Gatos and then at AgTech Nexus in Dublin. Both events showcased some of the most prominent and experienced agtech investors working today. Angel investors took part, of course, but so too did a few corporate investors, as well as several promising agtech startups seeking funding. Behind closed doors, startups pitched the angels and the so-called devils alike.
In the agtech space, though, CVCs aren't considered devils. In fact, they make up a significant portion of all capital invested—about half this year. Indeed, earlier this month, GV participated in a $110 million Series D led by Temasek and T. Rowe Price for Farmer's Business Network, a social network for farmers that serves as a data and knowledge exchange. The company secured $40 million in March at a $300 million valuation. In many instances of emerging agtech brands raising large rounds, CVC funds are involved in one way or another. It's relatively uncommon to see those large investments come solely from financial sponsors.
VC deal flow in agtech with CVC investment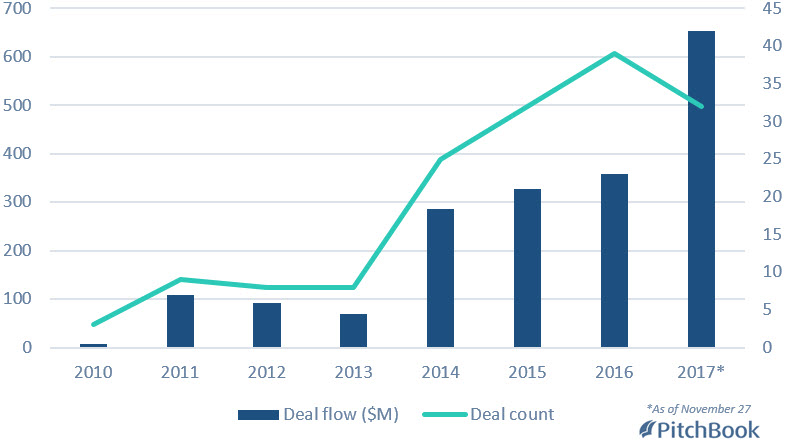 There are a few theories floating around to explain the prevalence of CVCs in agtech. The crash in commodity prices forced Big Ag to cut R&D spending, which in turn gave startups a chance to introduce themselves, is one example. There's also the possibility that Big Ag is chasing returns in agtech following the $1 billion acquisition of Climate Corporation back in 2013. They're often just there to look at the pipeline of ideas, technologies and people making their way into the ecosystem.
Agtech is a different space than most. Startups and investors are chasing breakthroughs that will help the world feed itself in the not-too-distant future. There isn't much talk of "disruption" either—startups aren't out to kneecap Syngenta or Monsanto or DuPont. Rather, Big Ag represents the most reasonable (and maybe only) chance at an exit, and most startups aren't geared toward an IPO, either.
Chances are good (in fact, likeliest) that any financial exits will take place via M&A, and those acquisitions have a real chance at improving technologies and processes used by the agricultural community more generally. To take a recent example, Deere & Company, the farming equipment manufacturer behind the iconic John Deere tractor, agreed to acquire Blue River Technology for $305 million in September. John May, Deere's president and CIO, has likened the deal to the company's acquisition of NavCom Technology in 1999, which established Deere as a pioneer in the use of GPS technology in agriculture. This time around, Deere's betting that Blue River's machine-learning technology is poised to move beyond its current use in spraying equipment to transfer farm management decisions from the field level to the plant level.
Such "digital agriculture" plays are currently the major focus of investors and corporations, which only further reinforces the cooperative relationship between Big Ag and agtech startups—and that focus makes sense. It would be very difficult to encroach upon the established supply chains and vendor relationships that agricultural incumbents possess. The fact that there's only one startup—Indigo Agriculture, which raised $203 million this week—trying to tackle the seed ecosystem from the ground up underlines this point.
It makes sense, then, that corporate money plays an outsized role in agtech even at the early stages. The corporate world, the VC world and the startups themselves seem intertwined, almost from beginning to end. Corporate money doesn't have the same taint in agtech as it does in other industries, and startups don't treat corporate money as a threat.
Even though exit data appear sparse at the moment, there will be several significant acquisitions to come. Most in the industry expect Big Ag to start "buying" innovation in the next year or two—after the dust has settled from all the recent mega-mergers. Once those deals start to happen, we should get a better sense of how important CVC capital has really been to agtech in the last few years. Odds are that many of those agtech startups have already seen their futures.
Interested in learning more about investment activity in agtech? Check out the Finistere Ventures-PitchBook 2017 Agtech Investment Review.