'AI is replacing software': A look at the industry's unrelenting rise
November 30, 2017
One of the most noteworthy trends in the tech world in recent years is the growing prevalence of AI and machine learning in nearly all facets of life. In October, we looked at several reasons
why the surge in AI is happening now
, along with numbers on the global hike in VC interest in the space. It seems that nearly every new startup is adopting AI-driven strategies for its products, and there's a lingering fear that companies failing to do so may be left in the dust.
As the need for these capabilities grows, so too has the market for products to support them. Among the startups in that space is H2O.ai, which is aiming to capitalize on the opportunities of a world where nearly all software and hardware is expected to incorporate AI. The startup has announced a $40 million Series C to continue to develop its open-source software, which helps other companies build their own AI platforms.
The funding round is one of more than 400 VC transactions in a year that's seen
record deal count and capital invested
in the US AI and machine learning sector, per the PitchBook Platform.
VC investment in AI & machine learning in the US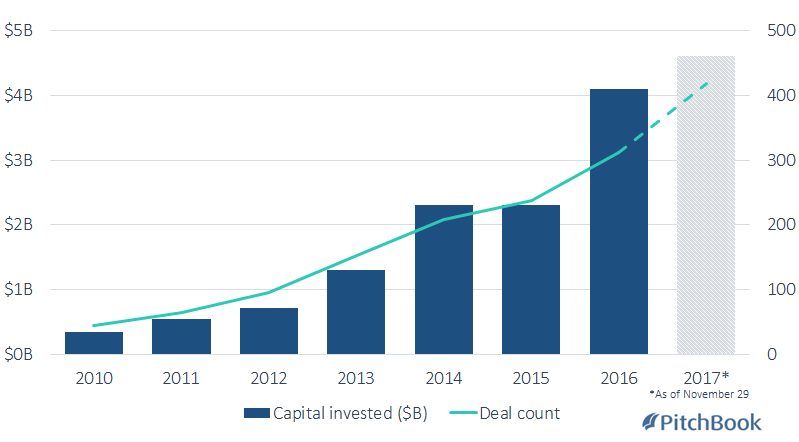 Sri Ambati, the co-founder and CEO of H2O.ai, says technology is going to fundamentally change as a result of the AI phenomenon.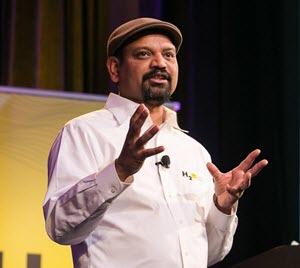 "What's happening is that every piece of software out there is likely to have an AI piece added to it," Ambati (pictured) told PitchBook. "AI is replacing software that's at the heart of business strategy today. ... That's the underlying phenomenon of why businesses need to react. Businesses need to experiment faster and cheaper, change their hypotheses, transform business processes and team culture—everything."
Specifically, H2O.ai is looking at ways businesses can use AI to their advantage. One of the startup's missions is to help other companies use AI and machine learning to monetize data they've been cataloguing and storing for the past decade or so.
"Consumers are used to getting high-end experiences powered by AI, whether it's Alexa or Google Maps or driverless cars, and when they cross over to enterprises, banks, hospitals or insurance companies, there's no reason to expect anything less," Ambati said. "We want to democratize AI to reduce those barriers for everyone."
Check out more of our AI coverage, including a market map.