Lindsay Goldberg has announced that Jack Lew, who was the US Secretary of the Treasury from 2013 to 2017, will join the firm as a partner. Founded in 2002 by former Morgan Stanley Private Equity executives Bob Lindsay and Alan Goldberg, the firm is active across several sectors; Lindsay Goldberg raised about $3.5 billion for its latest flagship fund in 2015.
Lew is the latest in a growing line of former treasury secretaries to transition into private equity after their stints in the public sector. In fact, four of the past five men to hold the position have worked in private equity after departing their jobs in government:

Other recent treasury secretaries went on to work adjacent to private equity. Lawrence Summers left the government to work at hedge fund manager D.E. Shaw, while Robert Rubin moved on to post-Treasury stints at Citigroup and Centerview Partners.
What kind of impact will Lew have in his new role? After experiencing a sharp decline in activity in the wake of the financial crisis, Lindsay Goldberg has maintained a steady rate of dealmaking this decade. The firm has completed
between seven and 12 new investments
each year since 2010, according to the PitchBook Platform. The firm's dozen deals this year—including seven in the healthcare space—represent a recent high-water mark.
By sector, meanwhile, Lindsay Goldberg's investments have remained remarkably balanced. Here's a breakdown of the firm's 150 deals dating back to the start of 2001, according to PitchBook data: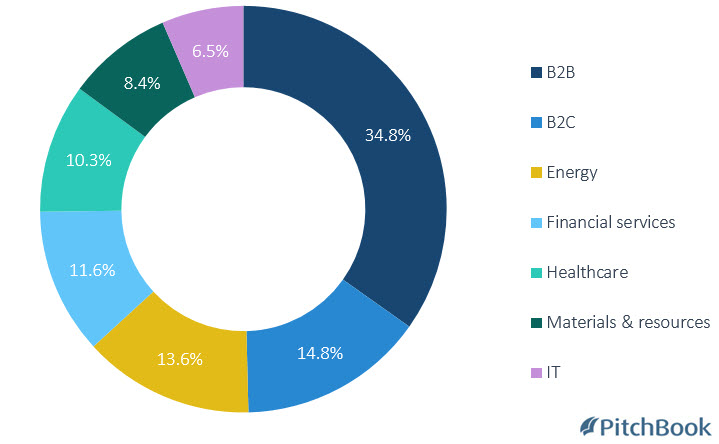 Drilling down into the industry groups of Lindsay Goldberg's investments reveals a clear focus on companies in the services space. Commercial services are the most common industry group in the firm's portfolio, at 20%, according to PitchBook data. Financial services (8.4%), healthcare services (8.4%) and energy services (5.8%) are also among the firm's favorite sub-sectors.
An earlier version of this post incorrectly stated that Paul O'Neill was treasury secretary from 2001 until 2003; Snow's last day in the position was December 31, 2002.
PitchBook subscribers can learn more about Lindsay Goldberg's recent activity.