Apollo Global Management has raised $23.5 billion for its latest buyout fund, with a close set to come "imminently," according to The Wall Street Journal. And Apollo could reportedly still add even more capital to that already massive pile before it becomes official.
Either way, the vehicle will become the largest buyout fund ever raised, according to the PitchBook Platform, surpassing Blackstone Capital Partners V, which closed on $21.7 billion in 2007. It's Apollo's biggest vehicle by more than $5 billion, topping the firm's $18.4 billion Fund VIII from 2013.
With the first half of 2017 nearly complete, perhaps the year's most notable private equity trend has been the return of the mega-fund. A list of
the biggest buyout funds ever closed
already included three vehicles from this year in the top 20, not including Apollo's massive work-in-progress.
And it's a worldwide phenomenon: Records are being set across the globe.
Earlier this month, CVC Capital Partners closed
the largest Europe-based fund in history
, gathering €15.5 billion. Also in June, KKR closed its third Asian fund
on $9.3 billion
. That was enough to be the biggest Asia-focused buyout fund ever, per PitchBook data, but it wasn't even the largest vehicle raised by KKR in the past six months: In March, the firm closed its latest Americas fund
on $13.9 billion
.
The list continues. SoftBank held a first close on
a staggering $93 billion
for its Vision Fund in May. That same month, Vista Equity Partners
topped the $11 billion mark
for its newest software vehicle. And in April, Silver Lake raised $15 billion for
its latest flagship fund
, one of the largest pools of capital to be focused so narrowly on tech deals.
Add it all up, and across the world, firms have already closed 158 buyout funds this year, gathering more than $150 billion in capital commitments, according to the PitchBook Platform. If that pace keeps up—and the addition of Apollo's mammoth fund will surely help—it would mean the most closed funds in any year since 2008 and the most capital raised since 2007.
Buyout fundraising since 2007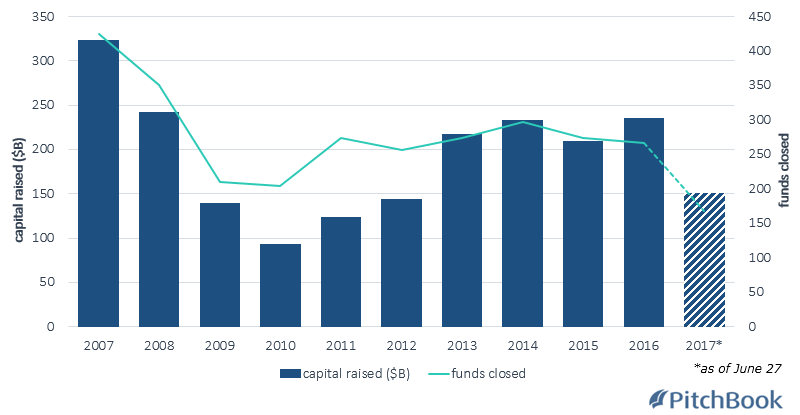 Private equity firms are already sitting on
a record amount of dry powder
. But they're not letting that stop them from raising more cash at an increasing clip.
PitchBook Platform users can access the full data on closed buyout funds.

Not a subscriber? Read more of our featured PE fundraising content here.