Take-private buyouts are often among the highest-profile deals conducted by private equity firms, as the targets tend to be both bigger and better known to the wider public. As it turns out, those headline-grabbers can also be among the riskiest deals firms do.
From 2016 to 2018, companies that had been acquired via take-private buyout were more than twice as likely to go bankrupt or out of business than companies acquired in other types of buyouts of similar size, according to
a recent PitchBook analyst note
breaking down this and several other trends in the take-private sphere. As you can see below, 12.1% of all exits for companies that had been taken private were bankruptcies or OOBs, compared to 5.2% for non-take-privates worth $500 million or more:

The most apparent explanation for the link is that take-private buyouts tend to be expensive—there were 24 such deals worth $1 billion or more in 2018, taking the median deal size to over $700 million. And to finance such enormous takeovers, firms tend to use equally sizable amounts of leverage—which can increase the risk for financial distress. For examples of what that can look like, one need only scan the landscape of private equity's
recent dealings in retail
.
Which raises at least one question: Why do firms pursue take-private buyouts if those deals are in more danger of going bust? The obvious answer is that they can also generate larger returns. In each of the past five years, the median annualized change in enterprise value for companies acquired via take-private buyouts was greater than the change for companies purchased in other kinds of similar-sized LBOs. In the case of 2018, much greater: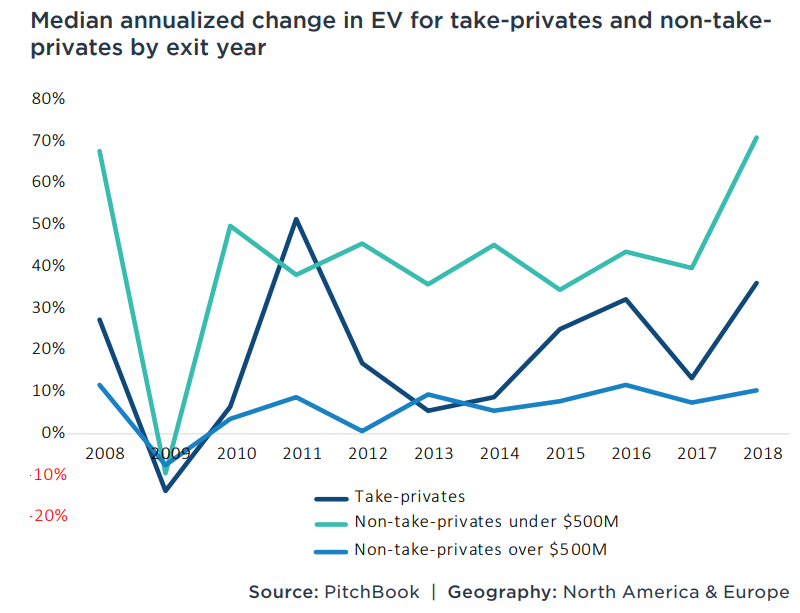 The median change in EV for non-take-privates worth less than $500 million tends to be much larger than either of the two bigger deal buckets, but those smaller deals are an inherently different animal, often pursued by different sorts of firms looking to deploy lesser amounts of capital.
When it comes to large-market buyouts, take-private deals bring more danger of bankruptcy and all the downsides that come with it, from the obvious financial hit to the wider reputational damage that can result from being associated with a high-profile failure. But when performance is ultimately what matters most, it's a risk many investors are willing to take.
Featured image via rudall30/iStock/Getty Images Plus
Want more analysis and data on take-private buyouts? Check out our analyst note.