Politics
Bain Capital alum Deval Patrick shuts down presidential campaign
February 12, 2020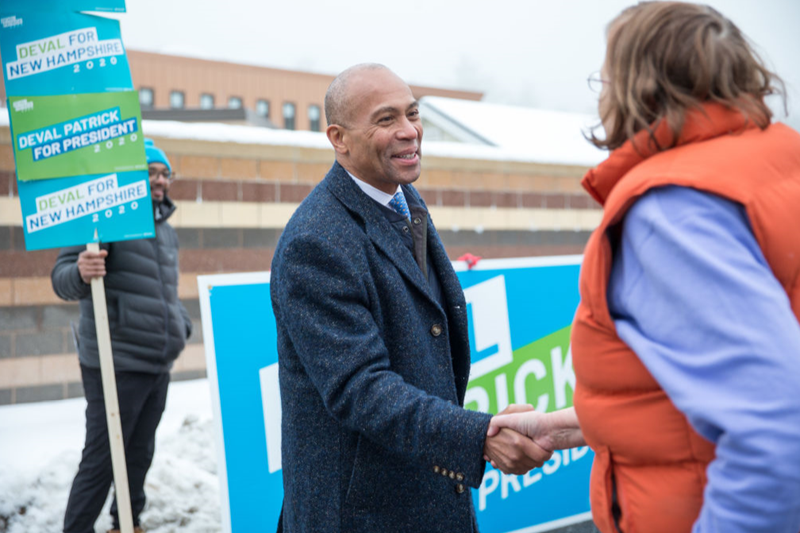 Deval Patrick has ended his bid to become the next president.
The former two-term governor of Massachusetts and
Bain Capital
managing director released a statement Wednesday announcing his decision after an underwhelming showing in the previous day's New Hampshire primary. Patrick made a push last week to rally voters in the state with an appearance at a CNN town hall, but with nearly all precincts reporting, he had pulled in fewer than 1,300 votes and was sitting in ninth place.
"I believed and still believe we had a strong case to make for being able to deliver better outcomes," Patrick said in his statement, citing his accomplishments while leading Massachusetts from 2007 to 2015. "But the vote in New Hampshire last night was not enough for us to create the practical wind at the campaign's back to go on to the next round of voting."
A rumored candidate for a few years now, Patrick didn't enter the race until this past November, well after most of the field. That left him with an uphill road to the Democratic nomination, and he failed to gain much traction. Perhaps the biggest headline of the Patrick campaign came when he was forced to cancel a planned event at Morehouse College that reportedly drew just two attendees.
Patrick delayed the launch of his campaign because his wife, Diane, was diagnosed with cancer about a year ago. She's now cancer-free. In a recent campaign advertisement, Patrick said he'd originally planned on announcing his candidacy a year ago, "but life had other ideas."
"I've met many people on the campaign trail who lament how they wished I had entered the race sooner," Patrick said in the statement ending his campaign. "As I hope you know, I entered this race when I could, and not a moment before I should have."
It's unclear if Patrick will return to his job at Bain Capital. Patrick's press team didn't immediately respond to a request for comment.
The 63-year-old has faced scrutiny for his time at the firm, where he ran the social impact division from 2015 until 2019. For the past two years, the unit has been investing out of its $390 million Bain Capital Double Impact fund, which targets companies focused on sustainability, health, education and other sectors related to social welfare.
Patrick, of course, isn't the first former Bain Capital executive to set his sights on the White House. In 2012, Republican presidential candidate Mitt Romney, now a Utah senator, was skewered for his deep-rooted connections to the Boston-based firm, which Democrats had criticized for practicing "vulture capitalism."
A friend of President Barack Obama and fellow Chicago native, Patrick ran as a moderate Democrat with policy proposals that included adding a public option for Obamacare, going 100% carbon neutral by 2040, banning assault rifles nationwide and raising the corporate tax rate from 21% to 25%.
Join the more than 1.5 million industry professionals who get our daily newsletter!