Bay Area Continues to Grow Its Share of VC Financings
October 2, 2013
The San Francisco Bay Area increased its share of VC financings and capital invested in the third quarter, data released today by PitchBook show. San Francisco and Silicon Valley combined to attract $3.1 billion across 275 venture rounds in the third quarter, good enough to make up 32% of the 854 U.S.-based third-quarter venture rounds and 43% of the $7.32 billion in funding, according to the preliminary regional data. These are both slight increases over the second quarter, when the Bay Area comprised 30% of VC deals and 42% of capital.
New York City came in second among cities with startups receiving VC financings to comprise 11.1% of VC deals in 3Q 2013. Los Angeles, Boston and Seattle rounded out the top five with 5.5%, 4.8% and 3.6%, respectively.
The median pre-money valuation for Bay Area VC-backed companies has also risen from previous quarters. After hitting $20.2 million in 2Q 2012, valuations dropped to $15.9 million in the first quarter of this year, but rebounded to $21.6 million and $22.6 million in 2Q and 3Q 2013, respectively.
This growth has been led largely by rounds in later stages, as Series C and D valuations have increased from $85.2 million and $169.3 million in 2Q 2013 to $141.6 million and $181.1 million, respectively, in the third quarter. Meanwhile, venture capital firms invested at lower valuations across fewer San Francisco-based Series A and B rounds in 3Q 2013.
While the Bay Area increased its share of venture financings over the last few quarters, four other startup hotspots—Seattle, New York, Los Angeles and Austin—have seen their share of VC deals remain fairly steady. Granted, they all had fluctuations from quarter to quarter, but Seattle, for instance, has never comprised less than 2.9% or more than 3.7% of VC deals in the last two years. For New York, it was 9.2% and 11.5%.
Boston, however, has suffered from a fairly noticeable decline in the number of companies receiving venture funding. Eighty-seven Beantown startups received a total $900 million in capital in 3Q 2012, but those numbers have slowly fallen to just $550 million across 41 companies in the third quarter this year. Because Boston relies more heavily on healthcare companies than other major centers, it's no surprise that as the number of deals in healthcare fell from 20 in 3Q 2012 to nine in the same quarter this year, so too has the overall total.
Here are the top VC investors in the five most active metro areas in 3Q 2013:
Top Investors in Bay Area Companies:
Google Ventures – 16 deals
Andreessen Horowitz – 14
Kleiner Perkins Caufield & Byers – 14
500 Startups – 12
First Round Capital – 12
Top Investors in New York City Companies:
Lerer Ventures – 7 deals
500 Startups – 3
Accel Partners – 3
Contour Venture Partners – 3
FirstMark Capital – 3
Founders Fund – 3
Greycroft Partners – 3
Lowercase Capital – 3
Spark Capital – 3
Thrive Capital – 3
Tribeca Venture Partners – 3
Top Investors in Seattle-area Companies:
Madrona Venture Group – 3 deals
Benchmark Capital – 2
CrunchFund – 2
Second Avenue Partners – 2
Top Investors in Boston-area Companies:
Atlas Venture – 5 deals
Google Ventures – 4
Launchpad Venture Group – 3
New Enterprise Associates – 3
Third Rock Ventures – 3
Top Investors in Los Angeles-area Companies:
Greycroft Partners – 3 deals
500 Startups – 2
Bertelsmann Digital Media Investments – 2
e.ventures – 2
General Catalyst Partners – 2
InterWest Partners – 2
Karlin Ventures – 2
Lightspeed Venture Partners – 2
Matrix Partners – 2
Upfront Ventures – 2
VegasTechFund – 2
—
Featured image of the Golden Gate Bridge courtesy Aslak Raanes, Wikimedia Commons.
—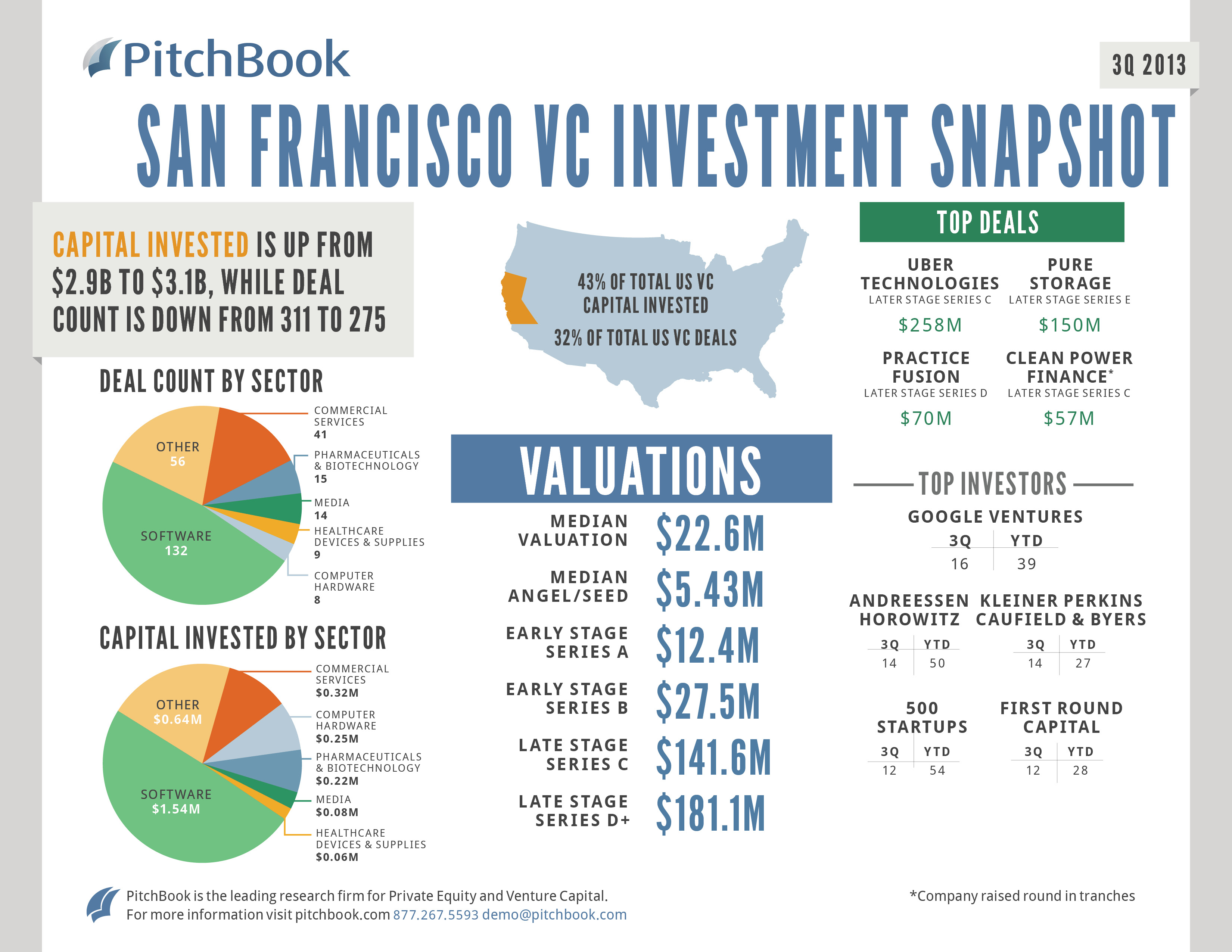 —
Join the more than 1.5 million industry professionals who get our daily newsletter!