Benchmark hits ousted Uber CEO with fraud suit
August 10, 2017
---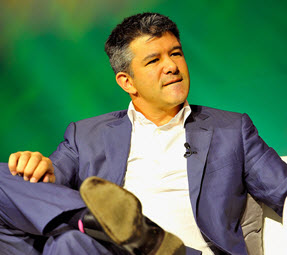 Uber investor Benchmark has filed a fraud lawsuit against Travis Kalanick, former CEO of the ridehailing company, as first reported by Axios.
The news comes a few days after reports surfaced that Garrett Camp, an Uber co-founder and board member, had informed the company's staff that "Travis is not returning as CEO." Though that statement is unambiguous, the new lawsuit could be the final nail in the coffin: Kalanick would be kicked off Uber's board if Benchmark is victorious, removing any chance he'd rise from the ashes and return to the company.
Summary of the lawsuit
The VC is suing Kalanick (Uber is also named in the lawsuit) for fraud, breach of fiduciary duty and breach of contract, according to the complaint. Benchmark—which holds about 13% of Uber's stock—has alleged that Kalanick conspired to gain control of Uber's board under false pretenses.
In June 2016, Uber's board voted to expand itself from eight to 11 seats. The lawsuit alleges Benchmark wouldn't have agreed to the three new seats had they known Kalanick's intentions, and that the VC signed off on the restructuring due to "his material misstatements and fraudulent concealment." It goes on to claim Kalanick "knew he would likely be forced to resign as CEO once his prior conduct was discovered."
Kalanick made use of the three extra seats earlier this year when he was ousted as CEO after Uber became the subject of a high-profile lawsuit and a sexual harassment scandal, among other issues. At that time, Kalanick resigned from the board seat reserved for Uber's CEO. But "the ink was barely dry on Kalanick's resignation letter," per the complaint, before he appointed himself to one of the seats that had been created a year earlier.
Benchmark is seeking to invalidate the vote that created the additional board seats, which would effectively remove Kalanick from the board.
Here's the full complaint
, originally obtained by Axios.
Benchmark's 6-year history with Uber
The early-stage VC first invested in Uber in 2011 as part of an $11 million round that valued the company at $60 million, then went on to participate in many subsequent financings. Uber is now worth more than any other private company in the US, with a $68 billion valuation.
Benchmark has continued to vocally support Uber since reports of its struggles began to emerge earlier this year.
3/ We are long Uber: Benchmark's comparative valuation analysis shows Uber could comfortably be worth over $100B in just two years.

— Benchmark (@benchmark) August 7, 2017
Despite the outward support, Benchmark's actions over the last three months—capped off by the lawsuit against Kalanick—suggest the VC is less than thrilled with the embattled ridehailing company:
June
: Benchmark general partner Bill Gurley resigns from Uber's board of directors after pushing for a leadership change amid sexual harassment allegations.
July
: Benchmark reportedly engages in talks with SoftBank to sell its shares in Uber.
August
: Reports emerge that the would-be deal between SoftBank and Benchmark could value Uber at between $40 billion and $45 billion, a major valuation dip.
The same day the lawsuit was filed, a key Uber executive announced his resignation. Ryan Graves, SVP of operations and the ridehailing company's first employee, is reportedly set to leave his role in September to focus on his seat on Uber's board of directors—particularly the ongoing CEO search.
For more on Uber, check out our previous coverage. And here's more on the ridehailing industry as a whole.