Cannabis
Cannabis has the VC market buzzing as firms seek to capitalize on hype
December 4, 2019
View comment

(1)
This article first appeared in the latest edition of the quarterly Morningstar magazine under the headline "Cannabis has VC market buzzing."
Venture capital is often at the forefront of new, up-and-coming markets. To pique the interest of investors, those new markets need significant growth potential to make up for the inherent risks involved. It's often only in hindsight that retail investors see for themselves how massive the promise was for those new markets—whether it was the Internet in the late 1990s or the mobile/wireless revolution a decade later. In other words, it's worth it for investors to pay attention to hype emanating from the venture capital world.
The latest hyped industry is cannabis. In the US, VC dollars are beginning to pour into the space on the assumption that recreational use will eventually be legalized under federal law. The "when, not if" assumption is fueling a sense of promise for investors, but in the meantime, the state-by-state expansion of the cannabis market means that any attempt for companies to scale across state lines comes with regulatory headaches. On top of the difficulty in scaling, the prize of doing business in a new state is limited to the size of that state's population, which isn't always significant.
But federal legalization might not actually represent the best possible outcome for all the cannabis startups and their investors. On more-stable legal footing, these companies might not be able to survive the entry of legacy behemoths such as Coca-Cola and Anheuser-Busch InBev, among other big brands evaluating opportunities in cannabis.
In the meantime, led by the listed Canadian cultivators, cannabis companies have sought to capitalize on the hype around the rapidly evolving US recreational market. From a corporate M&A perspective, that has translated into a push for regional consolidation to capture greater market share to put better-established cannabis companies on a near-national footing.
In just six years, the amount of private capital committed to US cannabis companies has increased by a staggering 64 times—and that's without many conventional exit routes for venture capitalists in sight. The prospects for VC investors exiting profitable cannabis startups have been limited by the fact that marijuana remains a Schedule I controlled substance under US federal law. Federal prohibition has ensured that a public listing in Canada was the only reliable offramp for investors. That is starting to change as consolidation plays are developing stateside in some regions. Without this uptick in acquisition activity returning capital to investors, however, the venture ecosystem supporting the proliferation of cannabis plays could be more vulnerable to contraction than current levels of public enthusiasm would indicate.
Uptick in M&A
The sudden increase in cannabis M&A activity (see chart below) has prompted some industry observers to speculate about the direction that consolidation could take in the coming years. As the industry grows, investors are sizing up the threat represented by incumbents from Big Ag, Big Alcohol, Big Pharma, and Big Tobacco. After five years of legal recreational use in states such as Colorado and Washington, the cannabis industry is maturing quickly. M&A has been a driver of opportunities to capture this rapidly evolving market's momentum.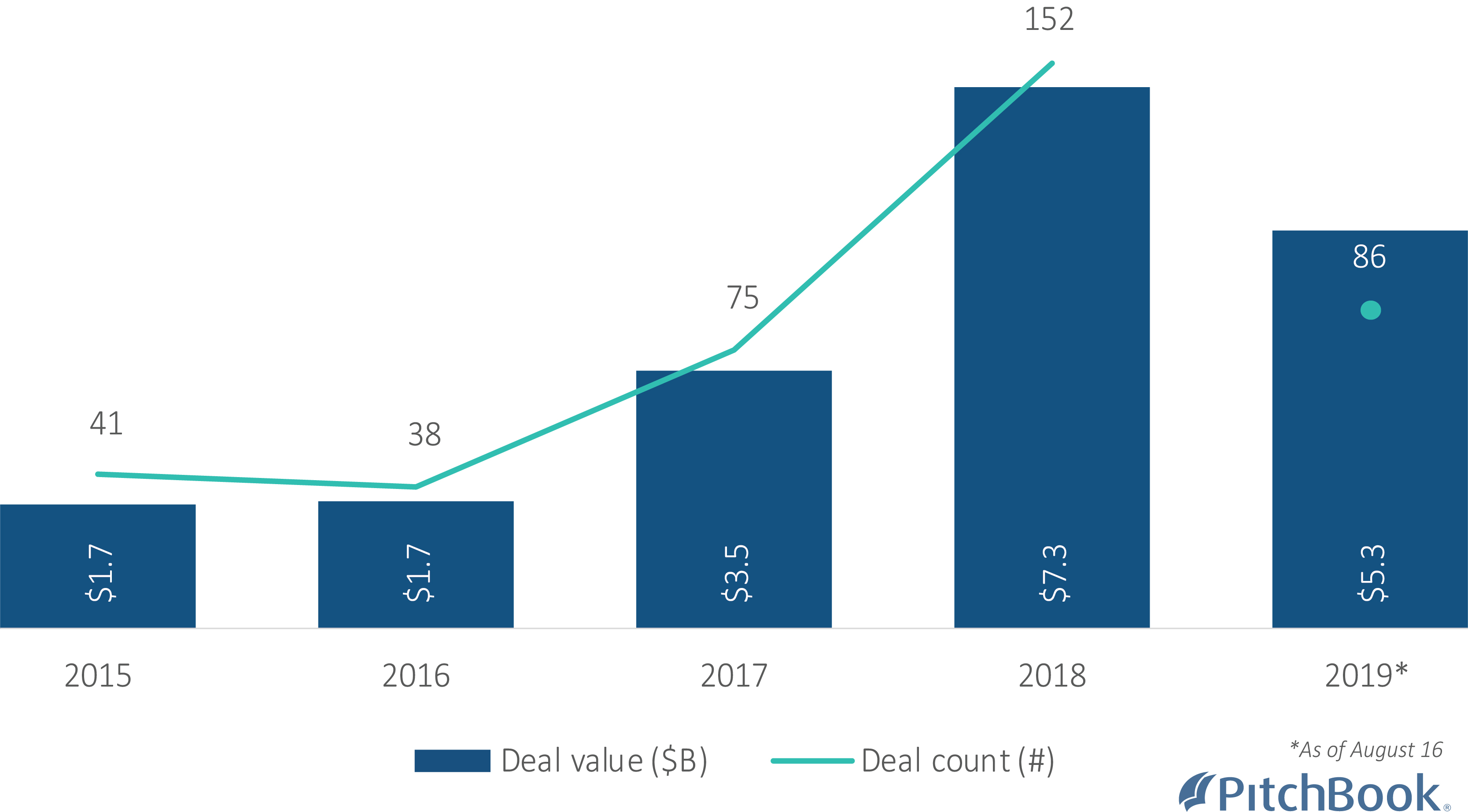 These transactions serve several purposes. First, consolidation in the emerging cannabis market makes sense for more vertically integrated players looking to expand operations into multiple US states. These companies already control significant portions of the value chain, from strain genetics and cultivation through product branding and point of sale. Also, for those listed Canadian firms with ambitions in the US, M&A can put the combined company in a stronger position ahead of federal legalization.
By some estimates, recreational marijuana consumption in legal states such as California has coincided with a decline of 15% to 20% in alcohol sales and a welcomed reduction in binge drinking. What's more, hemp-derived cannabidiol, or CBD, has quickly emerged as a product differentiator for offerings that range from coffee to lotion.
Some industry analysts argue that Big Alcohol and Big Tobacco will look to buy rather than build market share in cannabis. A number of consumer brands have already made big bets on the industry. Late last year, tobacco giant Altria MO became the largest shareholder in Cronos Group, buying a 45% stake in the company. Likewise, Constellation Brands, the brewer of popular Mexican beers Corona and Modelo, invested $4 billion into Canada's Canopy Growth, increasing its stake to 38%. Coca-Cola and Anheuser-Busch have floated plans to produce cannabis-infused beverages.
Consolidation trends
These moves could hold the key to understanding where M&A in the US goes next and whether greater consolidation of the cannabis market into corporate hands would help or hurt smaller players like VC-backed startups.
Headline-grabbing moves into this space from trusted legacy brands help legitimize the industry from a consumer's standpoint. Analysts anticipate that major consumer brands could come to dominate the cannabis industry by riding a wave of consolidation largely of their own making. That would subsume the existing M&A market, they argue, particularly at the tails of the value chain, where a supply glut of cultivators at one end and retailers at the other already exists. Smaller dispensaries ranging between $1 million and $5 million in enterprise value represent distressed assets to consumer giants making strategic acquisition plays.
Investment interest from the cannabis industry's own incumbents, meanwhile, is also boosting expectations in the market. That emerging trend is being borne out in the data on regional consolidation across North America. Flanked by an established Canadian market and a potentially deadly threat from US corporations, US M&A trends have gravitated toward regional consolidation and license acquisition. The market consensus is that the US opportunity is much larger than the Canadian one.
Among current cannabis incumbents, Canadian companies have a big lead over corporate US rivals—to the extent they have US rivals at this stage—when it comes to size and M&A leverage. Last year, Edmonton-based Aurora Cannabis wrapped up the largest cannabis deal to date, purchasing Canadian rival MedReleaf for about $2.4 billion. The deal illustrates the need for both greater scope and scale to compete globally. The combined company can produce more than 600 tons of cannabis annually. It also merged scientific and R&D teams to develop higher-margin products sold into not only the North American recreational markets but also the growing international medicinal market, which Morningstar forecasts has the potential to reach $43 billion by 2030.
With equity and cash to wager, large cannabis companies listed in Canada have spearheaded many of the major M&A trends of the past few years, which peripherally affects the direction of US M&A. It's likely this situation won't change until the US removes marijuana's Schedule I status, because any big deal between US cannabis firms could be canceled should the federal government crack down legally. This puts private market cannabis investors in something of a bind—investments need to be exited and capital returned to fund investors if the ecosystem is to be sustained.
Meanwhile, companies with national ambitions in the US are scouting for acquisition targets across several scattered states. As legal recreational sales started last year, California became an instant destination for M&A activity; strategic investors closed 56 deals for cannabis companies. By contrast, Florida and Nevada trailed that figure significantly, accounting for a combined 33 completed transactions. In lieu of a national market, which may be years or decades away, cannabis companies are concentrating on dominating regional markets, particularly around major cities along the coasts. Investors anticipate more regional hubs will develop over time as a result.
Looking forward
As the cannabis industry matures, clarity around banking and tax regulation would fuel deeper industry consolidation. Cannabis-related consulting, software, and other ancillary companies will make intriguing acquisition targets. VC-backed Hound Labs is an example of an attractive cannabis company that doesn't "touch the plant." Its breathalyzer kits can be used by employers and law enforcement to test for cannabis just as traditional breathalyzers can detect alcohol consumption. Other M&A targets are in areas such as lab and strain testing—services used by the recreational and medicinal markets alike. For example, VC-backed lab services startup Cannalysis, which was valued at $27 million as part of a $22.6 million Series A funding in September, examines cannabis products on behalf of cultivators, manufacturers, and dispensaries to meet California's strictly regulated recreational and medicinal markets. Many similar companies have popped up throughout the country.
Some investors, encouraged by the growing interest of major consumer brands, anticipate that larger funding rounds eventually will be met by similarly significant exit values. In 2018, corporate acquisitions in Canada averaged $115.3 million per purchase, an increase of 5.5 times year-over-year. Likewise, the rapid expansion of the recreational market in the US buoyed transaction sizes in 2018, with the average M&A deal climbing by 85% to $21.9 million.
But that dynamic may not materialize at scale. The US has already posted record levels of VC-backed exit activity so far this year. In aggregate, these transactions surpassed the $2 billion barrier for the first time. Records aside, that's not an impressive statistic compared to other venture-heavy sectors, which routinely see single exits valued higher than the entire cannabis industry put together.
There's a disconnect, then, between industry excitement and exit numbers, which won't shoot through the roof without federal legalization. Today's disconnect between hype and reality may be here for a while. As things stand, US companies have an opportunity to capture a larger geographic footprint as more markets emerge and multistate operators position themselves to serve a much larger consumer base. The question, however, isn't how big the market opportunity will be—it's whether today's cannabis companies will be able to take advantage of it.
PitchBook is a Morningstar company.
Featured image by Conor Hamill/PitchBook