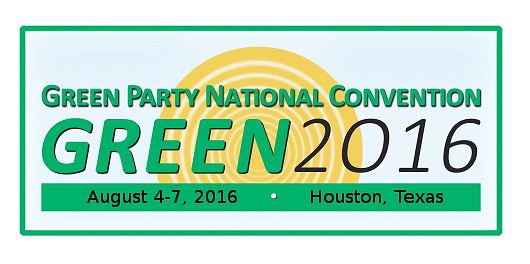 This year, the Green Party convention takes place in Houston, with the nomination of Dr. Jill Stein for president set to take place Saturday. The party stands next to no chance of putting a candidate in the White House—or, really, any prominent elected office outside of California—at least, for the foreseeable future. Which got me wondering: What's the point?
Make no mistake, it pains me to put it that way. But this is an exercise in masochism as much as anything else, after all.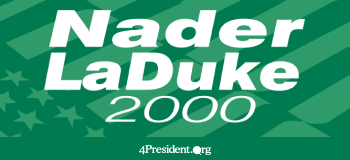 I was once a vocal supporter of the Green Party and remain a staunch supporter of its basic platform. I voted for Ralph Nader in 2000, my first ever opportunity to vote in any election. And I even proudly drove my rusty Ford Taurus station wagon around my Minnesota hometown with a Nader-LaDuke yard sign propped up in one of its back windows. As a consequence of some combination of these facts, I was a recipient of the very prestigious "most likely to be president" award my senior year of high school.
But let's stop beating around the bush. The Green Party currently boasts just a handful of elected officials nationwide, including county-level posts in, of all the unlikely places, Arkansas. That means going back to that 2000 Nader campaign to learn more about other ways the Green Party might be seen to matter, however marginally, today.
Private equity investment activity in states where Nader received more than 5% of the popular vote in 2000*—let's call them "green" states for short—reflects greater deal activity overall for industry verticals like cleantech and lifestyles of health and sustainability (LOHAS) compared with PE activity in these verticals for the US as a whole over the same period. That might not come as much of a surprise. After all, the clunky LOHAS vertical reads like a list of stereotypes about "green" industry—businesses that sell organic, locally grown food, companies that cater to ecotourists as well as those that facilitate socially responsible investing—the real crunchy granola stuff in other words. Watch an episode of "Portlandia" for more examples. But the differences in PE activity between the green states and the United States in these verticals are relatively slight. And that's a very good thing.
* For context, here are the popular vote results for Nader in 2000

Alaska: 10.07%
Vermont: 6.92%
Massachusetts: 6.42%
Rhode Island: 6.12%
Montana: 5.95%
Hawaii: 5.88%
Maine: 5.70%
Colorado: 5.25%
District of Columbia: 5.24%
Minnesota: 5.20%
Oregon: 5.04%

Green states represent only the leading edge of larger national trends rather than the outliers that they would appear to be if a significant election result, like a greater than 5% popular vote total for Nader in 2000, is the only factor taken into consideration. Sure, a breakdown by vertical shows that green states have seen investment activity take place more heavily than the rest of the country in cleantech, but only at a rate 0.71% higher, with deal activity in LOHAS registering just 0.34% higher than in the rest of the country. Again, these aren't huge numbers. They're something much more like failing to find what one might naively expect, namely, confirmation that green states are somehow very different from the rest of the country. They're just not.
PE activity by industry vertical in green states since 2000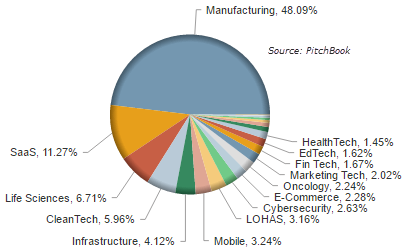 PE activity by industry vertical in the US since 2000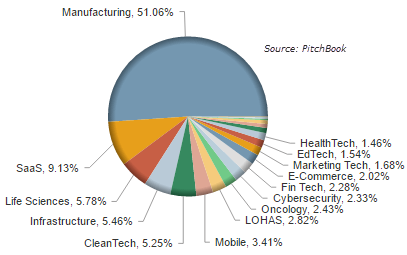 The pattern holds in terms of overall deal activity for green states during the same period. Indeed, green states have tracked the rest of the country so closely over the past 15 years that you'd be forgiven for mistaking one chart below for the other, especially for the period preceding the financial crisis.
PE deal count in green states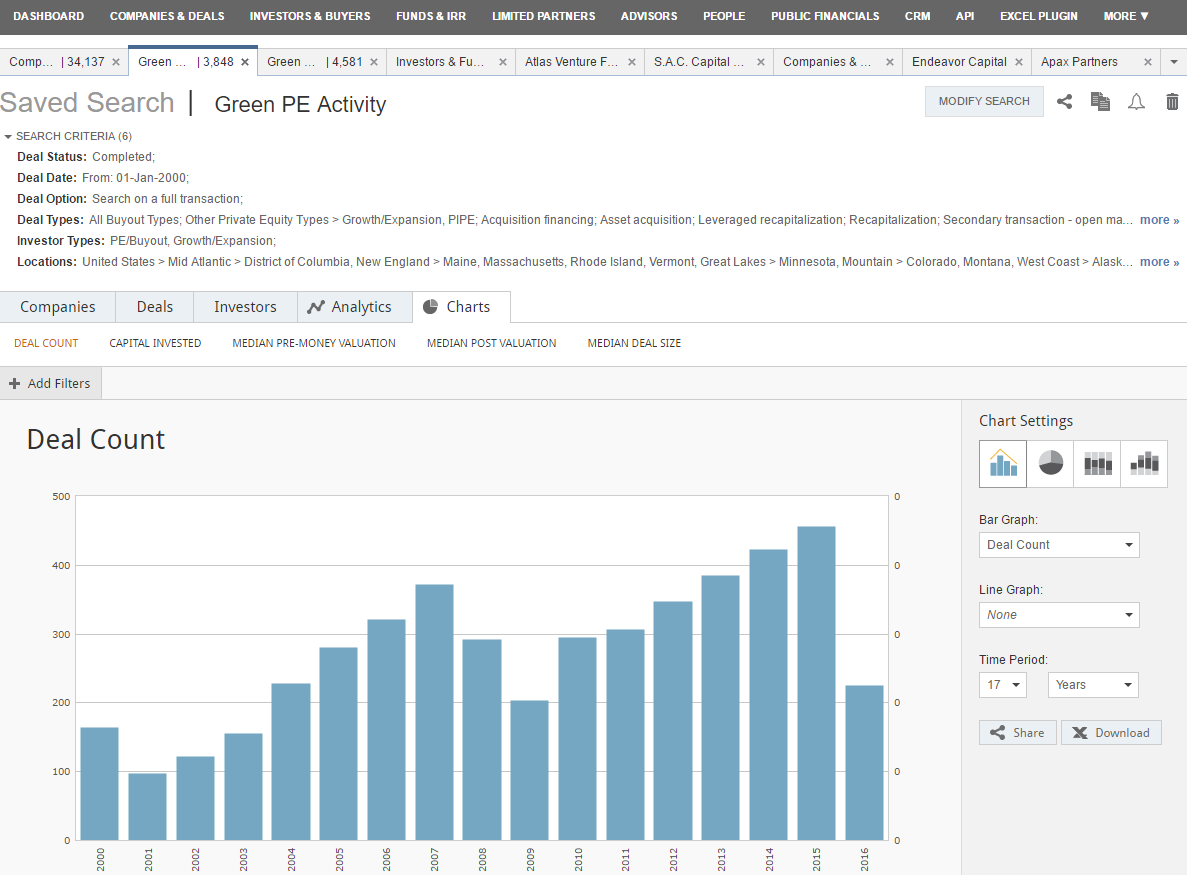 PE deal count in the US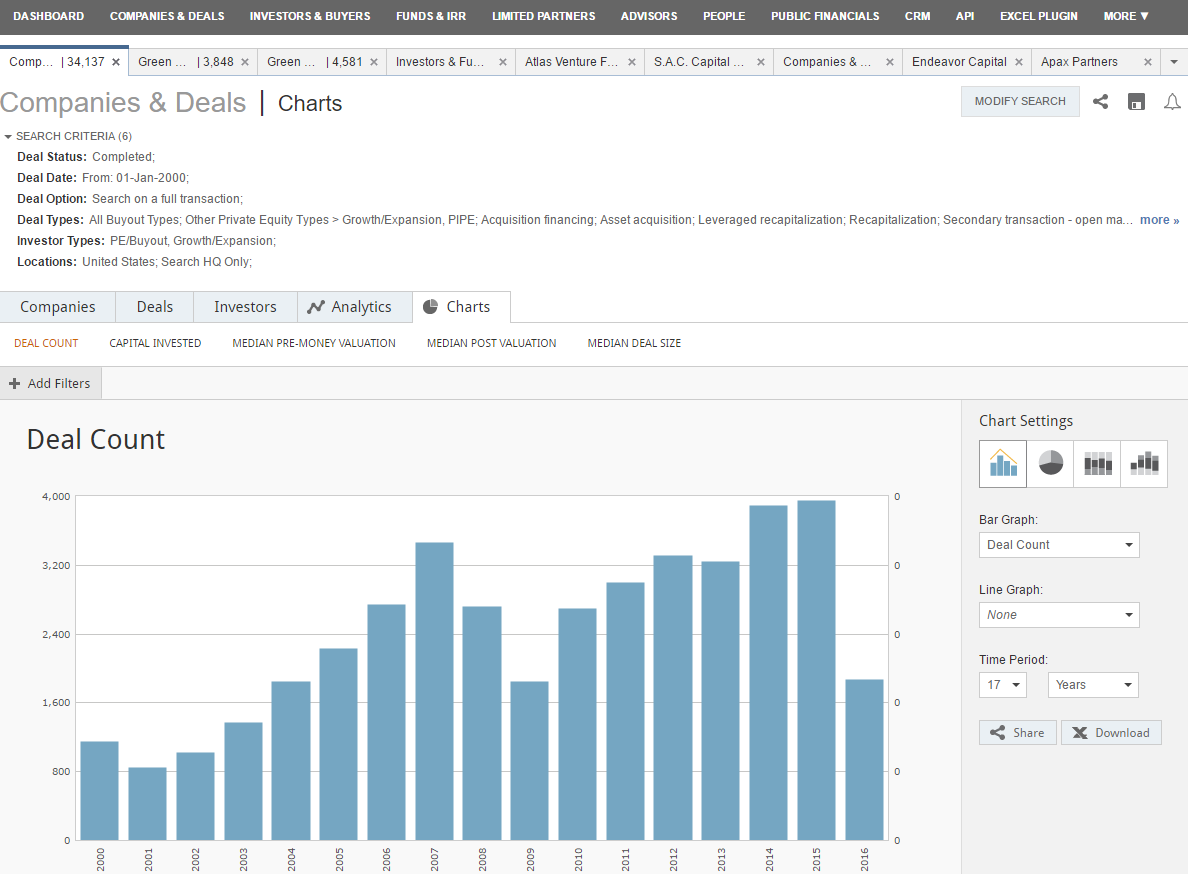 Does the Green Party matter today? In short, yes it does! Just not in the way that the Green Party might expect. PE activity since the 2000 election reveals that, insofar as data from the PitchBook Platform reveal anything in this way, the green states of America are far from the fringe, with liberal strongholds like Massachusetts, which has accounted for a preponderance of PE activity among green states since 2000, in the mix as well as Sarah Palin's Alaska, where PE activity has been the lightest.