Comparing fund models: VC vs. CVC
February 12, 2017
Corporate venture capital has significantly grown and matured over the last decade. Part of this can been seen in 2016's investment stats: 745 US venture deals with CVC participation totaled $20.1 billion, nearly double the deal value of 2013. It can also be seen in the teams and investing sophistication that many of these corporate venture programs have put together. One of the major factors enabling this boom in activity has been the development of more 'best practices' for CVCs. Chief among these are a couple of common compensation structures that align incentives and attract top investing talent. Jody Thelander, president and CEO of J. Thelander Consulting, says "CVC compensation is becoming increasingly more competitive."
Below is a table that compares the typical venture capital fund model to a couple of the common CVC models we see today. The findings and data below comes from over 300 CVC firms via an annual CVC Salary Increase & Bonus survey conducted by
J. Thelander Consulting
that PitchBook and Global Corporate Venturing partner.
CLICK HERE
to participate in the Thelander 2017 CVC Salary Increase & Bonus Survey. All participants will receive access to the complete survey report for NO CHARGE.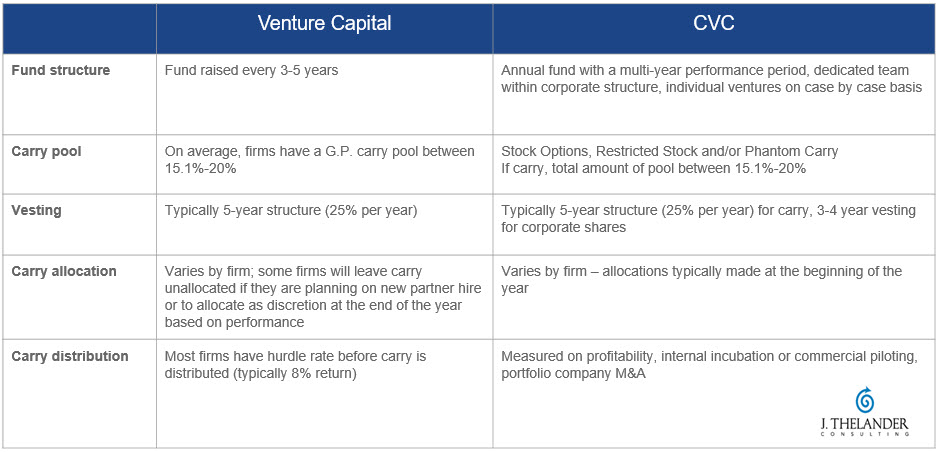 If you're interested in more content related to VC, PE and startup compensation, click here to see additional articles we've published in collaboration with J. Thelander Consulting.