Middle Market
Deal volume in the US core middle market soars 34% in 2018
April 26, 2019
The US middle market went gangbusters last year, setting records in both deal volume and deal value. Two of the three segments of the middle market, however, inched down YoY. Not by much—the upper middle market ($500 million to $1 billion) fell by 5% in deal volume and 7% in deal value. Meanwhile, the lower middle market ($25 million to $100 million) missed 2017's volume by three deals (902 versus 905) and shed almost 7% in total value, per PitchBook data. Flat years, in other words, but still strong in the grand scheme of things.
Then there's the core middle market—the "Goldilocks" range of $100 million to $500 million. The core middle market typically sees three times the volume that the upper end does, but deal count at the lower end has—until a few years ago—been somewhat more comparable. In fact, prior to 2013, the lower middle market often tended to outpace the core middle market in deal count, a trend that now seems permanently reversed.
The featured chart shows a gradual increase in core-middle-market volume in the aftermath of the crisis. Volume then jumped by 42% in 2014, eclipsing 1,000 deals annually for the first time.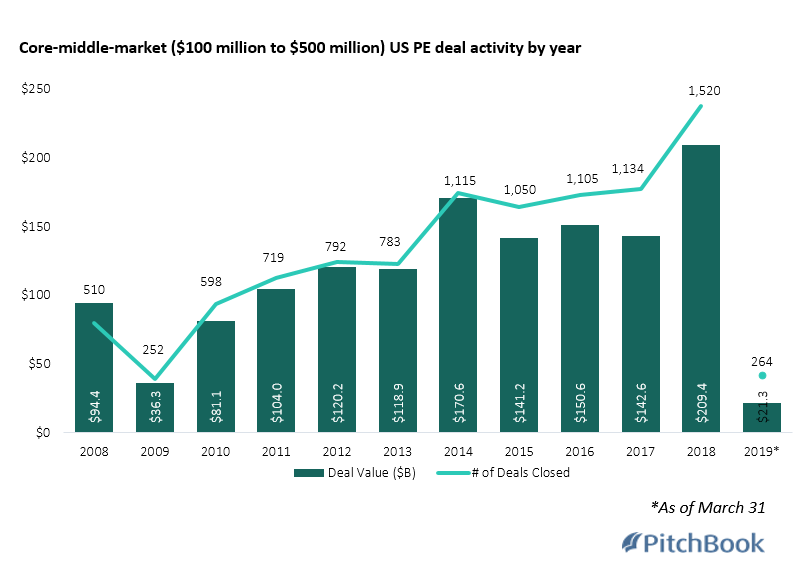 It turned out to not be an anomaly, and suddenly 1,000 deals per year was the new normal. Last year was a reprise of 2014, with volume vaulting another 34% out of the blue. A large percentage of last year's spike took place in 1Q, which saw the highest quarterly total (470 deals) in at least a decade.
One potential variable was the Tax Cuts and Jobs Act, which was signed in December. The legislation included a big reduction in the corporate tax rate—which applies to PE portfolio companies and the funds that control them. Every quarter last year saw at least 300 core-middle-market deals close, a threshold that was hit only twice before the legislation was introduced. It's an incomplete explanation, though, considering the same trend wasn't mirrored elsewhere in the middle market.
On the other hand, both the lower middle market and upper middle market hit quarterly volume records at some point last year—2Q was a decade record in the lower middle market and 3Q was a decade record in the upper middle market. Whatever the case, every corner of the middle market had somewhere to hang their hats in 2018. Time will tell if we're looking at a
new
new normal, or a temporary, tax-induced sugar high.
Featured image via Nikada/iStock/Getty Images Plus
This column originally appeared in The Lead Left.
Read more about the middle market in our 1Q 2019 US PE Middle Market Report.