Politics
Elizabeth Warren, Alexandria Ocasio-Cortez want mergers halted due to COVID-19
April 28, 2020
View comments

(3)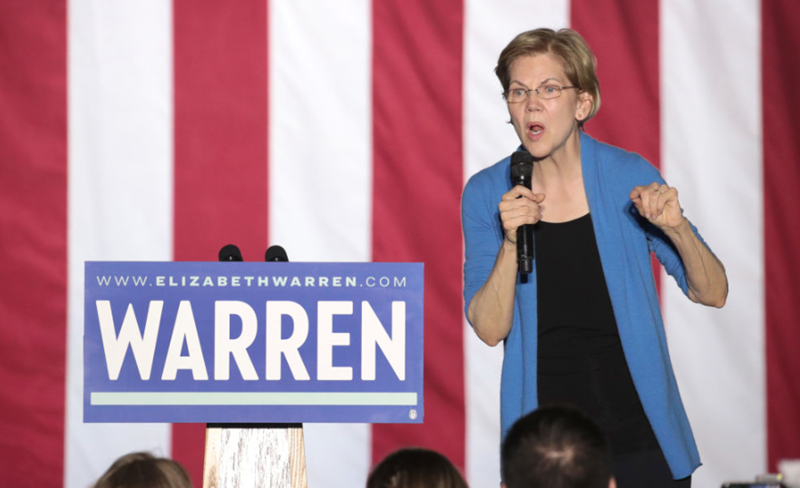 Sen. Elizabeth Warren (D-Mass.) and Rep. Alexandria Ocasio-Cortez (D-N.Y.) have introduced legislation to halt large mergers and acquisitions through the duration of the coronavirus pandemic, the progressive pair's latest bid to rein in what they see as predatory behavior from private equity firms and corporations.
Dubbed the Pandemic Anti-Monopoly Act, the legislation would place a moratorium on takeovers involving companies with over $100 million in revenue and financial institutions with a market cap exceeding $100 million. The bill specifically takes aim at private equity firms, hedge funds and companies that are majority-backed by either type of investor. Last week, Rep. David Cicilline (D-R.I.), the chair of the House Antitrust Committee, proposed a similar temporary ban on large acquisitions.
"As we fight to save livelihoods and lives during the coronavirus pandemic, giant corporations and private equity vultures are just waiting for a chance to gobble up struggling small businesses and increase their power through predatory mergers," Warren said in a statement. "We're introducing legislation to protect workers, entrepreneurs, small businesses, and families from being squeezed even more by harmful mergers during this crisis and any future national emergency."
Deal flow has slowed during recent months, but many investors see the economic chaos caused by the coronavirus outbreak as rare a chance to acquire assets at discounted prices after many years of steady valuation growth. Last month, for instance, Matt Nord and David Sambur, the leaders of the private equity unit at
Apollo Global Management
, told investors that this was the firm's "time to shine," according to Bloomberg.
The bill appears to be a long shot, since it would need approval from the Republican-controlled Senate. But it is an attempt to greatly limit the scope of the deals that firms can pursue at a time when many are eager to invest. And, when taken in conjunction with regulations limiting the access many PE-backed companies have to other coronavirus relief packages, it could leave some struggling businesses with even fewer potential routes to salvation.
"While it appears that the lawmakers' hearts were in the right place, the current bill appears to be the wrong approach," PitchBook analyst Wylie Fernyhough said. "Many of the mid-sized companies are going to be hardest hit because small companies can get PPP loans and grants and the large corporations are either sponsor-backed or public and able to raise enough capital to survive.
"If we want to save these companies, why not assist with some sort of loans or similar programs that the airline industry and small businesses have received rather than trying to prevent the struggling companies from being bought out?"
Ocasio-Cortez said the legislation was "desperately needed," arguing the coronavirus pandemic has severely hampered the ability of antitrust agencies to review mergers and that depressed prices could lead to deals that run counter to the public good.
"These companies should be using their cash reserves to help their employees, not to acquire more power," she said in a statement. "If we don't stop predatory M&As now, the actions of big corporations will have decadeslong economic consequences—for all of us. With less competition, the whole country will see job loss and higher costs for consumers."
Matt Buck, a policy analyst at the American Economic Liberties Project, which lobbies against the concentration of corporate power, echoed that sentiment.
"It's a pretty sensible solution," Buck said of the bill. "It's not going to solve the monopoly problem. It's not going to fix it. But it's a first step in making sure that it's not going to get any worse."
This isn't Warren's first attempt to clamp down on the private equity industry. Last July, she introduced The Stop Wall Street Looting Act, which aimed to hold firms responsible for debt incurred on company balance sheets and to make bankruptcy laws friendlier to workers, among other changes. Ocasio-Cortez has been just as critical, making headlines last November for railing against the private equity industry during a congressional hearing. She also joined Warren in sending a letter to
Sun Capital Partners
last July demanding severance pay for Shopko workers after the discount retail chain filed for bankruptcy and went into liquidation.
Join the more than 1.5 million industry professionals who get our daily newsletter!