Private investors often get most of the attention when it comes to
increased levels of spending
, but Europe's corporations should not be overlooked.
Indeed, Thursday alone saw two European companies strike multimillion-dollar deals for US targets. These were BTG's $80 million acquisition of Roxwood Medical and Dialog Semiconductor's $306 million agreed takeover of IoT business Silego Technology.
On top of this, Bloomberg reports that UK-based theme park and attraction operator Merlin has made a bid for a stake in SeaWorld.
The hefty takeovers are indicative of a European corporate community that is looking to splurge in the US.
European companies have spent nearly €150 billion on US takeovers
so far this year, according to the PitchBook Platform. By comparison, 2016 saw less than €115 billion for the whole 12-month span. Such deals in Europe, however,
have plummeted
from €327.4 billion last year to just €105.5 billion so far in 2017: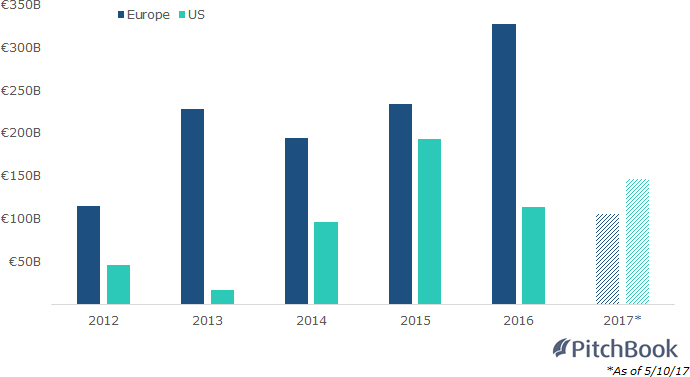 Europe's unattractiveness at the moment is fairly plain, with an uncertain political and economic climate stymieing investment. Because of this, the continent's corporates are hunting opportunities elsewhere—but why the US?
One simple reason could just be fiscal opportunity. From a peak near Christmas, the dollar's value against the euro has declined significantly in 2017, making assets cheaper by default.
Yet this isn't simply an opportunistic currency play; Europe is looking to grab quality assets and young growth companies. Silego, for example, is a VC-backed chipmaker with customers including Dell, GoPro and Fitbit.
Why did SeaWorld become an M&A target? Check out our profile of how the company got here.