European buyout fundraising hits record pace
October 3, 2017
Oakley Capital has closed its latest fund, Oakley Capital Private Equity III, on €800 million, beating its original hard cap of €750 million.
The fund, which is already around 40% deployed, is being used to invest across the firm's core sectors of digital consumer, TMT and education. Oakley's newly acquired portfolio companies include tutoring specialist Schülerhilfe and web-hosting control panel business Plesk.
Oakley's fundraise continues a strong trend for private equity across the globe. While fund count is unlikely to match the highs of 2007, when it comes to amounts raised, this year suggests a potential record-breaker is on the cards—for both the US and Europe.
So far in 2017,
58 buyout funds have closed in Europe
on a total of €50.6 billion, per the PitchBook Platform. While this won't threaten 2007's 132 funds closed, that year's total of €65.9 billion could well be knocked off the top spot. A decade ago, PE fundraising averaged just under €5.5 billion per month. As we enter the tail end of 2017, this year's fundraising pace is currently at more than €5.6 billion per month.
Buyout funds closed in Europe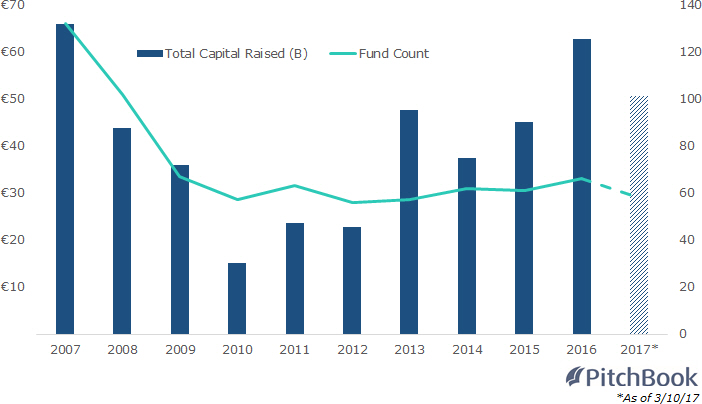 The huge €16 billion vehicle that CVC Capital Partners closed in June has helped, but it's far from the only significant fund this year. Indeed, 2017 has seen nine €1 billion-plus buyout funds in Europe already, according to PitchBook data, while 2007 had 10 for the whole year. And with BC Partners reportedly set to close its €6.7 billion Fund X in the near future, per Private Equity International, we could have a race on our hands to see if the record can be broken.
PitchBook Platform subscribers can access the full data on PE fundraising in Europe.
Join the more than 1.5 million industry professionals who get our daily newsletter!