Ezetap's fresh funds are the latest VC dollars flowing to Indian fintech
August 24, 2017

Mobile payments startup Ezetap is the latest Indian fintech company to pull in new equity financing. The company has raised $16 million from investors including JS Capital Management, Social Capital and Horizons Ventures.
The fresh funds bring Ezetap's total equity financing to more than $50 million—and they give a boost to the overall capital invested in Indian fintech companies since the beginning of 2017. This year is on track to continue the
influx of VC dollars
to the sector in India, per the PitchBook Platform.
"There's an explosion of payment platforms and innovation happening in India," Bobby Bose, CEO and co-founder of Ezetap, told PitchBook. "It makes it one of the most complex, chaotic and interesting fintech markets in the world."
The amount of emerging technology and the Indian government's recent demonetization have contributed to the fintech push in the country. Here's a closer look at VC investment in Indian fintech companies since the beginning of 2012: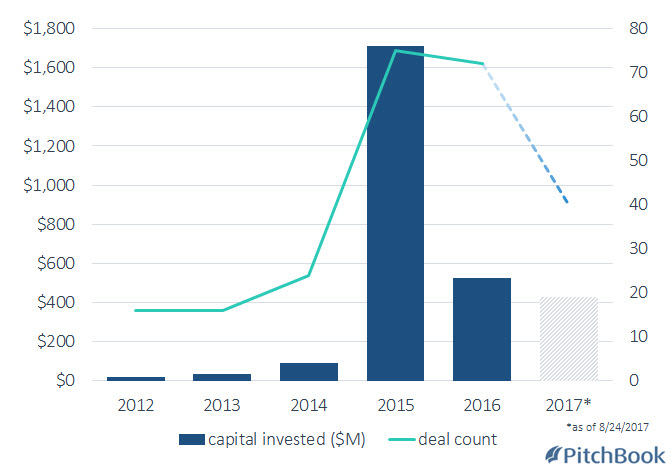 The spike in 2015 is due to two major fundings for Paytm, the provider of a mobile payment and ecommerce platform. Put together, the two rounds the company secured in 2015 made up about three-fourths of the total capital invested that year. Paytm is also the recipient of the largest rounds in 2016 and 2017.
The new funding for Bangalore-based Ezetap, which provides a platform that supports a variety of digital payments, from physical cards to online payments, represents the seventh-largest round of the year for Indian fintech companies. Among the recipients of some of the largest rounds are MobiKwik, the provider of a mobile payments network, and online lending platform Capital Float.
VC investors in the US and India are keeping a close eye on Indian fintech. "The private sector has to support digitization. This isn't 1990 where we're just dealing with credit cards," Bose said. "There's a lot of scale, a lot of action, a lot of innovation. From a technology, use case and scale point of view, we're already a couple steps ahead of the US."
The numbers in India aren't an anomaly. VC investment in fintech has been
steadily rising since 2012
, with this year on track to nearly equal last year in terms of deal count and fall just shy for capital invested.
Check out our previous coverage of the fintech sector.