Sponsored Content
Finistere Ventures: The next wave of evolution in crop protection & input management
June 6, 2019
View comments

(2)
By Adrian Percy, CTO, Finistere Ventures and Ingrid Fung, Associate

In 2017, Finistere Ventures and PitchBook partnered to build and share the most comprehensive data set on agtech investment in the industry. We are extremely proud of how this partnership has grown and developed over the years, spawning three comprehensive reports covering global, regional, stage and sector-based agtech investment trends/key developments, and garnering collaborations from major agricultural powerhouses from across the industry. However, our focus on providing a global overview has limited how deeply we can dive into intra-segment trends and forward-looking thoughts on our sector. In our last report alone, we were unable to include much of the valuable and powerful information shared with us by collaborators, co-investors, and partners. In short, we have opinions and information that we've been wanting to share!
In agriculture, the need for innovation has never been greater, and the need for thoughtful discussion and discourse around the most exciting segments of our sector is critical. This is why we have decided to give our publication format a refresh this year. It's time for agtech reporting to get with the times! We are launching a series of shorter, in-depth digital posts to examine key trends and topics across several agtech niches. We hope that this new, more relaxed format will enable exploration into timelier topics and spark deeper discussions that will complement our annual reports.
Given that crop protection and inputs management comprised over 33% of the $2.2 billion of capital invested into agtech in 2018, we took a forward-looking focus upon this sector for our first piece in this series. We hope that the information and opinions shared will spark discourse, discussion and reflection upon the future of investment into this sub-sector.
Global agtech crop protection & input management VC activity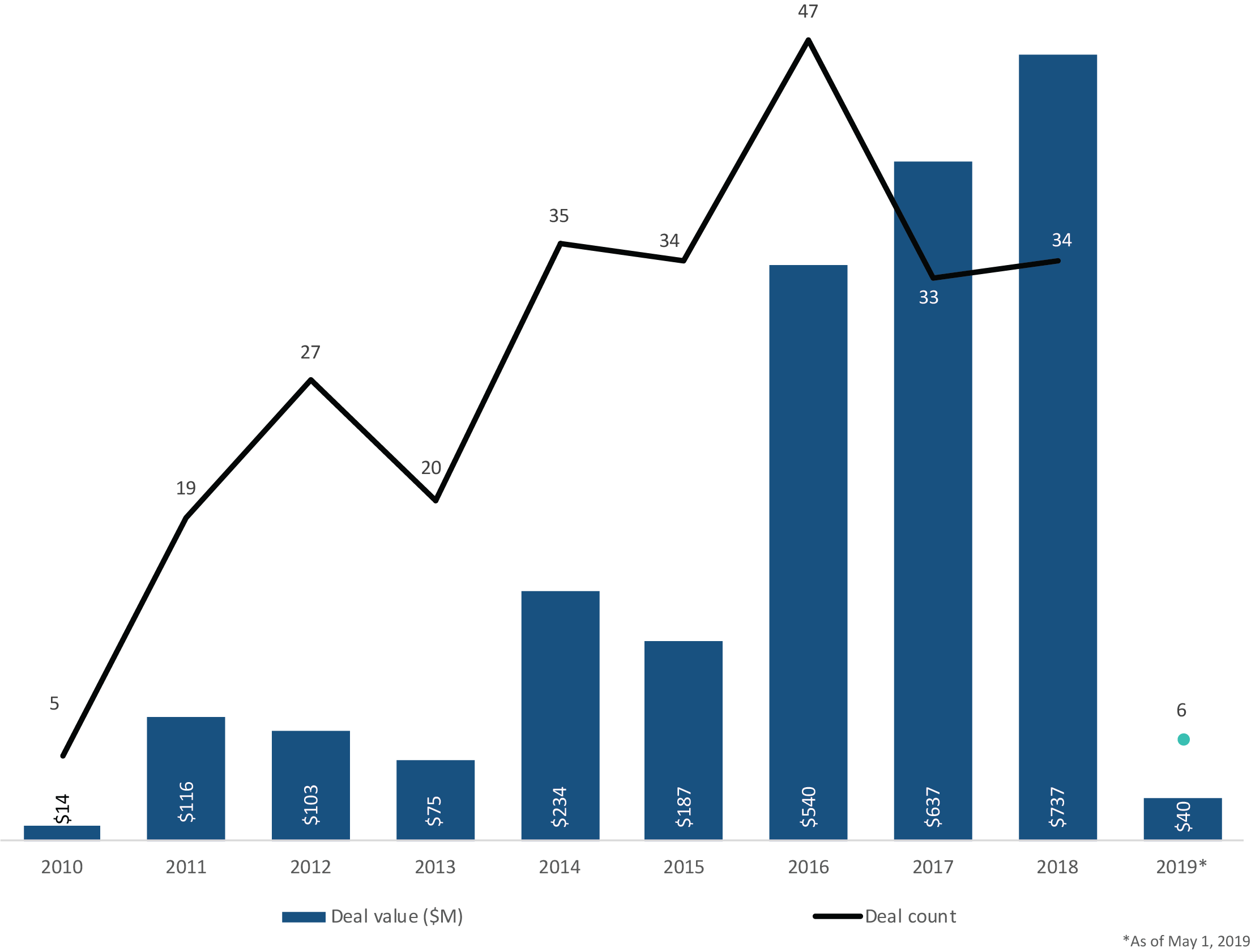 An industry in flux
It's no secret that the agriculture sector has seen considerable consolidation over the past decade. We are in essence a sector under pressure. Pressure from depressed commodity prices, increasing regulation, and changing climates (both consumer and ecological). Within the crop protection and inputs management sub-sector, a particularly interesting set of dynamics is playing out. Over the last couple of decades, R&D investment per product launched has skyrocketed, nearly doubling since 1995.* Meanwhile, increases to input pricing have been stymied by low commodity costs. The need to supplement diminishing R&D investment with efficiencies garnered from mergers and acquisitions (M&A) has resulted in unprecedented vertical and horizontal integration within the agricultural sector.
While consolidation and integration produce operational efficiencies and increased revenue for large companies, this often comes at great cost to innovation pipelines. When the pharmaceutical industry underwent widespread consolidations after the patent cliff of the early 1990s, intra-company innovation greatly decreased. In response, large pharmaceutical companies sought to outsource components of their innovation pipeline. In effect, these companies waited for smaller, more nimble and innovative firms to de-risk technologies and purchased the assets at a higher (but known) price. AgChem giants (many themselves spinouts from pharmaceuticals consolidation) are following a similar strategy: downsizing and consolidating in-house R&D efforts in favor of in-sourced, de-risked innovations purchased at a premium. Taken together, it's no wonder that crop protection and inputs management startups have received so much attention from agtech investors in recent years—from 2012 through the start of May 2019, the space raked in over $2.5 billion in funding. Last year saw a clear peak at $737.5 million.
Global agtech crop protection & input management private investment activity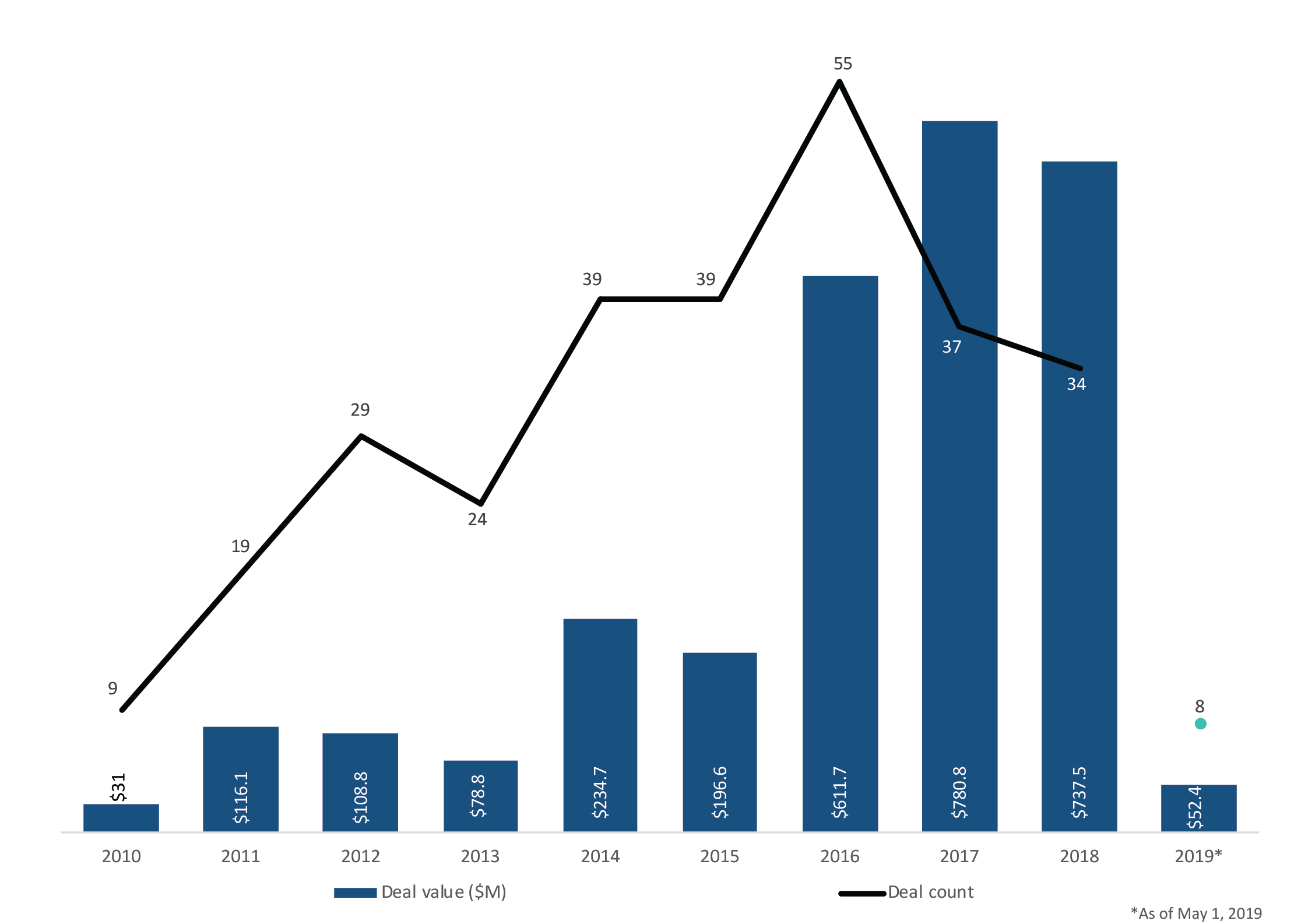 Investors know, and have seen, this story play out before—clearly, we believe that with great risk (sometimes) comes great reward. However, despite significant investor interest, exit flow has been minimal in this sector. The last healthy exit year we saw was in 2012 with three transactions totaling $511 million, skewed by AgraQuest and Pasteuria Biosciences. While consolidation and lock-up of corporate interests and capital is in part to blame, it is difficult to believe that corporates would pass on the next blockbuster product, even in the throes of consolidation. In light of exit activity at this level, it is important to reflect upon whether we are investing in the right areas. Are we missing or underinvesting in key areas in favor of trendy segments that may not pan out? The answer is complicated…but most likely, yes.
Getting granular: Examining sub-segments of a sub-sector
Let's be honest, there are many ways in which the crop protection and inputs management sector could be segmented. The reality is that no categorization system will be perfect in every instance. However, after much thoughtful discussion among the Finistere team, we settled on four main subsegments based on product composition and function:
Synthetic Chemistry: companies that focus on discovery or commercialization of crop protection and inputs products that are derived from actives manufactured using traditional chemical-based production processes.
Naturally Derived (Biologicals): companies focused on discovery or commercialization of natural occurring or fermentation-based crop inputs products based on microbial, micronutrients, plant extracts, biochemicals and biomolecules (pheromones, peptides and proteins) active ingredients.
Formulation & Enabling Chemistry: companies focused on developing technologies that enable improved active function. These technologies can include natural and synthetic synergists, adjuvants and delivery design platforms.
New Emerging Technology: companies focused on production or commercialization of non-chemical-based crop protection and inputs management technology. Examples of these include temperature, electricity or barrier-based crop-protection or inputs technologies.
Segmenting capital investments by these categories reveals that naturally derived crop inputs companies have dominated investment interest by deal volume and total capital invested over the last five years. Companies developing naturally derived products commanded over 92% of all capital deployed into the crop protection and inputs management sub-segment since 2012. In 2018 alone, $686.6 million of capital was deployed into this sub-segment.
Global agtech crop protection & input management VC deal value ($) by subsector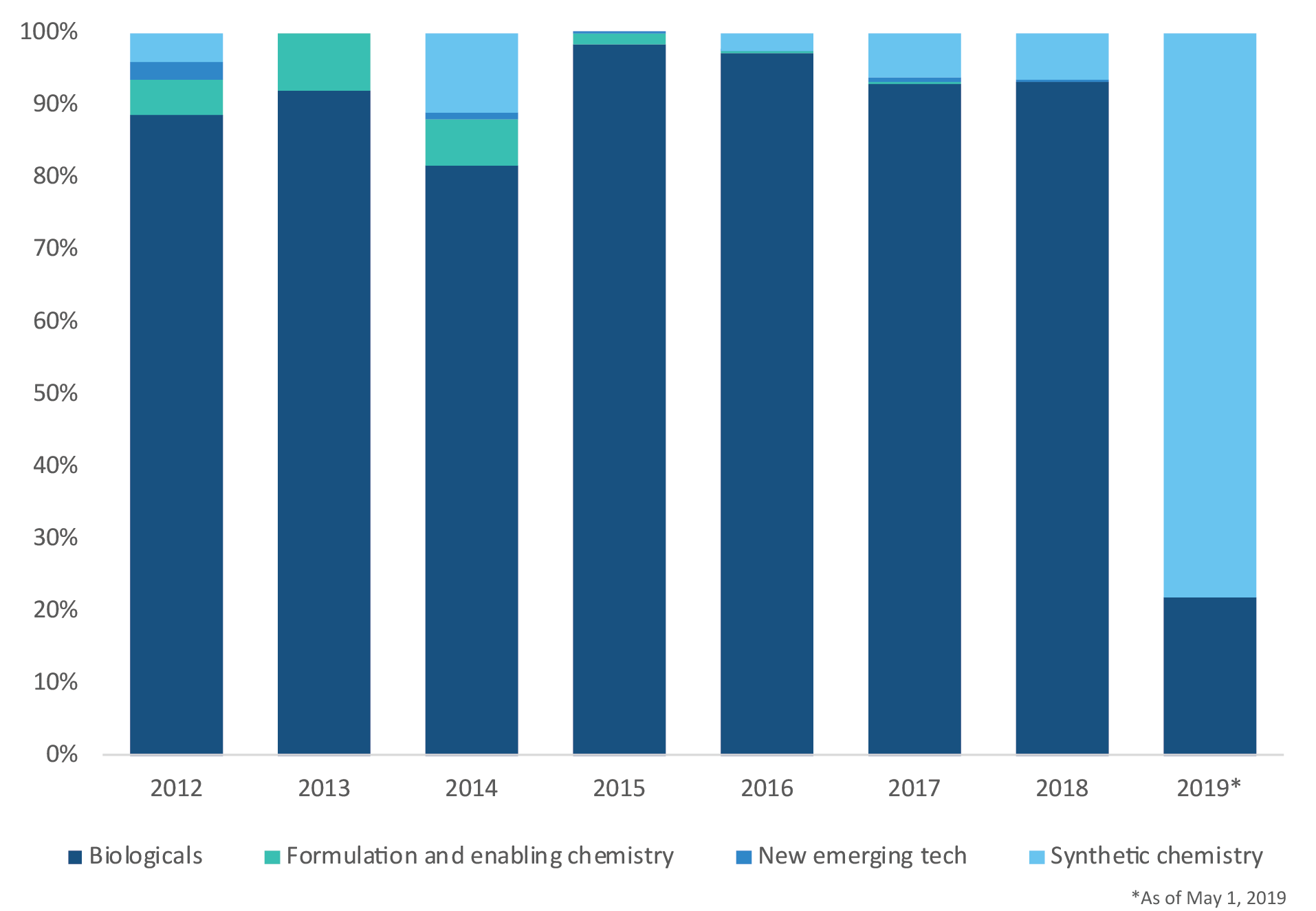 In contrast, companies developing synthetic chemistries, formulation & enabling chemistry, and new & emerging technologies comprised less than 7% of capital invested into the sector since 2012. This is unsurprising given that, on the surface, naturally derived crop inputs products have a simplified and more rapid path to market due to reduced regulatory requirements and positive consumer perception. However, despite the availability of capital for product development, to date no naturally derived crop input product has achieved the level of market success of leading synthetic chemistry products.
Global agtech crop protection & input management VC deal count (#) by subsector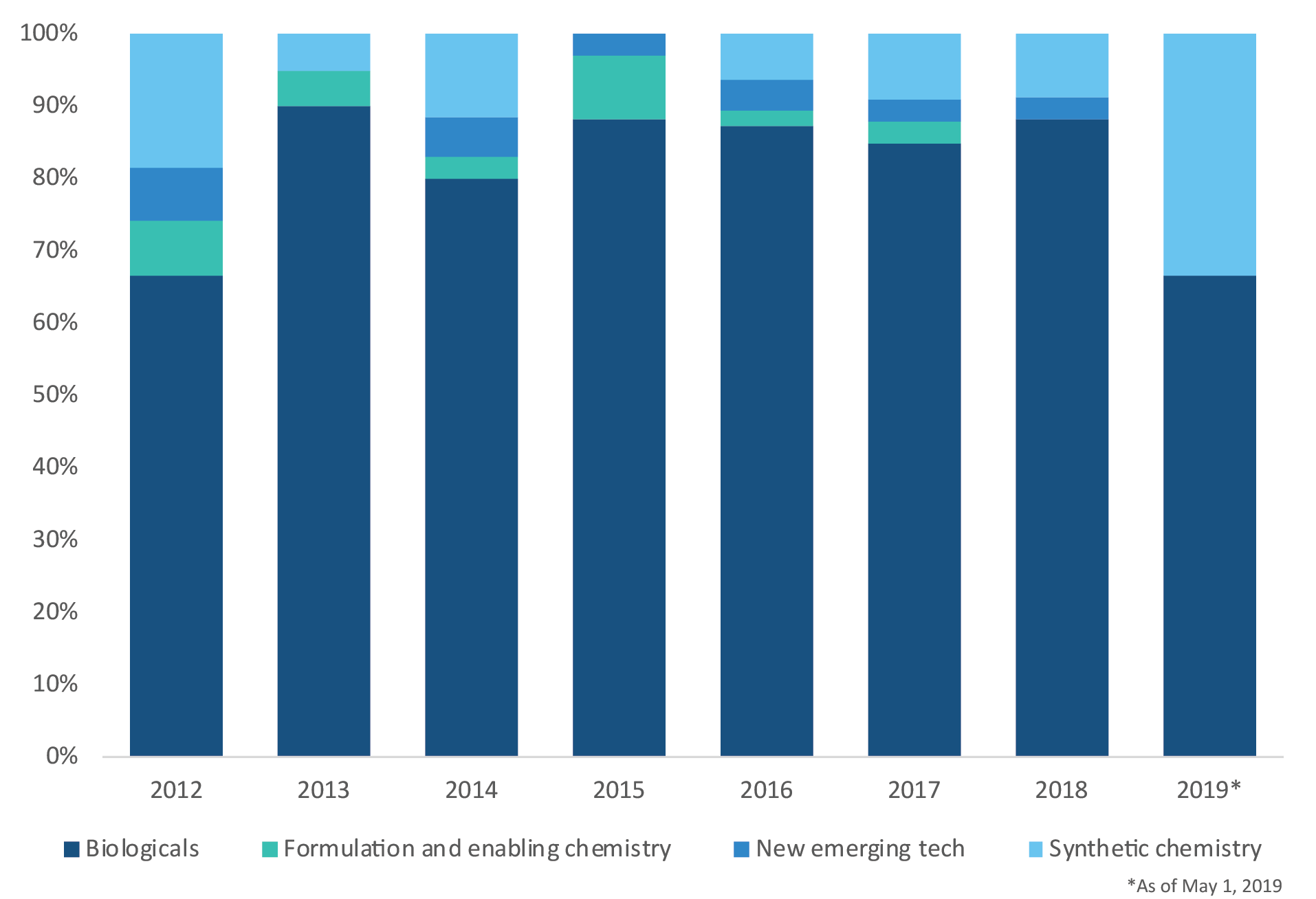 Synthetic chemistries still dominate the broader crop protection and inputs market, comprising 94.4% of existing global sales in 2016. This suggests that the amount of capital deployed into developing naturally derived products may not be precisely aligned with market needs. It would seem that agtech investors are beginning to notice this misalignment. Over the last four years, investment into companies involved in the discovery and development of novel synthetic chemistries has increased steadily from less than $1 million annually in 2016 to over $48 million in investment in 2018. Companies such as AgriMetis, AgPlenus and Enko Chem working on discovery, and development of new synthetic chemistries are increasing in number and attracting investor attention. This trend may only intensify, as by and large naturally derived products have not yet been able to prove out conclusive advantages relative to synthetic treatments. In addition, the number of available synthetic tools is decreasing due to regulatory activity, plus resistance in the field. Consequently, there will be pressure to further develop synthetics that have improved environmental and human safety profiles.
Global agtech crop protection & input management VC deal value ($) by subsector, 2016-2018 in aggregate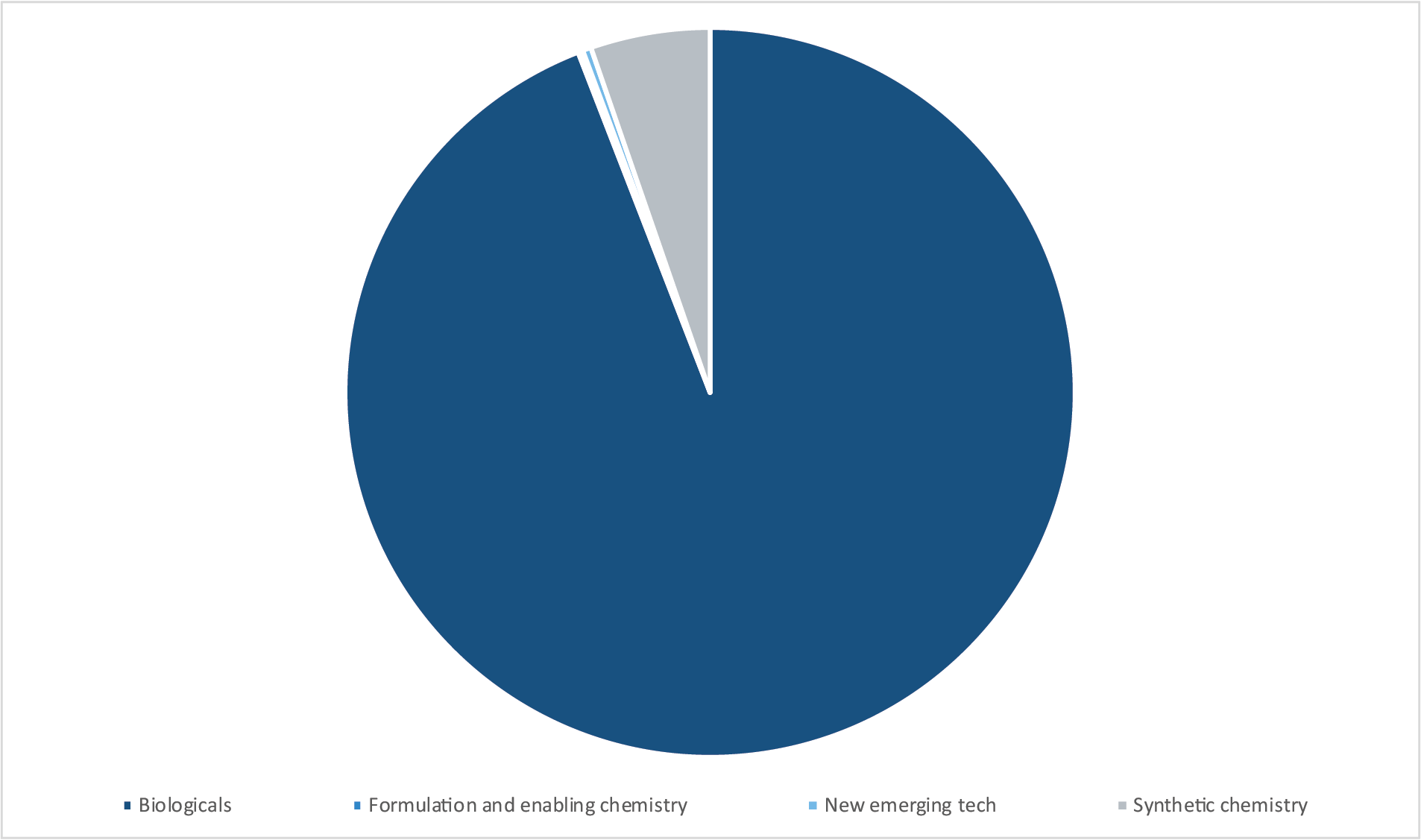 Looking forward
Put simply, the various subsectors of crop protection and input management need to catch up to biologicals! All the same, as the entirety of this space is viewed as underinvested, in our opinion, there will likely be growth in overall funding across crop protection and input management going forward. However, much of that growth will be more widely dispersed among the various subsectors relative to before, so as a result, investment into biologicals should see its share decrease in future.
Naturally derived crop protection and input products: 1) typically have narrow spectrums of efficacy, 2) tend to be less efficacious than their synthetic chemistry counter parts, and 3) tend to have manufacturing processes that are more costly and complicated to scale than those of synthetic chemistries. If companies within this segment are to find success, they must develop products that will achieve widespread adoption, or they must develop individual products with low development costs for multiple segments. Technologies pursued will either need to avoid these shortcomings or be coupled with complementary technologies that improve their efficacy and cost. In that vein, formulation and enabling technologies such as those being developed by companies like Terramera, Vive Crop Protection and Agrynex will be key to future success within the crop protection and inputs management sector. Existing chemistries will also benefit from reduced application patterns enabled by formulation and enabling technologies. As consumer demands continue to drive increasing regulatory scrutiny around tolerance limits and application patterns of synthetic crop inputs products, we expect to see increased investment into formulation and enabling tech.

In the near term, investments in synthetic chemistries and select naturally derived crop inputs companies that avoid the aforementioned downfalls should align well with market needs. Formulation and enabling technologies are also expected to emerge as strong investment opportunities. Looking even further into the future, as the precision of machine vision and automation increase, we expect these technologies to be powerful drivers of change across the crop protection and inputs management sector. We anticipate that use of novel, physical or temperature-based crop protection technologies will become increasingly tangible as adjacent industries drive down the costs of underlying computation and automation technology. As precision application hardware and machinery become a reality on farms, new use patterns and paradigms of crop protection will emerge. Over the last decade, agrochemical companies have invested heavily into digital strategies. These large corporates foresee the potential for precision technologies to disrupt the crop protection and inputs management sector within the next several decades. While no one is sure when these innovations will be widely adopted, the acquisition of innovative start-up Blue River by ag equipment giant John Deere suggests that a future in which the Blue River mantra of "optimize every plant" may not be that far away.
Catch up with Finistere Ventures for additional industry insights.

* Phillips McDougall, "Evolution of the Crop Protection Industry since 1960," (2018), p. 8. Phillips McDougall, "The Cost of New Agrochemical Product Discovery, Development and Registration in 1995, 2000, 2005-8 and 2010-2014. R&D expenditure in 2014 and expectations for 2019," (2016), ps. 3-4.