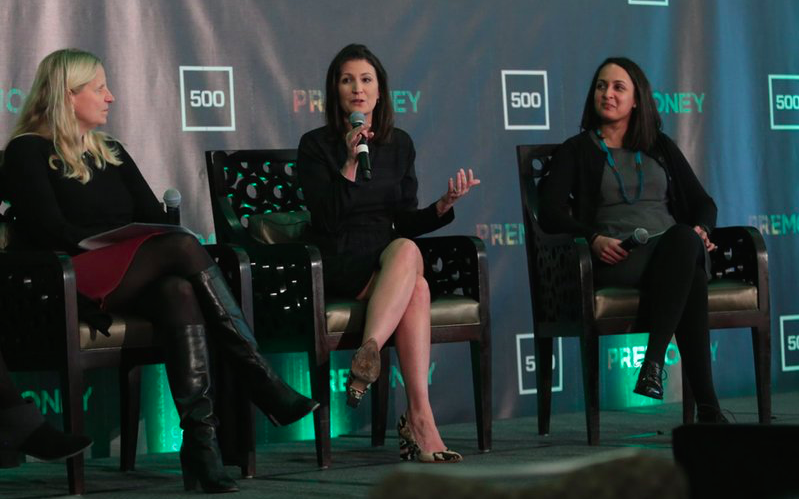 A lot of themes emerged throughout our day at
500 Startups
' PreMoney conference, ranging from SoftBank to diversity. Now that the dust has settled, we've put together a recap of the most interesting discussions:
The effect of massive financings
Mark Suster of Upfront Ventures opened the conference with a discussion about the number of VC deals being done and the capital being invested—topics that are top of mind in Silicon Valley.
The most recent PitchBook-NVCA Venture Monitor reveals that VC deals in the US are on pace to decline sharply for the second year in a row—but at the same time, VCs are investing a record amount of money. Suster began his talk with a similar point, indicating that the number of VC transactions is decreasing, and more than three-quarters of venture capitalists report that valuations are dropping.
But there's also been a trend toward massive financings with massive valuations. Part of that is due to the $100 billion SoftBank Vision Fund—Suster pointed out that the vehicle is the equivalent of 400 Series A venture capital funds. He went on to make a prediction about the effect of such gigantic fundraising figures: "Returns are ultimately what matters," he said. "And I predict that over-funding and the new capital moving into the market will likely depress returns."
How to improve diversity in VC
Another big topic on the PreMoney agenda: The importance of diversity in the tech world and what investors can do to improve it. Like the trend toward huge valuations, discussing diversity in Silicon Valley isn't new, but it is significant.
.@stephpalmeri @uncorkcap - "If all we did was invest in people who look exactly like us, we'd be in trouble as an industry, and we kind of are in trouble." Great practical insights from our inclusive investing panel at #PreMoneySF pic.twitter.com/nWvsavBl5n

— 500 Startups (@500Startups) December 5, 2017
Here's a collection of quotes from panelists with ideas on how to move toward more equal funding for women and other underrepresented founders:
"There are internal support networks that happen. There was a group of women that started around the same time as me, and we met informally. Over time, as we grow in the industry, we continue to support one another." — Stephanie Palmeri, partner at Uncork Capital
"A lot of times firms are small. The average VC firm has about 17 employees. When you think about that, a lot of them don't have HR, they don't have someone who's dedicated to those issues. ... We released a set of policies earlier this year to formalize childcare policies. ... We are now working to update those policies to include anti-discrimination and anti-harassment. That should lay the groundwork." — Maryam Haque, VP of research and strategic engagement at the NVCA
"There's a subset of people who have exposure to the VC world, and there's a subset of people who have the aptitude but not the access. … For those positions at the entry level, there needs to be a diverse set of candidates." — Palmeri
"In the past six months, there have been so many males talking about the issue. That might be part of the solution." — Haque
"We need more women in private equity. Go up the scale." — Risa Stack, general manager of new business creation at GE Ventures
Going global
One thing most investors at the conference seemed to agree on: Committing money to companies outside the US is a smart investment idea.
"Our first IPO was in Ottawa. Our fastest-growing company is in Australia. Our most valuable company is Dutch. ... We're going to find companies wherever they are and make it work," said Aydin Senkut of Felicis Ventures. "Investing internationally is important."
Canvas Ventures partner Rebecca Lynn, who was on stage with Senkut, also said her firm focuses more on a company's strong points than its geography. "We're incredibly thesis-driven. At times, that company won't be in the Bay Area," Lynn said. She added that, in her opinion, the No. 1 school for tech talent is the University of Illinois and No. 2 is University of Waterloo in Ontario. (Check out PitchBook's most recent
Universities Report
for more on the higher education institutions that produce the most startup founders.)
Now @VCRebecca talking about the importance of tech talent outside the Bay Area @Illinois_Alma @UWaterloo & @asenkut talking global founders #PreMoney pic.twitter.com/3VNcOYsqoS

— Mark Suster (@msuster) December 5, 2017
Sanjit Dang, who runs investments for Intel Capital, said it would be shortsighted to focus only on companies within a stone's throw of Silicon Valley. "We're sitting in the Bay Area and we think the Bay Area is the world," he said. "But you go to Asia and it opens your eyes, with all the innovation that's happening. ... Everyone innovates today. Period."
IC...Whoa
You can't spend a day discussing trends in the VC industry without mention of one of 2017's biggest (and some may say craziest) trends: the ICO. The contentious subject didn't dominate as many talks as might've been expected, but Suster made sure to allow time to touch on it.
Among other statements, he jokingly suggested that he wouldn't be surprised if the SEC showed up on Floyd Mayweather's doorstep. The boxing champ is among a group of celebrities that has advocated for ICOs and has raised
millions via a coin offering
.
Suster added that he's "not very optimistic about how that ends up."
"When you can slap blockchain on your public company and have your valuation go up 1000%, that should say something," he said.
For more on the PreMoney conference, check out our hour-by-hour blog, featuring highlights and quotes from almost every speaker at the event.