How much longer will the M&A boom sustain PE exits?
By Garrett Black
March 2, 2016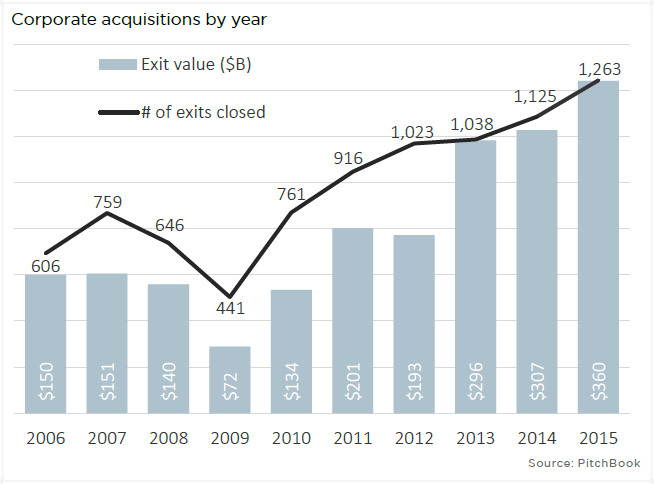 The M&A boom has been very kind to private equity sellers. Last year saw PE firms close over 1,200 sales to strategic buyers across North America and Europe, with total value just eclipsing $360 billion. That leaves the past three years at a total of $963 billion in total value exited via that ramp, a truly staggering sum, particularly given the levels before.
Corporate buyers have plenty of reason to go hunting in PE portfolios for targets, given the challenges of appeasing shareholders amid what often is anemic economic growth. On the PE seller side, the current levels of PE-backed company inventory and valuations are still more than compelling enough to push firms to the exit.
What's interesting to ponder is how much longer corporates will continue to snap up PE-backed holdings. Even though competitors still seek acquisitive growth, driving companies to shift strategies away from traditional organic means of growing, it seems more than likely that a few factors may emerge to drive down the rate of PE exits, although the extent is likely to be mild.
First, particularly given the onset of unease and declines in global financial markets, buyers are likely to scrutinize potential acquisitions more closely in general, which could prolong deal timelines. The best companies, accordingly, may well be snatched up even more quickly, but by and large, issues of quality will predominate in acquirers' minds.
Second, PE firms have likely already brought their best portfolio companies to market, capitalizing on high valuations while they could. Hence, prospective strategic acquirers may simply not buy as much, as they may not find as many targets to their liking.
Lastly, again especially in today's climate of heightened volatility, buyers may well take some time to digest and integrate their acquired targets, in a natural pause after such highly active selling.
Granted, barring a major macroeconomic shock, these factors—among others—should not contribute to a significant slide in corporate purchases of PE holdings. But last year, perhaps even through 2014, is likely to remain a high point.
Note: This column was previously published in The Lead Left.
For further data and analysis on the PE exits landscape, to download our PE Exits & Company Inventory report for free: click here.